London is open to the world
We help organise mayoral programmes in key international markets to show that London is open to businesses, students and visitors.
In 2017 we ran a European programme visiting Berlin, Madrid and Paris.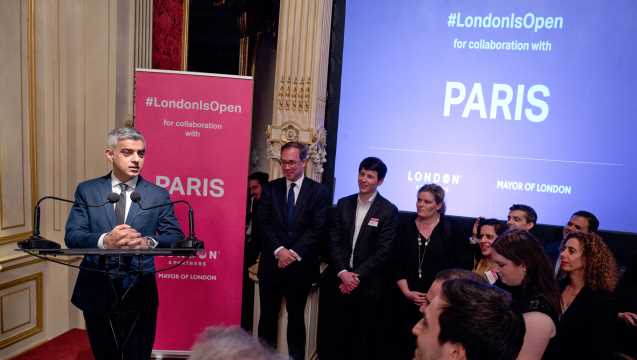 The Mayor of London was joined by Rajesh Agrawal, our Chairman and Deputy Mayor of London for Business, whose aim was to help strengthen relationships with European companies with a London presence.
As part of the push, our Mayor's International Business Programme sent 55 London businesses on trade missions to Berlin, Paris and Madrid to secure opportunities with local businesses. 
These missions are all part of London's strategy, fully backed by London & Partners, to build closer relationships with global cities to encourage trade and investment.
Our thanks go to our many partners who we work with to make these trips a success, including KPMG, Berlin & Partners, WeWork, Paris & Co, Made.com, Madrid City Council, Telefonica, FCO and the Department for International Trade for their support.
Taking the message to Europe - in a nutshell
pieces of international media coverage
female founders on the programme
It's important that our city looks to strengthen the corridors of trade and working relationships with other successful European centres.
Kevin Smith, London Regional Chairman, KPMG