London's first travel tech incubator
We set up the Traveltech Lab to house the industry's most exciting players and cultivate a sector that will bring jobs and growth to the capital.
Visit traveltechlab.london to find out more about the Lab and how we can help London tech companies grow.
Traveltech in numbers
London's first travel tech focused incubator
funding raised by members
members have grown internationally
London & Partners has a unique, holistic view of all London's sectors. We spotted this emerging trend, recognised the gap in the London landscape and created a compelling solution in the form of a buzzy workspace.

Scott Thompson, Commercial Director, London & Partners
How we do it
We know that London has the potential to reap huge rewards from the global traveltech industry, generating the lion's share of jobs and revenues. So we partnered with workspace experts The Trampery to give the sector's emerging stars a home in our London offices. HRH Duke of York launched our Traveltech Lab in spring 2015.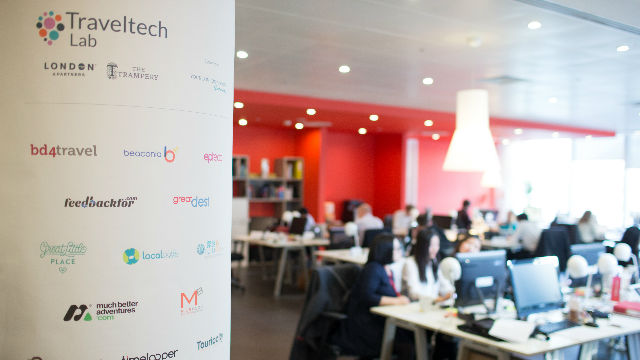 Traveltech focus
Our 30-desk Traveltech Lab is exclusively dedicated to early-stage tech companies developing solutions for the travel industry
Companies are breaking boundaries in every aspect of travel from virtual reality apps to cultural exchange platforms
Industry partnerships
Our expertise in London's travel sector, our global connections and our unique understanding of London's tech cluster are all on hand to support the start-ups
For example having taken up space, Lulutrip kick-started its London operation by joining our tourism partnership scheme, giving it access to global promotion, industry insights, events and networking
Financial and operational success
We needed to make sure that this initiative was backed by the best and financially sustainable
We have secured commercial partners for the Traveltech Lab: Sabre, Dubai Silicon Oasis Authority and IBS
We chose to establish the Traveltech Lab with The Trampery: the social enterprise has a proven track record in operating successful spaces in Shoreditch, London Fields and Hackney Wick
Find out more at traveltechlab.london
Our members
Some of our past and present members include.
There are two ways to get partnership for an early-stage startup: you can go and knock on loads of doors or you can go through London & Partners and get straight in the front door.

Alex Grant, Founder, Touriocity