West End theatre offers and career opportunities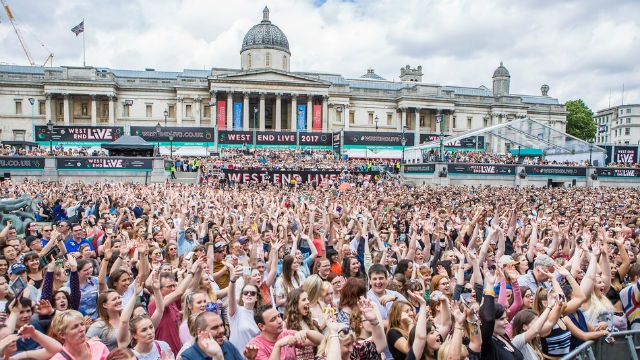 Did you know that Les Misérables is the longest running musical in West End history? Launched in 1985 it's still running today with over 13,341 performances to date. Official London Theatre works alongside Westminster City Council to present West End LIVE - a free weekend of theatre - on 16-17 June in Trafalgar Square. Whether you're interested in singing along to some of the West End's leading musicals or discovering London's exciting new shows, the free performances at this annual event showcase the best of the London stage. 
Throughout August, Kids Week enables children aged 5-16 to go to any participating show for free if they're accompanied by a full-paying adult. Adults can also buy up to two extra children's tickets at half price, with no booking fees. The SOLT also runs a programme of shows and activities specifically for the under 5's. Tickets for Kids Week 2018 will go on sale in June 2018. Sign up to the Family Bulletin for all the latest news and updates. 
For budding theatre students, TheatreCraft is the largest free careers fair in the West End open to those interested in a non-performance career in the theatre. From directing to stage management, producing to marketing, lighting to designing, the fair offers a unique glimpse into careers 'behind the scenes' in London theatre. The fair is free and open to anyone aged 16-25 with the opportunity for students to take part in workshops led by theatre professionals, explore the marketplace packed with leading theatres and education providers, get one-to-one careers advice in the 'Stage Your Career' zone, and meet high profile, influential people in the industry. Sign up for further details about the 2018 event and ticket offers. 
And finally, don't forget to visit TKTS – the London theatre ticket booth in the heart of Leicester Square for last minute and discount theatre tickets. Tickets can be bought in person for same day and next day performances. Current shows include: Disney's Lion King, Les Miserables, Wicked and The Phantom of the Opera. 
OfficialLondonTheatre.com is run by Society of London Theatre (SOLT) a not-for-profit organisation representing the theatre industry and also runs the Olivier Awards, West End LIVE, TKTS, Theatre Tokens, Kids Week and the New Year Sale.