University-Industry Interaction Conference, 20-22 June 2018
A global conference for university leaders, practitioners, CEOs, policymakers and academics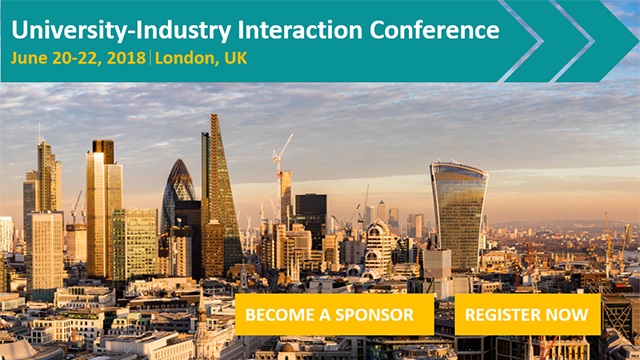 The University-Industry Interaction Conference on 20-22 June will bring close to 500 university leaders, practitioners, CEOs, policymakers and academics from more than 60 countries to London. Now in its 6th year, it is the largest event in the field of university-industry interaction and entrepreneurial universities.  
The global conference is organized by the University-Industry Innovation Network (UIIN) in cooperation with University College London and London South Bank University. It will provide participants with three days of exchanging knowledge, interacting with peers, and sharing insights on how to advance the role of universities in creating innovative and entrepreneurial societies, establishing successful university-business partnerships, and stimulating growth. More than 100 presentations will be made within five different parallel track sessions, focusing on scientific, practitioner, good and next practice, and poster presentations.  
UIIN is interested to speak to any UK-based and international organisations who are keen to promote their organisation, introduce innovative services and/or products, and raise awareness about their expertise among the Conference audience. Through the opportunities, the sponsoring institutions will gain full access to all participants prior to, during and after the event.  
A variety of standard sponsorship packages and single offers are available to promote institutions to the international audience. Last year's sponsors included: MIT REAP, seedsprint, Perkins+Will, AcademicLabs and the JRC of the European Commission. Conference delegates are invited to apply here. For sponsorship opportunities, see the brochure and contact UIIN for further details.