Multi-award winning mass participation event
This world-class festival of cycling was developed by the Mayor of London, London & Partners and Transport for London to boost visitor spend in London, improve residents' health and raise money for charity.
Visit londonandpartners.com/events to find out how we help major sporting and cultural events come to life in London.
In a nutshell*
hrs of global TV coverage
*figures for 2015 event
Prudential RideLondon is a two-day festival of cycling held across London and the South East for cyclists and spectators of all ages and abilities. We devised the event in 2013 with the Mayor of London, Transport for London (TfL) and Surrey County Council, and economic impact, visitor numbers and participants have grown year on year.
The 2015 ride featured a traffic-free loop in central London, races among professionals and young riders, a 100-mile challenge for amateurs and an international handcylist contest. Beyond injecting millions of pounds' worth of visitor spend into the UK economy, the event channels investment into London's cycling infrastructure and encourages cycling take-up.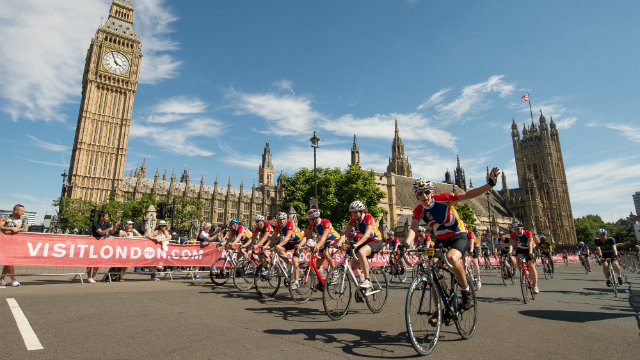 Key results
Prudential RideLondon's third year in 2015 was its most successful ever, contributing £23.8m to the economy and drawing more than 200,000 spectators
Since 2013 the event has raised more than £29m for good causes
RideLondon has won 11 major awards including BT Sport Industry Awards: Participation Event of the Year for two years running
Our major events team are here to help big event organisers. If your event is world-renowned, televised, part of a world series and at an elite level, or attracts large visitor numbers then our major events team can help you bring it to London. Find out more at londonandpartners.com/majorevents
After just three years, Prudential RideLondon is firmly established as one of the most successful fundraising sports events in the world

Hugh Brasher, Event Director