Social butterflies land in London
London will welcome 50 global travel Instagrammers, bloggers and YouTubers this weekend for #LoveLondonWeekend.
The event will include personalities and content creators from countries including the US, Germany, France, Italy, Spain and Scandinavia, who have been invited to take part in various activities to experience the best of London and showcase it to their audiences.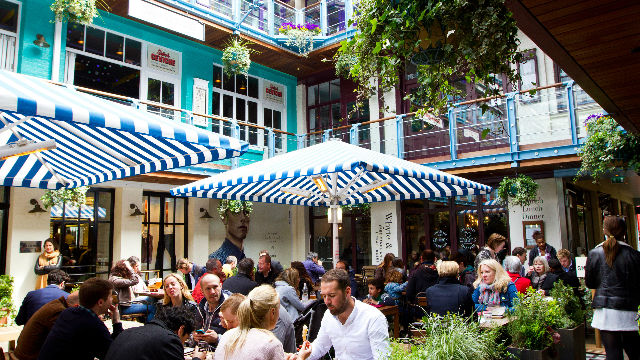 Arriving on Saturday, they will spend two days in London and will be joined by local people who will help them get the most out of their visit, whilst showing them their favourite London hangouts and hotspots. 
The weekend follows London & Partner's previous mass influencer project in October 2017, which promoted the region to around 20 million people on social media and carried the message that London continues to lead as a welcoming and creative destination for holiday makers in the UK. 
London & Partners is working with Marketing Manchester – Manchester's destination management organisation –  for this unique project.  The influencers will spend two days in Manchester before their visit to the capital, as part of a push to show the ease of visiting more than one city on a trip to the UK on an 'open-jaw' ticket i.e. flying into one city and out of another. 
Responding to the growing trend of social media influencers from Instagram, Twitter, Facebook and YouTube who have large global audiences – the collaborative project has been made possible thanks to a successful bid by London and Manchester to the Discover England Fund, which is run by VisitEngland. 
Throughout the trip, the influencers will take part in various experiences in London and Manchester including; themed walks, out of hours access to museums and galleries, exclusive food and drink tasters and a range of gigs, theatre and nightlife events which will highlight the range of experiences on offer to tourists. 
Using the hashtags #LoveLondonWeekend, #workerbeeweekender, and #MCRxLDN they will use their influence to connect with a global audience, showcasing the best of London and Manchester and how easy it is to visit the two cities.
Laura Citron, Chief Executive at London & Partners said: "The Love London Weekend is a fantastic and unique way to promote the UK capital to our international audiences. Following the success of our first trip back in October, this weekend will showcase our wonderfully vibrant and diverse city in new and inspiring ways. 
"We can't wait to welcome this group of brilliant international creators to London. They'll be telling the London story to their followers back home through their own eyes and their own adventures. We're delighted to be working with Marketing Manchester to showcase our two great cities. The Discover England Fund is all about helping tourists to explore more on their trip, and by joining London and Manchester, this weekend will do just that." 
The event can be followed on Instagram using the hashtags #LoveLondonWeekend and #MCRxLDN 
-Ends-
For more information on what's on in London this spring go to www.visitlondon.com
Notes to Editors
About London & Partners
London & Partners is the Mayor of London's official promotional agency. Its purpose is to support the Mayor's priorities by promoting London internationally, as the best city in the world in which to invest, work, study and visit. We do this by devising creative ways to promote London and to amplify the Mayor's messages, priorities and campaigns to international audiences.  Its mission is to tell London's story brilliantly to an international audience. 
London & Partners is a not-for-profit public private partnership, funded by the Mayor of London and our network of commercial partners. For more information, visit
Visitlondon.com is the most influential source of information for overseas visitors to London and features thousands of attractions both large and small across the entire city. Every year the site attracts 28 million unique users. 
For high res, rights-free images of London, please register at http://photos.london/press/    
Contact
Kate Turnbull, Head of Tourism PR
07854401040 / 0203 666 5663
London & Partners Media & PR Team
Tel: +44 (0)20 7234 5710
Switch: +44 (0)20 7234 5800
press@londonandpartners.com
Twitter: @London_PR