Tenth Silicon Valley Comes to the UK announces 2016 Scale Up Club
In its tenth year, Silicon Valley Comes to the UK ('SVC2UK') has invited 50 UK high-growth technology companies to join the 2016 'Scale Up Club'. Together the firms have a combined revenue of £205 million this year, employing nearly 2,500 people across the UK. This year's club is made up of some of the UK's fastest growing tech businesses from across a range of sectors, with an average growth rate of 47 per cent - including Dressipi, New Voice Media, Poq, Syndicate Room, and VentureFounders.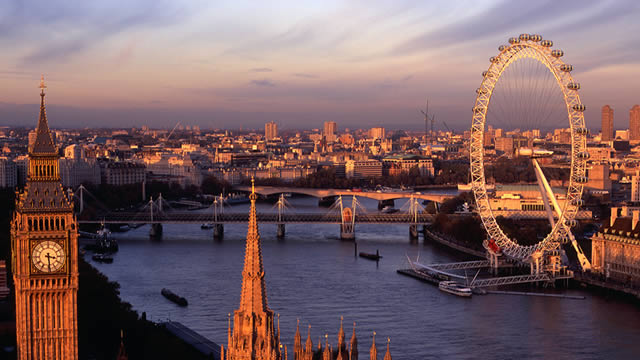 Over the last ten years the UK's tech sector has been a leading source of jobs and growth for Britain's economy, according to new data released to coincide with the tenth anniversary of SVC2UK and commissioned by London & Partners, The Mayor of London's promotional company1. The data revealed that the UK's tech sector currently employs over 1.15 million workers across the UK and has seen a 17 per cent rise in the number of jobs created since 2006, greater than the seven per cent increase across all sectors. Britain's digital sector has also created more new businesses than the wider economy, recording a 44 per cent growth in digital businesses, compared to a 23 per cent across all industries.
London has been a driving force behind the growth of the UK's digital economy, with the data showing that the capital's booming tech sector has outperformed the wider London and national economy.  From 2006-2016, London's digital sector recorded 77 per cent employment growth and a 90 per cent growth in the number of digital businesses. According to the latest figures compiled by Oxford Economics, London's tech sector is currently home to 46,000 businesses, contributing 240,000 jobs across the city.
Deputy Mayor for Business, Rajesh Agrawal, said: "With our unrivalled mix of investors, talent and creativity it is hardly surprising that tech businesses and entrepreneurs are clamouring to be part of London's tech story. These latest figures underline that London is the best place to invest in tech and how important this sector is as a driver for the UK economy.
"In recent weeks the Mayor and I have been speaking to business leaders in tech and beyond to reassure them London is open for business. Moving forward, Sadiq's plans include the establishment of a 'tech talent pipeline' to ensure young Londoners have the digital skills to access employment and to encourage Londoners, especially girls, to work in tech."
SVC2UK was launched in 2006 by Sherry Coutu CBE, Reid Hoffman and Ellen Levy. Previous Scale Up Club alumni such as TransferWise and SkyScanner are now valued at over $1 billion and represent some of the UK's most successful technology companies. SVC2UK offers Scale Up Club mentoring and support from highly influential entrepreneurs and investors from both side of the Atlantic including: Megan Smith, (White House CTO), Julie Hanna (Kiva), David Hornik (August Capital), and many many more.
Sherry Coutu CBE, serial entrepreneur, angel investor and a founder of SVC2UK, said: "I can hardly believe that SVC2UK is ten years old this year. When Reid, Ellen and I founded this initiative we couldn't have foreseen that ten years on it would still be going and have grown into such an incredible and impactful programme that has helped so many companies achieve more, and scale up faster. We see from our own internal data that the UK's tech and digital industry is growing year on year – and now combined with London & Partners data about tech growth over the last ten years this is resolutely confirmed. I am so very proud of what we are doing at SVC2UK and I wish all those included in this year's Scale Up Club the very best in what will be a challenging yet exhilarating year ahead."
SVC2UK has been supporting this incredible growth over the last ten years by:
helping over 400 first time CEOs to scale up their businesses
hosting over 170 prominent serial entrepreneurs from Silicon Valley to share insights and knowledge of scaling and learn about the UK Tech scene
hosting over 30,000 guests at events across Cambridge, Manchester and London and inspiring SVC2U events in other cities such as Tallinn, Latvia and San Francisco
working with over 1,000 volunteers in running the SVC2UK events
supporting over 60 Female CEOs to raise their ambitions and scale up their businesses
Leading two International Trade Missions to Silicon Valley for Female CEOs from the SVC2UK Scale Up Club to share learnings and connect to influential networks to grow customer base
inspiring the creation of Founders4Schools, a registered charity that has facilitated over 112,000student-employer encounters since it was born in 2012
This year's SVC2UK programme kicked off on Tuesday, 1st November in Cambridge, in partnership with Bailey Fisher Executive Search, with a debate about 'Artificial Intelligence' at the Cambridge University Debating Society followed and AI roundtables hosted at Mills & Reeve. The programme came to London yesterday (Wednesday 2nd) with masterclasses on scaling a company at Google Campus; a 'Ten Years From Now' series of keynotes at the Royal Institution of Great Britain. The week culminates today (Thursday 3rd) with the annual CEO Summit for all those selected to join the 2016 Scale Up Club, hosted at City Hall. This year, SVC2UK is also partnering with Pitch@Palace, which took place on the evening of 2ndNovember, the WIRED Festival on Friday 3-6th November and the Edtech UK Summit on 4th November. See full programme here.
Janet Coyle, Director SVC2UK at London & Partners said: "Once again, this year's Scale Up Club includes some of the highest growth tech and digital businesses from across the UK. We are excited to welcome so many brilliant entrepreneurs and investors from the US and the UK and we are so grateful to them for the time and energy they have put into mentoring and inspiring throughout this year's programme – and so many years before."
Mark Barnett, President UK & Ireland, Mastercard added: "Over the last ten years the UK's technology sector has gone from strength-to-strength. With a world class financial centre, access to talent and a thriving start-up ecosystem, London has emerged as a leading innovation hub and is now a world leader in areas such as fintech and retail technology. Through initiatives such as Silicon Valley Comes to the UK and MasterCard's Start Path programme, we see a growing opportunity to work with London's start-up and high growth businesses to develop the latest technologies in retail, big data, security and payments."
This year's summit is being run by London & Partners with support from SVC2UK partners including Mastercard, Google (Campus London), KPMG, Barclays, Pennington Manches, Bailey Fisher Executive Search, Royal Society, Mills & Reeve, Wilson Sonsini Goodrich and Rosati, Mind the Bridge and FieldHouse Associates.
The full list of Scale Up Club entrepreneurs can be seen here: http://www.svc2uk.com/2016-scale-up-club/
Notes to Editors
Notes to editors
1 Oxford Economics: Digital Technology In London, October 2016
Scale Up Club over the past four years…
2016

2015

2014

2013

Abundance Investment

Adzuna

AppChocolate Ltd

Bare Biology

BookingBug

Cause4

CRU Kafe

Dressipi

Grabyo

Green Energy options Ltd (geo)

Hiring Hub

HotDocs Limited

Hubble

Kanteron Systems

Landbay Partners Limited

Live Better With

Luxtripper Limited

MBA & Company

Metail

Nerdy Technologies

NewVoiceMedia Ltd

Nurole

obelisk support

One Point Consulting Ltd

Opportunity Network

Pavegen

PCA Predict

PensionMandate

Poq

Reedsy

Rezonence

SAM Labs

Screendragon Limited

SEAB

Secret Me ltd

SECRETSALES.com

Seenit

Server Density

Settled

Snapfashion

Snap.hr

SoPost

SyndicateRoom

The Clean Space

The Silver Crane Company

Touchnote

Transversal

UnderTheDoormat Ltd.

Undo Ltd

VentureFounders

Adzuna

Blaze.cc

Bloom & Wild

Cambridge Intelligence

Careflow connect

Clear Returns

CMO Compliance

Concirrus

Dressippi

Duedil

ESBConnect

Freeformers

Graze

Grub Club

Halo Insurance Services Limited

Hassle.com

Invenio Business Solutions

iStorage Limited

Kano

Kanteron Systems

Miradore

Mosaicoon

MotorK

Network Locum

Oviva

Parkopedia

Pointr

Prisma Electronics SA

Raspberry Pi Foundation

Realeyes

Renal Services

Rocketseed

Secretsales.com

Schoolguide

Skimlinks

Sky-Futures

SmartCurrency Group

Snapfashion

Switch

Technology Will Save Us

translate plus

TRULY Experiences

uMotif

Urban Massage

Vocality

WhatUsersDo

Yomp

Amplience

Appear Here

AppsBuilder

Benefex

Beyondtheschoolrun

Blippar

Blueliv

Bossa Studios

Cambridge Cognition

Cambridge Intelligence

Cause4

CertiVox

CityFibre

Clear Returns

Code Club

Concirrus

Conversocial

Digital Shadows

Eblink

eLife

Genius Food

Glow

Hassle.com

HealthUnlocked

InSkin Media

Jolla

Love Home Swap

LoveSpace

LovethEsign

Mars Space

Moneydashboard

MSquared Lasers

Musement

MVF

MyShowcase

Neverbland

nucleobase

Object Matrix

PathXL

Payment Sense

Postcode Anywhere

Purple Wifi

Real Eyes

Secretesales.com

Server Density

Smart Traffic

Somo

Spark Energy

StreetHub

SwiftKey

Taragenyx

Technology Will Save Us

The Test People

Thread

Translate Plus

TVTY

Undo Ltd

Versarie

Affectv

AlexandAlexa.com

Artfinder

Asset Match Limited

Axol Bioscience Limited

Base79

Boticca

Bright*Sun

Cause4

CertiVox UK Ltd.

ConcretePlatform

Coveritas Limited

DataShaka

EDITD

EVRYTHNG Limited

Greenman Gaming

HealthUnlocked

HybridCluster

i2O Water

import·io

Insane Logic

Intelesant

itradein.com Ltd

Jostle Corporation

Kiosked Ltd

Love Home Swap

Lulu

Lumi Mobile

M Squared Lasers

Marmalade

Masabi

Medikidz

Neo Mobile

NewVoiceMedia

onefinestay

Ontrac Ltd

Pocketprof

Postcode Anywhere

PsychologyOnline

Realex Payments

RedBite Solutions

Rightster

Seedrs

ServerSpace Limited

Signkick

Skimlinks

Skyscanner

sofar sounds

Somo

SuperAwesome Ltd

SwiftKey

Synthesio

Teddle

Test and Verification Solutions Ltd

TransferWise

TranslateMedia

Tray.io

TrialReach

Trustev

WAYN (Where Are You Now?)

Wifarer

Worldwide Computer Company (Charity Engine)

YPlan

Zopa
About SVC2UK
SVC2UK is a not-for-profit programme run by London & Partners (the Mayor's International Promotion Agency) together with volunteers, advisers and partners. It was founded by Sherry Coutu, Reid Hoffman and Ellen Levy. Now in its tenth year, SVC2UK brings together the top entrepreneurs and VCs from Silicon Valley with students, early stage CEOs, serial entrepreneurs, and policymakers in the UK with the singular goal of inspiring entrepreneurship, innovation, and economic prosperity. The annual summit takes place in November each year with prominent serial entrepreneurs from Silicon Valley visiting London and Cambridge.
This year's SVC2UK programme will see 12 events hosted across three cities (London, Manchester and Cambridge) with guest speakers, high level networking events, mentoring for CEOs of scale ups and dinners involving leading figures from Europe and Silicon Valley's technology sectors.
SVC2UK 2016 - useful links
Click here for the full programme
Click here for a full list of speakers
About London & Partners
London & Partners is the official promotional company for London. We promote London and attract businesses, events, congresses, students and visitors to the capital. Our aims are to build London's international reputation and to attract investment and visitor spend, which create jobs and growth. London & Partners is a not-for-profit public private partnership, funded by the Mayor of London and our network of commercial partners.