St Paul's Cathedral, Tate Modern and the National Theatre join line-up of landmark locations and events for London's Burning
Three more London landmarks, a live digital broadcast presented by Lauren Laverne and a talks programme inspired by major themes across the festival have been announced as part of LONDON'S BURNING, Artichoke's contemporary art and ideas festival marking the 350th anniversary of the Great Fire of London.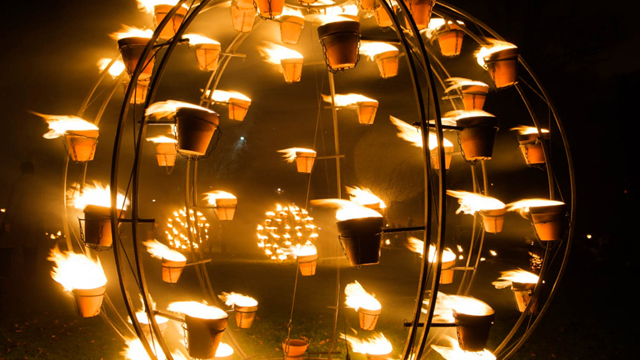 The series of spectacular art events, which are all free to the public, will take place in key sites across the City, Southbank and Bankside from 30th August - 4th September 2016, marking this momentous event in London's history and addressing its contemporary resonance with themes including displacement, disaster and the resilience of the urban metropolis.
Artist Martin Firrell presents Fires of London, two new commissions either side of the River Thames. Fires Ancient will light up the south and east sides of the dome of St Paul's Cathedral with a fiery projection echoing both the catastrophic impact of the Great Fire of London on the Cathedral itself and the birth of the building designed by Christopher Wren that emerged, phoenix-like from the ashes. The projection will be visible from across the river and with a unique up-close view from the public Roof Terrace at One New Change.
(Supported by Cheapside Business Alliance, RSA Insurance and Land Securities)
On the other side of the river, Firrell's Fires Modern will be projected onto the flytower of the National Theatre's (NT's) iconic Grade II listed building. The projection of Firrell's text and flames will reveal stories of resurgence and change that have shaped the UK's capital city and created the open and diverse metropolis that we enjoy today. Projecting Fires Modern resonates with the National Theatre's mission of making the very best theatre and sharing it with as many people as possible. Fires Modern will join a historically impactful series of artistic projects that have used the NT's flytower to reach as wide an audience as possible.
With views across to the City and St Paul's Cathedral, French fire alchemists Compagnie Carabosse will create a Fire Garden, transforming the riverside area in front of Tate Modern into a crackling, spitting, after-dark adventure.
(Supported by Aon)
Helen Marriage Director of Artichoke said: "LONDON'S BURNING brings a unique contemporary perspective to the Great Fire, exploring the challenges and issues faced by major world cities today, our relationship to catastrophe and crisis and our ability to adapt, adjust and rebuild. It is an artistic response that addresses the impact of the Great Fire of London on the City, its inhabitants and buildings, and how it emerged from the ashes and evolved to the resilient world city it is today".
In addition to the live festival programme, Artichoke has been commissioned by The Space to produce a live digital broadcast of the spectacular finale event, London 1666. An extraordinary 120-metre long sculpture of the 17th-century London skyline will appear on the River Thames and burn, in a dramatic retelling of the story of the Great Fire of London of September 1666. A collaboration between American 'burn' artist David Best and Artichoke, the project has involved months of work and participation with local schools and young Londoners.
The broadcast will be hosted by Lauren Laverne from 8.25pm on Sunday September 4th, and will include key guests and a series of short films revealing the stories behind the project. The event will be filmed using state-of-the-art equipment and techniques to capture a multi-camera live experience, directed by Tim van Someren, who created the London 2012 Olympic Opening Ceremony. The programme will give online audiences front row, immersive access and a memory that will burn bright long after the fire has died.
A talks programme will accompany the London's Burning artistic programme exploring how cities past and present have responded to crisis. It will include an exclusive poetry reading by actor Simon Callow at the top of The Monument, and The Great Fire in Three and a Half Pints, a series of three guided walking tours, including a spine-tingling tour of the City's streets led by psychiatrist Joanna Moncrieff, each tour stopping off at historic Fuller's pubs along the way.
Elsewhere in the programme speakers include London's highest-ranking female Fire Fighter, Becci Bryant, and authors Suzanne O'Sullivan and Andrew Mitchell Hurley, whose talks will explore historical and contemporary themes including our fascination with fire, the language of crisis, the part art can play in solutions to crisis, responses to world trauma and the psychology of fear. 
Thursday 1st September 2016 – 7pm, the Monument, £20/£18
○   The City From Above: Looking Down at the Great Fire
An intimate history of the Monument and the Great Fire, led by author Matt Brown and culminating in a poetry reading by actor Simon Callow 62 metres above ground.
Friday 2nd September 2016 - 1pm, Broadgate, London, £5, including a light lunch
○   Art and Crisis - Helen Marriage and Lars Jan
From public memorials to art installations, join Early Morning Opera's Artistic Director Lars Jan and the Director of Artichoke, Helen Marriage, for a discussion about how art can respond to the issues impacting our world today.
Friday 2nd September 2016 - 7pm, Natwest, 280 Bishopsgate, £15/£13
○   Fire: Threat and Saviour
5x15: Becci Bryant, Ed Galea, Rebecca Rideal, Joshua Levine and Miranda Aldhouse-Green. Five speakers, fifteen minutes each. One Great Fire of London, hundreds of years of history.
Saturday 3rd September 2016 – 2pm, Barbican Cinema 3, £15/£13
○   When things go wrong: 21st Century responses to world trauma
Speakers include Philip Collins and John Drury
This talk examines how disasters are reported across the globe, the rhetoric used to discuss catastrophe, and the psychology of crisis.
Saturday 3rd September 2016 – 4pm, Barbican Cinema 3, £15/£13
○   Fear: From Neuroscience to Novels
Award-winning neurologist Suzanne O'Sullivan and author of The Loney, Andrew Michael Hurley, will discuss the construction of fear and its manifestation in our daily routines.
Saturday 3rd September 2016 – 1.30-4pm , £20/£18
○   The Great Fire in Three and a Half pints – three walking and drinking tours:
~ A Fire Walk Into A Pub with Pete Brown.
~ Crime and Punishment with Joanna Moncrieff. A spine-tingling journey into the City's murderous backstreets
~ A London Obsession with Peter Berthoud. A historically-fascinating jaunt through the City's past
In addition, BBC Radio 4 will be marking the Great Fire anniversary with a series of programmes including Cities from the Ashes, presented by Nicholas Kenyon, 30th August, Great Fire 350, which charts the making of Artichoke's London's Burning festival, 3rd September; and Pepys After the Fire, 5th-9th September.
Mark Boleat, the City of London Corporation's Policy Chairman, said: "The Artichoke team has worked tirelessly with a wide range of organisations and leading artists to put together a spectacular and ambitious programme of events to commemorate the 1666 Great Fire of London. As the founding sponsors of LONDON'S BURNING, the City of London Corporation has been very proud to be involved in this major project that will remember how the Fire claimed lives and devastated the City of London, but also celebrate how it rose triumphantly from the ashes".
Joyce Wilson, London Area Director, Arts Council England, said: "We're delighted to be able to acknowledge Artichoke's ambitions for excellence by funding this project. It will bring the city together around a piece of incredible art, and in commemoration of a significant moment in its history. LONDON 1666 is a great opportunity to put the creativity of young people at the heart of a high-profile historic event with national appeal."
The Mayor of London, Sadiq Khan, said: "The Great Fire of London was one of the most important moments in the history of the capital. The range of fantastic events taking place around its 350th anniversary shows once again that London is open to visitors from around the world."
Other aspects of the artistic programme include:
OF ALL THE PEOPLE IN ALL THE WORLD, Stan's Cafe, Inner Temple
From the handful of recorded deaths to the tens of thousands made homeless in 1666, OF ALL THE PEOPLE IN ALL THE WORLD by Stan's Cafe will count the cost of the Fire in grains of rice comparing historical facts with contemporary moments. Located in the Inner Temple and watched over by the stern portraits of four of the Fire Judges appointed by the King to adjudicate on compensation claims after the Fire, this installation offers a remarkably compelling way to experience the impact of these dramatic events.
HOLOSCENES, Early Morning Opera, Exchange Square, Broadgate
Exchange Square, Broadgate will see the UK Premiere of HOLOSCENES, a mesmerising 6-hour underwater performance-installation by US-based Early Morning Opera. The piece reminds us that today, it is flooding rather than fire is the contemporary threat in this and many contemporary cities, and one we are ignoring at our peril. Created by Artistic Director Lars Jan, the piece features individual performers going about mundane daily tasks as water levels rise around them.
A MAPP International Project (Supported by British Land)
DOMINOES, Station House Opera, City of London
DOMINOES by Station House Opera is an extraordinary kinetic sculpture. First commissioned by CreateLondon in 2009, DOMINOES has since travelled worldwide. This new version, specially-created for LONDON'S BURNING by artistic director Julian Maynard-Smith, will be its most ambitious yet, involving 600 volunteers, 23,000 breeze blocks and a 5.5km run through the city, tracing the path of the Fire through its streets, buildings and public spaces, linking the past with the present in a symbolic and physical chain of cause and effect.
An Artsadmin Project
LONDON 1666, David Best & Artichoke, River Thames
This spectacular finale will see an extraordinary 120-metre long sculpture of 17th-century London floated onto the River Thames and set alight in a dramatic retelling of the story of the Great Fire. Designed by American artist David Best, working in collaboration with Artichoke.
(Supported by Arts Council England and the Paul Hamlyn Foundation)
London's Burning, produced by Artichoke, 30th August-4th September 2016  www.visitlondon.com/greatfire350 @greatfire350 #LondonsBurning #Londonisopen
Fire of London: Fires Ancient and Fires Modern, Martin Firrell (St Paul's Cathedral and The National Theatre, Thursday 1st September - Sunday 4th September, free, dusk until 11pm)
Fire Garden, Compagnie Carabosse (Tate Modern, Thurs 1st September - Sat 3rd September, free, 8-11pm)
Of all the People in all the World, Stan's Cafe (Inner Temple, Tuesday 30th August - Sunday 4th September, free, 12-6pm Tues-Fri, 12-8pm Sat-Sun )
Holoscenes by Early Morning Opera (Exchange Square, Broadgate, Thurs 1st-Sun 4th September, 5-10pm free, see website for further details)
Dominoes, Station House Opera (City of London, Sat 3rd September, free. Set up from 3pm, start 6.30pm. See website for map and further details)
London 1666 designed by David Best, produced by Artichoke (River Thames, Sun 4th September, free, Entry from 6pm, event at 8.30pm, see website for further details)
London 1666 Live broadcast hosted by Lauren Laverne from 8.25pm Sunday 4th September. www.visitlondon.com/greatfire350
London's Burning Talks Series (Various venues, 30th August – 4th September, see website for further details)
Fire Food Market (Guildhall Yard, Sat 3rd September 6.30-10pm and Sun -4th September, 5-10pm, see website for further details)
LONDON'S BURNING is part of Great Fire 350. Throughout 2016 and beyond, City cultural institutions will mark the 350th anniversary of the Great Fire of London with a season of events including the exhibition Fire! Fire! at the Museum of London until 17th April 2017
Notes to Editors
Editors' Notes
London's Burning
London's Burning, 30th August-4th September, is a festival of arts and ideas, produced by Artichoke, with founding sponsorship from the City of London Corporation, the Department of Culture, Media and Sport and major support from Arts Council England and further support from a raft of funders and sponsors.
Great Fire 350
Great Fire 350 marks the 350th anniversary of the 1666 Great Fire of London. Throughout 2016, City cultural institutions will mark the anniversary with a variety of events including exhibitions, concerts, lectures and tours.. Full details at www.visitlondon.com/greatfire350.
About Artichoke
Producers of extraordinary live events, Artichoke is one of the country's leading creative companies and is a registered charity, funded by Arts Council England.
At Artichoke we use art to undermine the mundane and disrupt the everyday, and create a new kind of world that we'd all like to live in.
Our previous projects include Royal de Luxe's The Sultan's Elephant, which brought an estimated one million people onto the streets of London in 2006; La Machine's 50- foot high mechanical spider for Liverpool's Capital of Culture celebrations in 2008; Antony Gormley's One & Other 100-day long invasion of the Fourth Plinth in Trafalgar Square in London in 2009; and Deborah Warner's commission for the London 2012 Festival, Peace Camp, a nationwide celebration of landscape and poetry, which took place across eight separate sites around the UK; and Temple by David Best in Derry~Londonderry, attended by more than 60,000 people. Artichoke creates and produces Lumiere, the UK's largest light festival, which has been staged in the medieval English city of Durham every two years since 2009; and in Derry~Londonderry in Northern Ireland as part of the celebrations for City of Culture 2013. In January 2016, the company staged the first Lumiere London, supported by the Mayor of London, attracting estimated audiences of over 1 million over four nights. www.artichoke.uk.com
The City of London Corporation
The City of London Corporation is a uniquely diverse organisation. It supports and promotes the City as a world leader in international finance and business services and provides local services and policing for those working in, living in, and visiting the Square Mile. It also provides valued services to London and the nation. These include the Barbican Centre, Barbican Music Library, Guildhall School of Music & Drama, Guildhall Library, Guildhall Art Gallery and Roman Amphitheatre, London Metropolitan Archives, a range of education provision (including three City Academies); five Thames bridges (including Tower Bridge and Millennium Bridge), Central Criminal Court at Old Bailey, over 10,000 acres of open spaces (including Hampstead Heath and Epping Forest), and three wholesale food markets. The City of London Corporation is London's Port Health Authority and also runs the Animal Reception Centre at Heathrow. For more details, visit www.cityoflondon.gov.uk
Arts Council England
Arts Council England champions, develops and invests in artistic and cultural experiences that enrich people's lives. We support a range of activities across the arts, museums and libraries – from theatre to digital art, reading to dance, music to literature, and crafts to collections. Great art and culture inspires us, brings us together and teaches us about ourselves and the world around us.
In short, it makes life better. Between 2015 and 2018, we plan to invest £1.1 billion of public money from government and an estimated £700 million from the National Lottery to help create these experiences for as many people as possible across the country. www.artscouncil.org.uk
Inner Temple
The Honourable Society of the Inner Temple is one of the four Inns of Court of England and Wales. The Inns of Court hold the exclusive right to call candidates to practise at the Bar of England and Wales and are providers of legal education and training. The Inn has over 8,000 qualified members, including judges, barristers (both practising and non-practising), pupils and students.
By kind permission of the Honourable Society of Middle Temple, a portrait of James II, as Duke of York (attributed to John Riley), will hang in the Inner Temple Hall for the duration of Great Fire 350.
Building on the success of the 2015 Magna Carta Open House Weekend, when 20,000 members of the public visited the estate and the historic Temple Church, Inner Temple is delighted to host Of All The People In All The World as part of Great Fire 350.
St Paul's Cathedral
For more than 1,400 years, a Cathedral dedicated to St Paul has stood at the highest point in the City.Frequently at the centre of national events, traditions have been observed here and radical new ideas have found expression under the iconic dome. In many cases these events have left some physical record as well as echoes in the intangible memory of the building.
The present Cathedral, the masterpiece of Britain's most famous architect Sir Christopher Wren, is at least the fourth to have stood on the site. It was built between 1675 and 1710, after its predecessor was destroyed in the Great Fire of London, and services began in 1697.
This was the first Cathedral to be built after the English Reformation in the sixteenth-century, when Henry VIII removed the Church of England from the jurisdiction of the Pope and the Crown took control of the life of the church. We are a Christian church within the Anglican tradition (Church of England) and we welcome people of all Christian traditions as well as people of other faiths and people of little or no faith.  www.stpauls.co.uk
Tate Modern
Tate Modern is one of Tate's four art galleries and is the most visited gallery of modern and contemporary art in the world. Designed by architects Herzog & de Meuron, it is home to the UK's collection of international modern and contemporary art.and attracts around five million visitors each year. The gallery is housed in the former Bankside Power Station and the spaces comprise the Boiler House, Turbine Hall, the Tanks and Switch House which are filled with around 800 works of art from the national collection and a vibrant programme of temporary exhibitions, displays and performances.
The National Theatre
The National Theatre is dedicated to making the very best theatre and sharing it with as many people as possible. We produce productions on the South Bank in London each year, ranging from re-imagined classics to modern masterpieces and new work by contemporary writers and theatre-makers. The National's work is seen on tour throughout the UK, in London's West End, internationally (including on Broadway) and in collaborations and co-productions with regional theatres. Across 2015-2016, the NT staged 34 productions and gave 3,057 performances in the UK and internationally. We reached audiences of over 787,000 on the South Bank, and over 3.7 million worldwide. Via the NT Live programme we reached 1.5 million people around the world and engaged with over 189,000 participants through the NT Learning events programme.
nationaltheatre.org.uk
@nationaltheatre
The Space
The Space works with artists and arts organisations to create great art and reach new audiences through digital technologies. From learning and skills through to funding and commissioning, the organisation supports the best new and original talent. The Space was founded by the BBC and Arts Council England.
Event Partners
The Space
Paul Hamlyn Foundation
Visit London (London and Partners on website)
British Land
Major Supporters
Great Fire 350: Livery Company Supporters
Cheapside Business Alliance
RSA Insurance
NatWest Skills and Opportunities Fund
London's Royal Docks
Event Supporters
John Ellerman Foundation
M&G Investments
Aon
Land Securities
Oxford Properties & The Royal Exchange
Great Fire 350: Corporate Circle
J.P. Morgan
The Drapers' Company
The Leathersellers' Company Charitable Fund
The Mercers' Company
Fuller's
Supporters
Great Fire 350: Fire Safety Circle, Reignwood Investments UK, Falcon Panel Products Ltd, MBM Forest Products Ltd, Daniel & Elizabeth Peltz, Allen & Overy, The Gerald Ronson Family Foundation, The Ernest Cook Trust, Lloyd's Charities Trust, Kentec, Xella, XL Catlin, Cinven
With thanks to
Andaz Hotel, Brigade Bar & Bistro, Grange Hotels, The Honourable Society of the Inner Temple, 1 Lombard Street, S&B Herba Food
LIVERY COMPANY SUPPORTERS
Major Supporters
The Drapers' Company, The Leathersellers' Company Charitable Fund, The Mercers' Company, The Worshipful Company of Bakers
Platinum Supporters
Carpenters' Company/The Building Crafts College, The Worshipful Company of Grocers
Gold Supporters
The Goldsmiths' Company, The Worshipful Company of Arbitrators, The Worshipful Company of Chartered Architects, The Worshipful Company of Pewterers, The Worshipful Company of Tin Plate Workers alias Wire Workers, The Worshipful Company of Wax Chandlers, The Fishmongers' Company, The Worshipful Company of Clothworkers
Silver Supporters
The Worshipful Company of Armourers & Brasiers, The Worshipful Company of Barbers, The Worshipful Company of Cooks, The Worshipful Company of Cutlers, The Worshipful Company of Girdlers, The Worshipful Company of Gunmakers, The Worshipful Company of Insurers, The Worshipful Company of Masons, The Worshipful Company of Makers of Playing Cards, The Worshipful Company of Plumbers, The Worshipful Company of Saddlers, The Worshipful Company of Salters, The Worshipful Company of Scriveners, The Worshipful Company of Tallow Chandlers, The Worshipful Company of Tax Advisers, The Worshipful Company of Turners, The Worshipful Company of Tylers & Bricklayers, The Worshipful Company of World Traders
With thanks to
The Worshipful Company of Chartered Surveyors, The Worshipful Company of Skinners
CORPORATE CIRCLE
22 Bishopsgate, Tower 42, PwC, Landmark plc
FIRE SAFETY CIRCLE
Kentec, International Fire Consultants Ltd, Apollo, BAFE, Fire Industry Association
Contact