Event Planners seek the "wow" factor
Whether it's visiting one of London's famous royal palaces, dining at a Michelin star restaurant or holding a drinks reception at a luxury five star hotel, planners are looking for a 'wow' factor to make their events a success, according to London & Partners, the city's official convention bureau.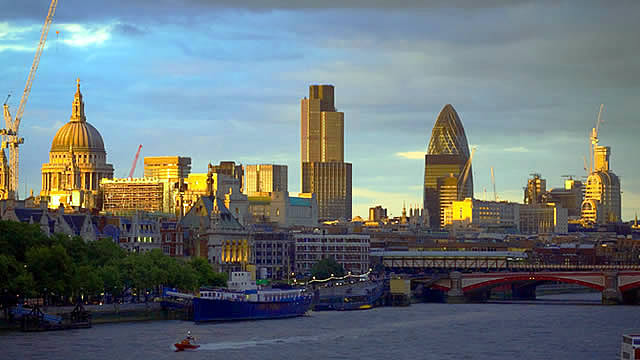 Nearly 40 per cent of 59 leading London-based suppliers rated the "wow" factor as the most important ingredient for success, ahead of flexible spaces (29 per cent), tech (12.7 per cent) and creativity (9 per cent).
London also offers better value than ever to international planners looking to hold their event in the city due to the fall in the value of the UK pound sterling against the Euro and US dollar.
Following the vote to leave the European Union in June, the number of enquiries at the city's CVB have increased by 35 per cent compared to the same period last year, including a 27 per cent rise in enquiries coming from the EMEA.[1]
Barbara Jamison, Head of Business Development Europe at London & Partners, said: "With increased competition in the industry, delegate engagement has become paramount, so it is not surprising the "wow factor" ranks so high on planners' list of priorities. Thousands of years of history, along with cutting-edge architecture and world-class culture means London has an unparalleled number of outstanding venues and experiences for event planners to woo their delegates."
Whether it's a stand-out venue, a luxury dinner or an enhanced programme, the "wow" factor and additional savings currently available will help planners increase delegate engagement and could also contribute to growing their event.
For example, Stamford Bridge offers a range of venues suitable for events for 10 to 1,000 delegates. Planners wanting to put a sport spin on their conference could host a day-long event with catering and backstage tour of the stadium for £75 per person or 87 euros[2], down from 106 euros[3] last year, saving 19 euros per head.
Those looking for their delegates to experience the royal treatment can book the historical Orangery at Kensington Palace (cared for by independent charity Historic Royal Palaces), which was once the setting for Queen Anne's sophisticated court entertainment. With a capacity of up to 300, The Orangery is the ideal location for an elegant and exclusive evening reception. Planners can now save several thousand pounds on the venue hire, with the rate going down from 14,160 euros in November 2015 to 11,579 in November 2016
Luxury hotel The Langham, London, located in the heart of the West End, is home to award-winning bar Artesian and to Roux at the Landau. Ideal for incentives, planners could organise a drinks reception and private dinner for 20 for 6,368 euros, 1,400 euros less than last year.
Searcys |The Gherkin offers private hire of the top two floors of London's iconic building, offering fantastic 360 degree views over the city. The space, ideal for evening receptions and product launches, can accommodate up to 260 guests. As of 15 November 2016, planners could save over 6,000 euros on the venue hire, A/V and catering for 150 guests, bringing the cost down to 27,680 euros.
Charley Taylor-Smith, Sales and Marketing Manager at Searcys |The Gherkin, said: "The awe-inspiring view from the top of the Gherkin as well as our industry-leading catering and hospitality help us deliver a real wow factor that engages and delights delegates. With the exchange rate making us more accessible than ever before, we look forward to working with our future clients to create truly memorable events."
Paul Miller, Managing Director at Spectra DMC, said: "The 'wow' factor is really important to clients and being able to offer things in London like climbing The O2 or recording a song at Abbey Road Studios allows us to offer a really compelling package. Once clients understand how affordable London has become because of the better exchange rate the only question left on the table is: what can we do?"
London & Partners will be exhibiting at IBTM World alongside 25 partners. Visit stand G10 to find out more about hosting your next event in London.
London & Partners will also be hosting a networking reception on Wednesday 30 November, in partnership with VisitEngland and VisitScotland.
[1] Enquiries received by London & Partners between June and October 2016 compared to the same period in 2015
[2] Mid-market exchange rate as of 15 November 2016 – 1.1578538008
[3] Mid-market exchange rate as of 15 November 2015 – 1.416045648
Notes to Editors
Images can be accessed here
For more high res, rights-free images of London, please register at http://photos.london/press/   
Partners exhibiting alongside London & Partners at IBTM World:
Arsenal Football Club, Emirates Stadium
Barbican
Business Design Centre
Crystal by Siemens
glh Hotels
etc.venues
Historic Royal Palaces
Kings Place Events
Kuoni Destination Management
Lancaster London
Millennium Gloucester
Novotel London West
Park Plaza Hotel Group
Premium UK (a Division of Spectra)
QEII Centre
Radisson Blu Edwardian Hotels
Renaissance St Pancras
Rosewood London
Royal College of Physicians
Searcys | The Gherkin
Stamford Bridge
Starwood Hotels and Resorts Worldwide
The Landmark London
The Langham London
Wembley Stadium
Prices are indicative and subject to change depending on availability and other factors.
Mid-market rate according to xe.com
GBP/Euros rates:
15 November 2016: 1.1578538008
15 November 2015: 1.416045648
 
Stamford Bridge: Behind the scenes DDR package, from £75pp + VAT
15/11/16: 87 euros
15/11/15: 106 euros
The Orangery, Kensington Palace: venue hire - £10,000+ VAT
15/11/16: 11,579 euros
15/11/15: 14,160 euros
The Langham: drinks reception and private dinner for 20 - £5,000, inc. VAT, exc. Service Charge
15/11/16: 6,368 euros
15/11/15: 7,788 euros
Searcys | The Gherkin: venue hire + catering + A/V for 150 people – £23,841.50 + VAT + Discretionary Service Charge
15/11/16: 27,605 euros
15/11/15: 33,761 euros


About London & Partners.
London & Partners is the official promotional company for London. We promote London and attract businesses, events, congresses, students and visitors to the capital. Our aims are to build London's international reputation and to attract investment and visitor spend, which create jobs and growth.
London & Partners is a not-for-profit public private partnership, funded by the Mayor of London and our network of commercial partners.
For more information visit www.londonandpartners.com      

About Stamford Bridge
Stamford Bridge is West London's premier events and entertainment destination, home to Chelsea Football Club. The venue offers versatile, flexible space for meeting, dining and sleeping, providing a one-stop destination for a full range of corporate and social events. With world-class facilities and first-class service fitting of the venue's iconic reputation, Stamford Bridge boasts 25 function rooms, 60 syndicate rooms, two restaurants - Marco Grill and Frankie's Sports Bar & Diner - onsite hotels from Millennium and Copthorne and the exclusive Chelsea Health Club and Spa. In addition, the club remain award winners of annual and matchday hospitality, with annual packages and bespoke corporate hospitality available to suit any occasion. Stamford Bridge is a London Living Wage accredited employer. For more information, please visit:
www.chelseafc.com/events | www.chelseafc.com/hospitality
@StamfordBridge

About Historic Royal Palaces
Historic Royal Palaces is the independent charity that looks after the Tower of London, Hampton Court Palace, the Banqueting House, Kensington Palace, Kew Palace and Hillsborough Castle. We help everyone explore the story of how monarchs and people have shaped society, in some of the greatest palaces ever built. We raise all our own funds and depend on the support of our visitors, members, donors, sponsors and volunteers. With the exception of Hillsborough Castle, these palaces are owned by The Queen on behalf of the nation, and we manage them for the Secretary of State for Culture, Media and Sport. Historic Royal Palaces cares for Hillsborough Castle under a separate contract with the Northern Ireland Office. Registered charity number 1068852. For more information visit www.hrp.org.uk
About Searcys | The Gherkin
Exclusively occupying the top three floors of The Gherkin, Searcys provides world-class hospitality for corporate events and private functions at this unique landmark in the heart of London. It is also home to London's highest private members' club, featuring an exclusive lounge, restaurant and bar with private dining rooms offering the finest menus and 360° views over the City. The glass dome at the top of The Gherkin is available for exclusive private hire, ideal for prestigious events, as an unusual wedding venue or for memorable product launches.
Contact
Bettina Gimenez, Senior Press Officer - Tourism
Tel: +44 (0)207 234 5892 / +44(0)7825 785571
London & Partners Media & PR Team
Tel: +44 (0)20 7234 5710
Switch: +44 (0)20 7234 5800
Twitter: @London_PR