London & Partners announces new partnership with cancer charities
London & Partners, the Mayor of London's international promotional company, has today announced its new partnership with two cancer charities, The Brain Tumour Charity and Pancreatic Cancer UK.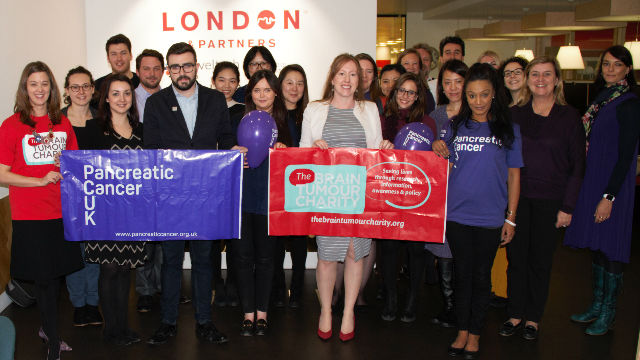 The two charities topped a London & Partners' staff poll to decide who the company supports. As well as fundraising events and use of volunteer days, staff will also have the opportunity to share skills and learning that will deliver long-term value to both charities.
Andrew Cooke, Acting CEO of London & Partners, said: "We are delighted to announce our new partnership with The Brain Tumour Charity and Pancreatic Cancer UK. In addition to fundraising and volunteering events, our partnership also signifies a wider commitment to use our time and skills to deliver meaningful advice, knowledge sharing and mentoring on projects in areas such as communications, digital, HR, research and insights."
Geraldine Pipping, Director of Fundraising at The Brain Tumour Charity, said: "We are grateful to London & Partners for choosing The Brain Tumour Charity as one of their first charity partners. We are looking forward to working alongside the team and are excited to see how our partnership unfolds. Through partnerships with organisations like London & Partners, we are able to offer vital support to patients and families, invest in crucial research to help us see the breakthroughs we urgently need, and be a voice for everyone affected by the disease."
Sue Collins, Interim Director of Fundraising and Marketing at Pancreatic Cancer UK, said: "We are incredibly delighted and so grateful that the staff at London & Partners have chosen to support Pancreatic Cancer UK as their charity partner. Pancreatic cancer has the lowest survival rate of the 21 most common cancers, with only five per cent of people diagnosed living for five years or more. We receive no government funding and rely 100% on voluntary donations, so it's only through the efforts of companies like London & Partners that we can change these shocking statistics in the future."
The new partnership was officially launched on 17 November to mark World Pancreatic Cancer Awareness Day.
Notes to Editors
About London & Partners
London & Partners is the official promotional company for London. We promote London and attract businesses, events, congresses, students and visitors to the capital. Our aims are to build London's international reputation and to attract investment and visitor spend, which create jobs and growth.
About The Brain Tumour Charity
The Brain Tumour Charity is the UK's largest dedicated brain tumour charity, committed to fighting brain tumours on all fronts. We fund scientific and clinical research into brain tumours and offer support and information to those affected, whilst raising awareness and influencing policy. Our aim is to improve understanding, diagnosis and treatment of brain tumours.
Registered Charity No. 1150054 (England and Wales) SC045081 (Scotland)
Find out more at: www.thebraintumourcharity.org
About Pancreatic Cancer UK
Pancreatic Cancer UK is taking on pancreatic cancer through research, support and campaigning to transform the future for people affected.
We provide expert, personalised support and information via our Support Line (Freephone 0808 801 0707) and through a range of publications.
We fund innovative research to find the breakthroughs that will change how we understand, diagnose and treat pancreatic cancer.
We campaign for change; for better care, treatment and research, and for pancreatic cancer to have the recognition it needs.
Registered Charity No. 1112708 (England and Wales) SC046392 (Scotland)
Find out more at: www.pancreaticcancer.org.uk
Contact
For more information on events, attractions or restaurant offers, please contact the London & Partners Media & PR Team:
Tel: +44 (0)20 7234 5710 

Switch: +44 (0)20 7234 5800 

press@londonandpartners.com  

Twitter: @London_PR