London's hottest smart cities start-ups join Deputy Mayor for Barcelona trade mission
Fifteen of London's fastest-growing smart cities technology companies will join the Deputy Mayor for Business, Rajesh Agrawal, on a trade mission to Barcelona this week (15th-17th).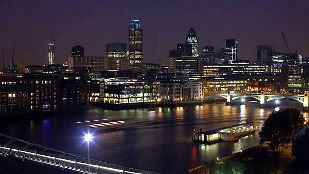 The businesses represent some of London's most exciting smart cities innovators, offering solutions across big data, clean tech and transport. They include London taxi app Gett Taxi, which received a $300 million investment from Volkswagen earlier this year, parking app JustPark, and NFC Ring, which produces near field communication-enabled wearable devices for making contactless payments. 
The companies will showcase their projects at the world's largest smart cities conference, the Smart City Expo World Congress.
Deputy Mayor for Business and Enterprise and Chairman of London & Partners, Rajesh Agrawal will meet senior business leaders and politicians from across Europe discuss opportunities for collaboration with cities such as Amsterdam and Barcelona.
He will also deliver a keynote speech in which he will reassure business leaders that they remain welcome post-Brexit and that London is open to investment, trade and talent from around the globe.
Deputy Mayor for Business and Enterprise, Rajesh Agrawal said: "London is already a world leader in tech, with some of the best talent in areas such as big data and sustainability. The companies on this trade mission are part of the capital's thriving sector, which is at the forefront of developing cutting edge technologies which will change the way cities function.
"The Mayor and I are clear that digital technology and data have a vital role to play in the future of our public services, in energy, water, safety, transport and city infrastructure. And our progress in these areas, supported by an exceptional talent pool, will create opportunities for all Londoners and realise our ambition to becoming a truly smart city.
"There is a growing opportunity to work with cities across the world to develop innovative solutions to our challenges and London will always be open to sharing ideas and talent with the entire globe."
Priya Prakash, Founder and CEO Design for Social Change Ltd added:" Design for Social Change is fortunate to be a London based urban technology company as its one of the best cities in the world to develop new cutting edge urban technologies to bring to market disruptive smart city services underpinned with a citizen centric approach that is unique and predicts where the smart tech market is going. London acts both as a petri-dish to develop new services that address how cities globally need to solve their urban challenges across mobility, communities, infrastructure as well as helps set the standard and benchmark on quality of services delivered to Londoners and citizens globally. There isn't a better city than London to create new urban service from scratch."
The three-day trade mission is being led by the Mayor's International Business Programme in partnership with Imperial College London, Camden Council and Digital Greenwich. The travelling companies will be given the opportunity showcase their innovations, meet with leading investors and explore export opportunities.
The trade mission to Barcelona is the latest overseas visit organised by the Mayor's International Business programme, which helps the capital's high-growth firms to break into new international markets or grow their existing operations overseas.
Since the launch of the programme in February this year, more than 150 of London's fastest growing companies have joined the programme which has already led trade visits to countries including the United States, Israel, Germany and China. 
Notes to Editors
Full list of companies attending the trade mission:
| | |
| --- | --- |
| Company | Sector |
| BlockDox | Community / Governance |
| Mastodon C | Community / Governance |
| NFC Ring | Mobility |
| Smart Energy GB | Energy and Environment |
| Spacehive | Community / Governance |
| WiFi Spark | Energy and Environment |
| Design for Social Change | Community / Governance |
| GeoUniq | Community / Governance |
| Gett | Mobility |
| JustPark | Mobility |
| Invotra | Community / Governance |
| Open energi | Energy and Environment |
| Polysolar | Energy and Environment |
| SEaB Energy | Energy and Environment |
| Space Synthax | Community / Governance |
About Mayor's International Business Programme 
The Mayor's International Business Programme, is a £5 million programme part funded by the European Regional Development Fund (ERDF), aims to support high-growth companies in the life sciences, technology and urban sectors to increase their export success across a range of key markets in Europe, Asia and North America. 
The three-year programme, which will target 800 companies, is coordinated by London & Partners, the Mayor's official promotional agency, in partnership with KPMG, PA Consulting, BDO, Benoy and London Chamber of Commerce and Industry.  
About London & Partners 
London & Partners is the official promotional company for London, which owns and manages the official tourism site, VisitLondon.com. We promote London and attract businesses, events, congresses, students and visitors to the capital. Our aims are to build London's international reputation and to attract investment and visitor spend, which create jobs and growth. London & Partners is a not-for-profit public private partnership, funded by the Mayor of London and our network of commercial partners.   
For more information visit londonandpartners.com
Contact
Ben Pattie, PR Manager: 
Tel: +44 07920 759014