Italian student who has designed a violin made from silk has been crowned London's most innovative international student
Luca Alessandrini, a post graduate from Imperial College London, beat hundreds of other entries from 49 different countries and 17 universities, with his violin which is made from a mixture of spider silk and resin.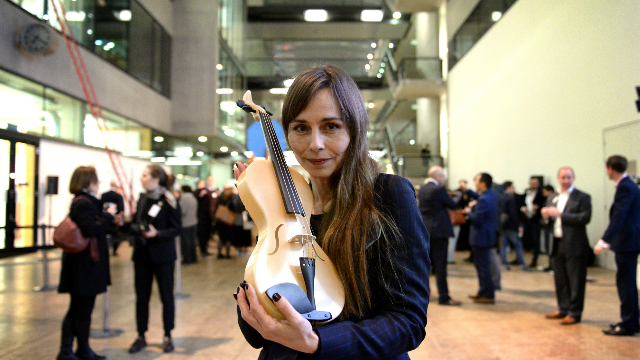 When the violin is played, the spider silk vibrates the instrument's casing, emitting a sound which can be customised by tweaking the exact blend of the material.  The combination of silk and resin produces a unique tone which can be altered by blending different quantities of the raw materials.
Luca, who won the £10,000 top prize in The Mayor of London's International Student Innovation Award 2016, says the new material could allow the acoustics of instruments and sound equipment to be customised with a degree of control that is difficult to obtain with other modern materials such as carbon fibre. Luca, originally from Urbino, Italy, said: "Studying in London has been one of the best experiences in my life and this incredible initiative will allow me to bring my project closer to reality. 
"I have spent two years working full time with 38 people from 14 different countries and I couldn't imagine a more supportive and stimulating environment than this city."
Second place, in the initiative devised by London & Partners, the Mayor's official promotional company, went to Chinese students Kitty Liao and Mei Ran Abellona who have developed a vaccine delivery system which could potentially help to save lives around the world.
The pair say that millions of dollars are wasted on vaccines which perish during the last mile of their journey. Their design has a unique recyclable, and temperature controlled system, which means vaccines can be kept cool over an indefinite period of time, so that they are no longer compromised or wasted when they reach their destination.
Third place went to German student Elena Dieckmann, who has recycled waste chicken feathers and made them into building materials, such as water repellent paint, and a range of consumer goods including tooth brushes.
Sadiq Khan, Mayor of London, said: "The incredible range of talent on show in these awards celebrates the best of the capital and clearly demonstrates that London is open to talent and ideas from across the globe. We need to do all we can to ensure that London remains the best and most welcoming destination for international students."
Lord Karan Bilimoria of Chelsea, a cross-bench peer and President of the UK Council for International Student Affairs, added: "I can see the huge potential for each of the entries on the shortlist to disrupt commercial industries or save time and money for consumers. It is fantastic that London can help these international students from across the world to showcase their ideas in this way.
"All of the entries were very interesting and innovative, but the world loves high-tech, configurable manufacturing. It is a world-changing area of industry, providing us with innovative ways of building everything from homes to aircraft and even food and drink. "Luca has applied a highly advanced knowledge of acoustics and composite materials to music-making, and his idea will inspire other people to break down the barriers of what innovation can achieve."
The International Student Innovation Awards 2016 was set up to highlight the work of the city's international students and also to provide some financial help to assist students in taking their innovation to the next stage of development. It was devised by London & Partners, the Mayor's official promotional company and is also supported by the UK Government's Education is GREAT campaign and the British Council, Cambridge English, IDP Education and The PIE.
Ideas and innovations submitted were evaluated by a prestigious panel of judges including Eliot Forster, Executive Chair of MedCity and CEO of Immunocore, Eileen Burbidge, Partner at London venture capital firm Passion Capital and Chair of Tech City UK and Lord Bilimoria, who is also Founder and Chairman of Cobra Beer and the winner was announced last night (Wednesday) during an event at Central Saint Martins, Granary Square.
Dr Eliot Forster said: "Science has no borders; it is truly international and we have long attracted the best and brightest with a passion for forward-thinking science that is second to none. I am passionate that our world-leading cluster will continue to grow and thrive and our international students are key to this. I was extremely impressed by all the submissions and I hope that they will continue to develop their ideas to solve society's health problems.
Eileen Burbidge said: "London's world-leading universities are bursting with some of the brightest minds who are developing businesses which will revolutionise our lives. Students coming to London from all over the world bring fresh ideas and thinking, and their talent should be nurtured and encouraged as they seek to build the next generation of global companies."
London welcomes more international students than any other city in the world who come to study at the city's world class universities. With over 100,000 international students from over 200 different nations, London is an open and supportive city for those looking to make the capital their home.
Top 15
| | | |
| --- | --- | --- |
| 1)    Luca Alessandrini | Italy | Violin made from spiders silk |
| 2)    Mei Ran Abellona and Kitty Liao | China | Last mile vaccine delivery system |
| 3)    Elena Dieckmann | Germany | Using waste feathers to make household goods like tooth brushes |
| 4)    Pae Natwilai | Thailand | An app that allows you to control drones like waving a magic wand |
| 5)    Malav Sanghavi | India | A smart amputee socket which can be adjusted via an app to suit the individual's needs |
| 6)    Eyenimi Ndiomu | Nigeria | An app that detects whether a new born baby is suffering from asphyxia |
| 7)    Ehab Sayed | Egypt | Using waste material to build houses which can then easily be redesigned |
| 8)    Yin Fan Huen | China | A device which stops the tremors in Parkinsons sufferers |
| 9)    Simon Weill and Nathan Cavaglione | France | A shoe that uses street mapping to enable blind and partially sighted people to navigate busy city streets. |
| 10) Mustafa Khanwala | India | An app that stops queuing in shops allowing you to immediately pay for goods and services |
| 11) Olivia Hildebrand | Netherlands | A London bus stop designed to assist blind people and partially sighted. |
| 12) Philip Kallberg | Sweden | An app where you go to a chefs home to experience their cooking |
| 13)  Xinyang Tan | China | A device which strengthens the limbs of children with muscular problems |
| =13) Claire Berdugo | France | An app that allows you to quickly sell second hand clothes from your wardrobe |
| =13)  Félicie Eymard | France | A piece of clothing that transforms in to five garments |
Notes to Editors
PLEASE FIND PRESS IMAGES AND B-ROLL FOOTAGE HERE
About the International Student Innovation Award
London & Partners set up the International Student Innovation Award to shine a spotlight on the ground-breaking work being produced by international students in London across the fields of fashion, art & design, technology and science.
Eligible entrants are put forward for £10,000 development funding for their innovation to increase its commercial potential.
For more information visit www.studentinnovation.awardsplatform.com


About London & Partners
London & Partners is the official promotional company for London. We promote London and attract businesses, events, congresses, students and visitors to the capital. Our aims are to build London's international reputation and to attract investment and visitor spend, which create jobs and growth. London & Partners is a not-for-profit public private partnership, funded by the Mayor of London and our network of commercial partners.
For more information visit www.londonandpartners.com   

About IDP
IDP Education is a world leader in international student placement services. Our global network of 100 offices helps students from 32 countries to study in Australia, Canada, New Zealand, the USA and the UK. One student is placed in an educational institution every 20 minutes across the globe. For more than 45 years, IDP Education has played a major role in international education. During this time, IDP has placed more than 400,000 students into quality institutions in Australia, the United Kingdom, the United States of America, Canada and New Zealand. IDP Education is also a proud co-owner of IELTS (International English Language Testing System). IELTS is jointly owned by British Council, IDP: IELTS Australia and Cambridge English Language Assessment. Since its launch in 1989, IELTS has become the world's most popular high-stakes English language proficiency test. IELTS is accepted as evidence of English language proficiency by over 9,000 organisations worldwide. Last year, more than 2.5 million tests were taken globally.
About Cambridge English
Cambridge English Language Assessment is part of the University of Cambridge. We develop and produce the most valuable range of qualifications for learners and teachers of English in the world. Over 5 million Cambridge English exams are taken each year in more than 130 countries. Around the world over 20,000 universities, employers, government
ministries and other organisations rely on our exams and qualifications as proof of English language ability. Cambridge English exams are backed by the work of the largest dedicated research team of any English language test provider.
Cambridge English Language Assessment – a not-for-profit organisation.

The PIE
The PIE is a media, recruitment and consultancy platform for all professionals in international education. Keep up with industry news via www.thepienews.com and The PIE
Review magazine, find new staff or your next move through www.thepiejobs.com and executive search service The PIE Talent, and make business connections through The PIE Plus.