Professional drone racing comes to the UK for London Tech Week 2017
The UK's first professional drone race will be staged in London next year as a headline event during London Tech Week. The world's premier race organizers, The Drone Racing League (DRL), will bring the elite race series to London as their championship event, which will be hosted at London's iconic Alexandra Palace on 13 June. 8 pilots will compete to be crowned the 'best in the world' during the winner-take-all 2017 season finale, which will air on Sky Sports Mix, currently broadcasting the inaugural season.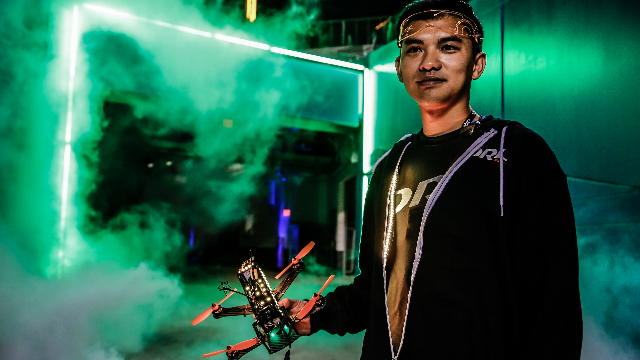 The event will be the first of its kind race in London, and the Sky Sports Mix broadcast will allow millions of fans across Ireland, Italy and the UK the opportunity to see some of DRL's leading pilots race FPV (first person view) drones at speeds in excess of 90 mph drones around Alexandra Palace. Drone racing is one of the world's fastest growing global sports, with DRL investors including Sky Ventures, Muse lead singer Matt Bellamy and NFL's Miami Dolphins owner, Stephen Ross.
The championship race will headline as part of the new-look London Tech Week which relaunched earlier this year in partnership with Informa (KNect365) and backed by Tech Week founding partners London & Partners and Tech London Advocates.
London Tech Week 2017 (June 12-16) will also feature a series of six major events at ExCeL and a high-profile music concert to celebrate the week. Tech Week 2017, which is Europe's largest technology festival is set to be bigger and better than ever, with tens of thousands of people taking part in hundreds of events that will be hosted across the capital.
Andrew Cooke, Acting CEO at London & Partners said: "London Tech Week is already the largest festival of technology in Europe but our ambition is to make it bigger and better than ever in the coming years. We are really excited to partner with DRL to bring one of the world's most exciting sports races to London in 2017. We want to make London Tech Week open to a wider audience and by bringing the UK's first professional drone race to London we hope to attract both consumers and business leaders to experience everything London's booming tech scene has to offer."
Nicholas Horbaczewski DRL Founder and CEO added: "With a rapidly growing fanbase in London and throughout the UK and the rest of Europe, we felt it was critical to find a venue and a partner locally for an iconic 2017 race. As an official event of London Tech Week, we have an incredible opportunity to deliver the sport of the future directly to one of the most creative and innovative tech communities in the world."
First Person View (FPV) drone racing has a growing global fan base and dozens of amateur events being held around the world, and DRL is the premier race series for elite pilots.
In September this year, DRL announced a media partnership with Sky Sports in the UK and Ireland to deliver ten, one hour episodes covering five races of the 2016 season, culminating in a world championship and the crowning of the "World's Greatest Drone Pilot" at the London race in 2017. DRL will also be broadcast across Europe and North America, following additional broadcasting deals with ESPN and 7Sports.
Russ Shaw, Founder of Tech London Advocates said: "London is fast becoming a global capital of technology, and London Tech Week has grown to match it. Events such as this one reflect the broad and diverse appeal of our technology sector, and it is one more international first to add the London tech sector's achievements in the past year. I look forward to attending the professional drone racing event and many others during the week."
Louise Stewart, CEO at Alexandra Palace added: "As an iconic venue with a history of hosting unique, innovative events, and a history of technical innovation, Alexandra Palace is delighted to welcome the Drone Racing League's championship event as part of London Tech week."
The 2016 season will air on the newly announced Sky Sports Mix channel this autumn, following more than 25 of the fastest and most talented FPV drone pilots from more than 10 countries, racing six drones at once through a mile long course. In addition to the broadcast distribution and event production partnership, the agreement will also include a strategic investment of $1 million in DRL by Sky Ventures, creating a long-term partnership to bring DRL content and races to the UK and expand the European fan base.
DRL races will air on broadcast channels across four continents in 2016, including multiple soon to be announced partnerships that will deliver the racing content to millions of fans and bring the events to additional iconic international locations in 2017 and beyond.
Together, London & Partners, Tech London Advocates and KNect365 aim to boost London Tech Week and make it one of the most successful tech festivals in the world, with the goal of attracting more than 100,000 visitors to the festival within the next three years. The mega-festival will provide an opportunity for London to showcase its tech credentials on the world stage and show that #LondonIsOpen.
Building on the success of 2016, 2017's events programme will also include conferences, showcases and forums, compelling content, speakers and networking opportunities and a greater opportunity for participation from start-ups, entrepreneurs, enthusiasts, students and corporates alike.
Notes to Editors
PRESS IMAGES AND VIDEO
IMAGES: Please see all press images here – Credit: Drone Racing League
VIDEO: Please see press b-roll footage here – Credit: Drone Racing League
About Drone Racing League
DRL is the premier drone racing circuit for elite FPV pilots around the world. A sports and media company, DRL combines world-class flight skill and proprietary technology to create thrilling drone racing content with mass appeal. In 2016 DRL is hosting a global events series culminating in a World Championship. Founded by Nicholas Horbaczewski in 2015, DRL is a privately held company headquartered in NYC. For more information on the 2016 race season, visit www.drl.io. To join the conversation, follow DRL on Facebook at facebook.com/thedroneracingleague, on Twitter @DroneRaceLeague, and on Instagram @thedroneracingleague.
About London Tech Week
London Tech Week is a festival of events, taking place across the city and representing the entire technology ecosystem.
No other festival of live events brings together as many domestic and international tech specialists and enthusiasts to London for such a variety of networking, social, learning and business opportunities.
Since its launch in 2014 London Tech Week has included more than 700 events and has welcomed delegations from around the world.
London Tech Week 2017 will be organised by London & Partners andKNect365, in association with founding partner Tech London Advocates, with support from strategic partners Tech City UK, ExCeL London, UKTI and techUK.
More information on can be found http://londontechweek.com/
About London & Partners
London & Partners is the official promotional company for London. We promote London and attract businesses, events, congresses, students and visitors to the capital. Our aims are to build London's international reputation and to attract investment and visitor spend, which create jobs and growth.
London & Partners is a not-for-profit public private partnership, funded by the Mayor of London and our network of commercial partners.
For more information visit www.londonandpartners.com     
About Informa
Informa's Knowledge & Networking Division, which operates as KNect365, is the world's leading facilitator of knowledge sharing and business connections. The KNect365 portfolio connects communities around our leading brands, through year round provision of high quality digital and face to face content, networking and professional development and learning opportunities.
About Tech London Advocates
Tech London Advocates is a private sector led coalition of over 3,000 expert individuals from the tech sector and broader community who have committed to championing London's potential as a world-class hub for tech and digital businesses. It strives to support London's tech start-ups and high growth businesses in finding new investment new talent and continued success.
Tech London Advocates is an independent not-for-profit organisation, sponsored by City of London Corporation, Penningtons Manches LLP, Russell Reynolds Associates, London First, Here East, MassChallenge, Breakthrough Funding, Cocoon Networks and Hewlett Packard. 
Contact
London & Partners
Ben Pattie, PR Manager
Tel: +44 (0)20 7234 5872; Mob: +44 07920 759014
Drone Racing League
Ben Johnson, Head of Communications, DRL