Mayor meets Indian businesses to show London is open to global investment
Sadiq Khan today met with leading Indian businesses to explore opportunities to attract further investment and to reassure leaders that London is open for business.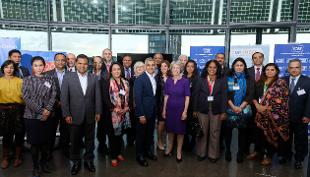 The Mayor hosted a meeting at City Hall with leading Indian foreign investment companies already working with London to discuss further expanding their links with the capital following the European Union referendum result.
He also reassured bosses that Indian businesses, who employ nearly 50,000 people in the capital, remain welcome post-Brexit and that London is open to investment, trade and talent from around the globe.
The Mayor is keen to further strengthen ties as Indian companies are the second biggest foreign investors in London. According to data from the Mayor's promotional company, London & Partners, in the last 10 years, London has attracted more foreign direct investment from India than Japan and China and only the US invests more in our capital. India is also a crucial trading partner for London and a significant market for the capital's businesses, with the value of London exports to India amounting to £1.29bn in 2014.
The Mayor of London, Sadiq Khan, said: "London is open for investment and business from around the globe and the city already has an excellent trading relationship with India.
"I met with leading Indian businesses to reassure them that our great city remains open to the best global talent, and to discuss how we can strengthen and support further investment in London." 
Both the Confederation of Indian Industry and UK Business India Council were represented at the meeting, chaired by Rajesh Agrawal, Deputy Mayor for Business and Enterprise.
Shuchita Sonalika, Head and Director of the Confederation of Indian Industry, said: "Nearly 40 per cent of the fastest-growing Indian companies investing in the UK are based in London, highlighting that London has been the destination of choice for Indian FDI. Their diverse operations range from IT, financial services, media and entertainment, tourism and others.
"We hope that London will continue to be an attractive place to do business and their interests will be fortified post-Brexit. This interaction of Indian companies with Mayor Sadiq Khan is testament to that effort and CII looks forward to working with the Mayor's team to deepen business links between India and London."
Kevin McCole, Chief Operating Officer of the UK Business India Council, said:  "Indian business contributes hugely to London, and London businesses contribute hugely to India. So, at this time of uncertainty due to Brexit, the UK India Business Council is delighted that the Mayor and his Deputy have taken the time to hear the views of Indian businesses in London, and, quite rightly, to remind them that London is open for business."
To further strengthen business links between London and India, London & Partners will tomorrow open applications for the next round of its India Emerging 20 (IE20) initiative, a programme to discover some of India's most innovative and high growth companies with global aspirations.
Last year's competition saw more than 10 times as many applications as places from companies all over India and across the life sciences, technology and professional services sectors. The final 20 companies selected for the programme will be given the opportunity to come to London to meet and learn from senior business leaders, venture capital investors and decision-makers from major global companies.
Since being chosen for last year's programme, a number of companies have attracted investment and expanded into London including Teabox, Kyazoonga and Seclore, which have all received venture capital funding. Winners for the second cohort of companies will be selected by a judging panel early next year.
David Slater, Director of International Trade and Investment at London & Partners, said: "With a world-class financial services hub and Europe's largest technology sector, London offers a great platform for innovative Indian businesses looking to expand internationally. Our IE20 programme aims to help these businesses maximise the opportunities in London by giving them access to our team of experts and leaders from the London business community."
Antonio Lam, Manging Director UK, Newland Chase said: "We are delighted to once again sponsor IE20 following the success of the 2016 event. Last year, we were honoured to meet and work with some of the most exciting and high-growth business across India. We look forward to continuing our support in helping Indian business to expand overseas, in particular to London."
Arbinder Chatwal, Audit Director at international accounting firm BDO leading their India Advisory Services Team, added: "After a successful inaugural campaign, IE20 2017 returns with a promise of offering a strong platform for high growth companies, looking to expand internationally. There has never been a more important time for crystallising global opportunities. BDO in the UK and India along with London & Partners, as part of the India Emerging Twenty programme look to support companies in their international journeys, putting together the right opportunities and advisory support for them to build scalable and sustainable businesses of tomorrow."
Notes to Editors
Details of some of the companies and business chambers attending:
| | |
| --- | --- |
| Company | Industry |
| Air India Ltd                                                | Tourism |
| Cyril Shroff Mangaldas | Law firm |
| HCL Technologies LTD | IT |
| Hiranandani | Real Estate |
| Housing Development Finance Corporation | Financial Services/Real Estate |
| ICICI Bank Ltd | Financial Services/Real Estate |
| Infosys Limited | IT |
| Lalit London | Hospitality |
| Mindtree | IT |
| Tata Limited | Diversified |
| Usha Martin Group | Manufacturing |
| Wipro | IT |
| Zee TV | Media and Entertainment |
| ZenSar Technologies (UK) Ltd | IT |
| Asian Business Association | Business Chamber |
| UK Indian Business Council | Business Chamber |
| Confederation of India Industry | Business Chamber |
 About LondonIsOpen
The Mayor's #LondonIsOpen campaign aims to show the world that London remains entrepreneurial, international, and full of creativity and possibility, while reassuring the more than one million foreign nationals who live in London that they will always be welcome, and that any form of discrimination will not be tolerated.
The Mayor is urging all Londoners, organisations and businesses to show their support for the #LondonIsOpen message via social media and through other creative ways.
About India Emerging 20
The IE20 program supports innovative, high-growth Indian companies within the Tech, Media, Telecoms, Life Sciences, Financial and Business services sectors to grow their international business through London. It is a competition led by London & Partners in collaboration with a range of leading business advisers such as BDO and Newland Chase. Companies registered in India after the year 2000 can apply. For more information, visit: www.indiaemerging20.com
About London & Partners
London & Partners is the official promotional company for London. We promote London and attract businesses, events, congresses, students and visitors to the capital. Our aims are to build London's international reputation and to attract investment and visitor spend, which create jobs and growth.
London & Partners is a not-for-profit public private partnership, funded by the Mayor of London and our network of commercial partners. For more information visit: http://www.londonandpartners.com/