British women CEOs look to Silicon Valley for expansion
Leading female tech entrepreneurs travel to Bay area for trade mission
Women-led tech companies are driving force of UK SME growth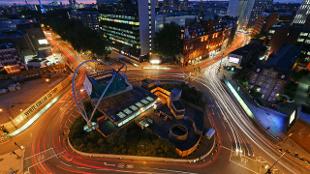 Leading female entrepreneurs from the UK's tech sector will travel to Silicon Valley as part of the latest international trade visit for the Mayor's International Business Programme, SVC2UK and led by London & Partners, the Mayor of London's promotional company.
Fifteen female founders from some of the UK's fastest growing technology companies visit the Bay area, as they look for opportunities to expand their business and secure extra funding from the US market.
Female founders are an important driver of growth for the UK economy. According to research recently released by Founders4Schools, women-led businesses make up 11 per cent of UK SMEs. The research also found that there are 762 companies in the UK, with a turnover up to £250m ($360m), which are also led by women and growing at a median rate of 30 per cent a year.
The four-day trade mission offers opportunities for founders to meet with senior representatives from Silicon Valley giants including Facebook, LinkedIn and Silicon Valley Bank, as well as Brits from the tech and business community who have successfully scaled their companies on the West Coast.
High-profile entrepreneurs travelling on the trade mission include Caroline Plumb, co-Founder, CEO of Freshminds and Jessica Butcher, co-Founder and Director of Blippar.
Melissa Morris, CEO and co-Founder of Network Locum, said: "The trip is going to give this group of strong women a fantastic insight into how things are done in Silicon Valley. I'm looking forward to building more transatlantic connections which will help my business grow. It's also an important opportunity for women in London's tech scene to cement a strong supportive bond."
Speaking ahead of her meeting with the female founders during the trade mission, Alexsis de Raadt, founder of Merian ventures, a US-based venture capital firm focussed on funding women-led innovation, said: "Women entrepreneurs are making progress in the competition for venture capital but still lag men by a significant margin. This mission is helping to close the gap by bringing fifteen world-class female founders together with the world's leading sources of venture funding."
The trade mission is being led by London & Partners, the Mayor's official promotional company in partnership with Silicon Valley Comes to the UK (SVC2UK), the Mayor's International Business Programme and the British Consulate General in San Francisco.
Priya Guha, British Consul General in San Francisco, said: "This unique experience will provide opportunities to foster collaborations in one of the most innovative, high-tech regions of the world. It will also be a place where we hope they will find some of the partnerships and tools to scale their businesses. I look forward to hosting them in the Bay area."
Launched in 2006 by Sherry Coutu, Ellen Levy and Reid Hoffman, SVC2UK is a not-for-profit programme run by London & Partners to promote stronger networks and entrepreneurship between Silicon Valley and the UK.
Janet Coyle, Principal Adviser on the Mayor's International Business Programme and MD SVC2UK at London & Partners, said: "Silicon Roundabout and Silicon Valley both offer investors access to world-class tech talent and unrivalled opportunities to internationalise and scale up. We have a wonderfully inspiring group of women on the delegation this year who are leading some of the fastest growing tech companies in the UK. On average, the annual growth rate of these companies' turnover is more than 230 per cent. I look forward to watching these companies achieve the successes that they deserve in the coming years and hope that this international visit will help them get there."
Notes to Editors
About SVC2UK
Silicon Valley comes to the UK (SVC2UK) is a not-for-profit volunteer-led invitation-only series of events that bring together early stage investors, successful serial entrepreneurs, students and alumni with leading serial entrepreneurs and investors to discuss and debate how and why they have come to create and fund today's most disruptive technologies that aim to change our world.
It was founded eight years ago by Ellen Levy (Investor, Advisor and tech company exec) and co-Chairmen Reid Hoffman (Founder of LinkedIn) and Sherry Coutu CBE (Serial Entrepreneur and Angel Investor) to support the ecosystem for entrepreneurs in the UK. It brings leading Silicon Valley entrepreneurs, investors and thought leaders to the UK to explore ideas and to ignite local entrepreneurship.
About Mayor's International Business Programme
The Mayor's International Business Programme, is a £5million programme part funded by the European Regional Development Fund (ERDF), aims to support high-growth companies in the life sciences, technology and urban sectors to increase their export success across a range of key markets in Europe, Asia and North America.
The three year programme, which will target 800 companies, is being led by London & Partners, the Mayor's official promotional agency, in partnership with KPMG, PA Consulting, BDO, Benoy and London Chamber of Commerce and Industry.
About London & Partners
London & Partners is the official promotional company for London. We promote London and attract businesses, events, congresses, students and visitors to the capital. Our aims are to build London's international reputation and to attract investment and visitor spend, which create jobs and growth.
London & Partners is a not-for-profit public private partnership, funded by the Mayor of London and our network of commercial partners. For more information visit www.londonandpartners.com      
About the British Consulate General, San Francisco
The British Consulate General in San Francisco represents the UK government in Northern California, Alaska, Idaho, Montana, Oregon, Washington, and Wyoming. The work involves handling a wide range of political, commercial, cultural, security and economic interests to the UK and our region. There is a UK Trade and Investment team at the Consulate General that helps UK-based companies succeed in the areas it represents. They also help overseas companies bring their high-quality investment to the UK's dynamic economy, acknowledged as Europe's best place from which to succeed in global business.
About Founders4Schools
Founders4Schools' mission is to improve the life chances of students by giving them access to inspiring business leaders in their community who help them discover the skills and pathways that will be relevant when they leave education.
It is a free nationwide service that enables teachers to connect with leaders of successful, growing businesses to invite them to visit their schools and inspire their students.
Contact
London & Partners Media & PR Team
Tel: +44 (0)20 7234 5710
Switch: +44 (0)20 7234 5800
Twitter: @London_PR