Lifelong Rolling Stones fan visits Exhibitionism and gets surprise meet and greet with band
Alex Emanuel, a lifelong Rolling Stones fan was left feeling like a rock star when he met his heroes while touring Exhibitionism - the first exhibition on The Rolling Stones held at London's Saatchi Gallery until 4 September.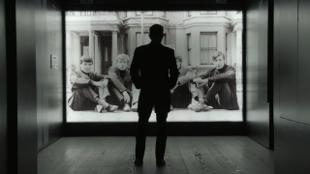 New Yorker Alex was genuinely shocked when he turned around after a tap on the arm to be met by Mick Jagger, Keith Richards, Charlie Watts and Ronnie Wood, whilst enjoying the Recording Gallery within the critically acclaimed, blockbuster exhibition. 
As Alex exchanged handshakes and back slaps with his heroes, he said afterwards: "It's going to sound silly but for a moment I thought I was a member of the Rolling Stones. It's not every day you get to meet your idols." 
Musician Alex, who was in London for a once-in-a-lifetime trip added: "I said to Keith, I'm a bass player – let's jam? And Keith said in his rasping voice, 'Well alright, let's jam'. I really think Keith was ready to play!" 
Unlocking their vast archive, Exhibitionism is a Rolling Stones treasure trove, curated over 9 themed gallery spaces with 500 items from original stage costumes, rare instruments and lyric books, backstage and touring paraphernalia, album art, photography, stage designs, personal diaries and never before released audio and behind-the-scenes footage.  
Celebrating the Stones' artistic collaborations in music, art and design, fashion and film, Exhibitionism features original works on display from an array of artists as diverse as Andy Warhol, Alexander McQueen, Prada, Dior, Ossie Clark, L'Wren Scott, David Bailey, Michael Cooper, Jeff Koons, Walton Ford, Shepard Fairey and Martin Scorsese to name a few.  
Alex also visited many iconic Rolling Stones locations during his trip to London including Edith Grove, Chelsea where the band lived together, Regents Sounds in Denmark Street where they cut their first couple of albums, the 100 Club where they played an impromptu gig in 1982 and Olympic Studios where 'Sympathy for the Devil' was recorded. 
Alex added: "Liverpool has The Beatles, Memphis has Elvis – The Rolling Stones are London. The Stones have been with me all my life so to visit Exhibitionism in London was fantastic. The show has given me a unique glimpse of the city through the eyes of The Rolling Stones." 
Thea Jeanes-Cochrane, Director of iEC (International Entertainment Consulting), the company behind Exhibitionism, said: "We're thrilled to have made Alex's dreams come true at Exhibitionism. The exhibition offers the most in-depth insight into The Rolling Stones and their incredible career. We've worked hard to create something utterly breath-taking and it's very pleasing to see the fans reactions. Alex has obviously enjoyed every moment. Meeting the band was the ultimate icing on the cake!"  
Alex was taken on the once-in-a-lifetime trip to London, after the city's official tourism body, Visitlondon.com identified him as a genuine 'super fan' of the Rolling Stones.  
In 2014 London's live gigs attracted 6.6 million people around half of which were tourists. These 3.3 million visitors generated £663 million in total for the local economy, and helped sustain 4847 full-time jobs in the capital.  
Chris Gottlieb, Chief Marketing and Communications Officer at VisitLondon.com added: "Alex's Rolling Stones tour of London shows how the city is steeped in the history of one of the world's greatest rock bands." 
Tourism initiative Fans of London – devised by Visitlondon.com, which is supported by the GREAT Britain Campaign, British Airways and Hilton celebrates the blockbuster events across London this year including The Queen's 90th birthday celebrations, 400 years of Shakespeare's legacy, and the world's first international exhibition on The Rolling Stones, Exhibitionism.  
Exhibitionism is open now and runs until 4 September at London's Saatchi Gallery. Tickets are available at stonesexhibitionism.com.  
Notes to Editors
FILM CONTENT AND IMAGERY:  
About iEC  (International Entertainment Consulting)    
iEC is an international entertainment, exhibitions and special events company based out of London and Australia. iEC EXHIBITIONS! specialise in the concept creation, design, production and touring of unique international travelling exhibitions. iEC Directors have produced and promoted over 400 sporting and entertainment events worldwide. To date, selling in excess of 25 million tickets.  Over the next five years, iEC EXHIBITIONS! will have further global touring exhibitions making their way around the world.   
EXHIBITIONISM is promoted  and  presented  by Australian  company  iEC (International Entertainment  Consulting)with  the  full  participation  of  Mick  Jagger,  Keith  Richards, Charlie Watts and Ronnie Wood. The immersive exhibition will use nine different rooms spanning  over1,750  square  meters,  each  with  its  own  distinctly  designed  environment, that will show how the band has changed the way we experience rock and roll.  
About British Airways - campaign partners of Visitlondon.com  
British Airways, part of International Airlines Group, is one of the world's leading global premium airlines and the largest international carrier in the UK.  The carrier has its home base at London Heathrow, the world's busiest international airport, and flies to more than 190 destinations in 80 countries.  British Airways has a fleet of more than 280 aircraft, including the A380 and 787. The airline carries more than 40 million customers a year. www.ba.com
About Hilton Worldwide - campaign partners of Visitlondon.com  
Hilton Worldwide is a leading global hospitality company, comprised of more than 4,600 managed, franchised, owned and leased hotels and timeshare properties with more than 758,000 rooms in 100 countries and territories. For 96 years, Hilton Worldwide has been dedicated to continuing its tradition of providing exceptional guest experiences. The company's portfolio of 13 world-class global brands includes Hilton Hotels & Resorts, Waldorf Astoria Hotels & Resorts, Conrad Hotels & Resorts, Canopy by Hilton, Curio - A Collection by Hilton, DoubleTree by Hilton, Embassy Suites by Hilton, Hilton Garden Inn, Hampton by Hilton, Tru by Hilton, Homewood Suites by Hilton, Home2 Suites by Hilton and Hilton Grand Vacations. The company also manages an award-winning customer loyalty program, Hilton HHonors®. Hilton HHonors members who book directly through preferred Hilton channels have access to benefits including free standard Wi-Fi, as well as digital amenities that are available exclusively through the industry-leading Hilton HHonors app, where HHonors members can check-in, choose their room, and access their room using a Digital Key. Visit news.hiltonworldwide.com for more information and connect with Hilton Worldwide on Facebook, Twitter, YouTube, Flickr, LinkedIn, and Instagram. www.hilton.com and www.hiltonfansoflondon.com
About the GREAT Britain campaign  
The GREAT Britain campaign is the Government's most ambitious international marketing campaign ever and showcases the very best of what our whole nation has to offer in order to encourage the world to visit, study and do business with the UK. It is active in over 144 countries. The campaign has delivered £1.5bn to the UK economy to date.   
The campaign brings together the work of UK Trade & Investment, VisitBritain, British Council, the Foreign & Commonwealth Office and other government departments as well as hundreds of private sector companies. All work closely together to deliver jobs and growth across all parts of the UK. In 2015, the campaign supported over 1,100 separate events and activities in around 193 locations worldwide.  
About London & Partners  
London & Partners is the official promotional company for London. We promote London and attract businesses, events, congresses, students and visitors to the capital. Our aims are to build London's international reputation and to attract investment and visitor spend, which create jobs and growth. London & Partners is a not-for-profit public private partnership, funded by the Mayor of London and our network of commercial partners. For more information visit www.londonandpartners.com   
About The Brooklyn Brothers 
Founded in 2001 in New York and 2008 in the UK, The Brooklyn Brothers expanded to Los Angeles in 2012 to create its Hollywood writing room, an alliance with seven of Hollywood's most renowned scriptwriters and an office in Brazil in 2013. In 2016, the agency joined the Golin Group, part of Interpublic Group of companies. The Brooklyn Brothers' new approach – Blockbuster Branding – blends PR, social, brand advertising and strategic thinking with the creativity of Hollywood to create work that entertains and generates its own audience. Not in the thousands but in the multi-millions. They have been European Effies Agency of the Year and Advertising Age Small Agency of the Year. They have been widely awarded including Cannes Gold and the European Effie Grand Prix for Promote Iceland's 'Inspired By Iceland' and a Cannes Silver and US Effie Gold last year for NBC's 'Coach Ted Lasso'. www.thebrooklynbrothers.com