London students make breakthroughs to treat Parkinson's disease
Two London students, who have invented separate pieces of medical technology that could help revolutionise the lives of people with Parkinson's disease, could soon see their innovative devices available to millions of sufferers after they were shortlisted for a prestigious award.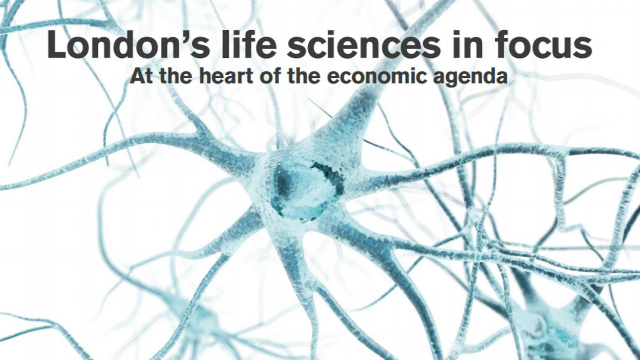 Lise Pape, who has designed a laser guided shoe that allows sufferers of the disease to walk without falling, and Joon Faii Ong, who has designed a glove that can steady a shaking hand, both made it to the final three in the competition.
Denmark-born Lise, who studied at Imperial College London and the Royal College of Art and was inspired to come up with her Path Finder shoe by her father's illness, eventually won the AXA PPP Health Tech & You Awards and is currently working to make the shoes available to Parkinson's sufferers.
Around 10 million people worldwide and 127,000 people in the UK are affected by Parkinson's, a progressive neurological condition that affects movement. There is currently no cure for the disease, and medication used to control it can have side effects including involuntary movements and impulsive behaviour. The disease currently costs the economy £2bn a year in the UK and it is estimated the amount of people who will have the disease will double by 2030.
Significantly, the two innovations are drug-free, which could save millions on expensive medication and avoid sometimes significant side effects.
Winner Lise's design helps people who suffer from 'freezing of gait', described as feet remaining 'glued to the floor' resulting in nearly 40% of people with the disease suffering from falls each year.
The technology could also be used not just by those affected by Parkinson's disease but also those prone to falls which represent the most frequent and serious type of accident in people aged 65 and over, and currently costs the NHS £2.3bn every year.
Lise's company, Walk with Path, has developed a solution in shoes mounted with lasers which project green lines ahead as the person walks, activated by a sensor in each heel that monitors the user's walking pattern and pace. The shoe produces a line which provides a visual cue to step 'over'.
Joon Faii Ong's device is an unobtrusive glove which aids people with debilitating hand tremors.
Faii, a medical student at Imperial College London, devised the idea of the GyroGlove after seeing an elderly woman with Parkinson's struggle to feed herself in hospital due to severe hand tremor.
The glove uses gyroscopic engineering principles mixed with hi-tech sensors to counteract the tremors and stabilise the hand. The effect feels akin to moving one's hand in thick treacle, but enables sufferers to do the things we all take for granted like picking up a cup of tea without spilling it.
Faii believes that the device will help restore independence and improve quality of life over the long term for people with Parkinson's because, unlike medication, it does not have side-effects and does not require a specialist prescription.
And while drugs can become less effective over time, the Gyro Glove, which is also significantly cheaper than conventional therapies, with an estimated one-off cost of around £600 per device, compared to an average annual drug cost £17,763 per patient in the UK, will be as effective on the first day of use as it would be on its last.
Faii said: "We are indeed fortunate to have a potentially impactful invention. Yet it takes critical, industry-specific knowledge to fulfil that potential, and turn the GyroGlove from a prototype into a commercial product.
"We are receiving fantastic support as we work to refine the GyroGlove."
The AXA PPP Health Tech & You Awards, now in their second year, is a joint initiative led by AXA PPP healthcare, the think-tank 2020health and the Design Museum. The aim is to guide and grow health tech innovations, empowering people everywhere to use technology to lead healthier lives and be more in control of their health and wellbeing. 
Lise and Faii were shortlisted in the awards after taking part in MedTechSouthEast, a new programme from Design Council and MedCity which helps medtech entrepreneurs develop and commercialise products focused on independent living.
Sarah Haywood, CEO of MedCity, launched by Mayor of London Boris Johnson in April 2014 to attract investment and promote entrepreneurship in the London-Oxford-Cambridge life sciences 'golden triangle', said: "These are two simple but effective innovations that have the potential to have a massive impact on people's lives.
"London's universities are nurturing inventors like Faii and Lise who are absolutely critical to our healthcare system. They can recognise a need, come up with an innovative solution and take it all the way from concept to product. It's their energy and enthusiasm that will deliver better healthcare and at the same time boost our economy."
James Freeston, Marketing Director, AXA PPP healthcare, said: "The Independent Living category was incredibly tough to call, with so many inventive entries from Design Council's MedTechSouthEast programme. Lise's innovative thinking around how to tackle trips and falls in people with Parkinson's was particularly creative, and we'd like to congratulate her again and wish her the best on the journey of getting this possibly life-changing device to market."
Design Council Chief Executive, John Mathers, said at the awards: "The independence and freedom inventions like Lise and Faii's can give to people with debilitating conditions is inspiring. Their combination of entrepreneurial spirit and designer's minds are truly innovating the healthcare landscape. It's a fine example of how design can improve lives, so it is crucial technology like this is given all the support needed to help bring these products to Parkinson's sufferers."
ENDS
Notes to Editors
About GyroGear
GyroGear is a crack team of engineers, designers and medics building platforms to change lives. An international mix of young minds and makers, the company comprises students and graduates from Imperial College London. Backed by industry-leading mentors ranging from experts in musculoskeletal biodynamics experts to senior engineering professors, to clinicians and serial entrepreneurs. For further information about the company and the GyroGlove, visit http://gyrogear.co/
About Design Council
Design Council is an enterprising charity which improves people's lives through the use of design. Our work places design at the heart of stimulating business growth, helps to transform our public services and enhances places and cities to ensure a sustainable future for everyone. We advance new design thinking, encourage debate and inform government policy. Our vision is to create a better world by design. www.designcouncil.org.uk
About MedCity
Established by the Mayor of London with the capital's three Academic Health Science Centres - Imperial College Academic Health Centre, King's Health Partners, and UCL Partners - MedCity is a unique collaboration that brings together the outstanding life sciences strengths of London and the greater south east.
Over the next 20 years, MedCity will position the region as a world-leading, interconnected hub for research, development, manufacturing and commercialisation by championing collaboration and entrepreneurship, promoting a joined up and globally distinct life sciences offer, and providing a visible 'go-to' point for industry and investors.