London scoops up multiple awards at this year's SportBusiness Ultimate Sports Cities Awards 2016
London has been named Ultimate Sport City for the Best Extra Large City as well as winning the award for Best Hosting City and Best Marketing and Branding, at the SportBusiness Ultimate Sports Cities Awards.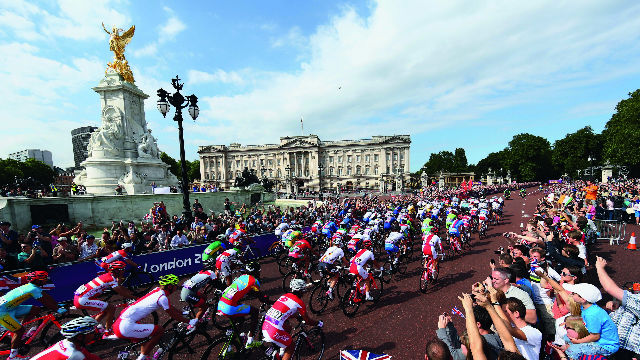 The capital is one of only two cities to win in multiple categories out of the 30 cities chosen from the original list of 150 at the awards held in Lausanne, Switzerland.
London was recognised as the world's best host for sporting events, which this year has seen the 2016 Track World Cycling Championships and also, for the marketing of the events hosted by the city.
SportBusiness Ultimate Sport City Awards are internationally recognised and the longest established ranking of the world's top sport hosts and are held every two years.
The Mayor of London, Boris Johnson, said: "Whether it is Test match cricket at Lords, the FA Cup Final at Wembley or the Wimbledon tennis championships, there can be no doubt that London is the greatest city on the planet for sport. Over the next few years, London will also host the IAAF & IPC World Athletics Championships, the NEC Wheelchair Tennis Masters and a whole host of American football matches, reaffirming its position as the place to be for top-class sporting action. As well as bringing economic dividends, attracting the world's best sport to our city is motivating even more Londoners to get active and nurturing the stars of the future. I am delighted that our status as a world beater has been recognised through these latest accolades."
Following the London Olympics in 2012, London has created the world's largest festival of cycling, Prudential RideLondon and has continued to host a number of world-class sporting events including the 2014 Tour de France, the 2015 Euro Hockey Championships and European Swimming Championships, as well as the Rugby World Cup, bringing people from all over the world to the capital.
Iain Edmondson, Head of Major Events at London & Partners, said: "We're delighted to have won Ultimate Sport City - Best Extra Large City and we're also thrilled to have been one of only two cities to have come first in other categories – Best Host City and Best Marketing and Branding. We were shortlisted in the majority of other categories which I think highlights London's status as a global leader for major sporting events and we will continue to focus on bringing other major events to the city."
Head Judge and Founder of the SportBusiness Ultimate Sports Cities Awards and Rankings Rachael Church said: "London is a deserved winner of all of the awards it has received in the 2016 edition of SportBusiness Ultimate Sports Cities – Best XL City, Best Hosting and Best Marketing and Branding. The city scored highly in many categories and impressed the judges with its exceptional venues and hosting prowess in particular, its excellent branding and marketing strategy and its successful policy of creating home-grown events. London has shown that creating a forward pipeline of events long after the Olympics has left town is key to the enduring good health of an ultimate sports city." 
After tough competition, London was knocked off the top spot of 'Ultimate Sport City in the World' by New York, after being the title holder since 2012.
Go to visitlondon.com/events for more information about upcoming events in London.
Notes to Editors
Notes to Editors:
Cities were accessed in the following categories: Hosting, Venues, Transport and Infrastructure, Accommodation, Event Strategy, Legacy, Quality of Life, Public Support/Tourism, Security and Marketing/Promotional Ability/Branding.
About London & Partners.
London & Partners is the official promotional company for London. We promote London and attract businesses, events, congresses, students and visitors to the capital. Our aims are to build London's international reputation and to attract investment and visitor spend, which create jobs and growth.
London & Partners is a not-for-profit public private partnership, funded by the Mayor of London and our network of commercial partners.
For more information visit www.londonandpartners.com    
Contact
Becka Cornell, Press Officer – Tourism       
Tel: +44 (0) 2072 345 838
bgimenez@londonandpartners.com
London & Partners Media & PR Team
Tel: +44 (0)20 7234 5710
Switch: +44 (0)20 7234 5800
Twitter: @London_PR