LONDON LAUNCHES "CUTTING EDGE" CAMPAIGN AS DELEGATES FLOCK TO THE CAPITAL'S IMEX STAND
London is once again the most popular city stand at IMEX Frankfurt, with a total of 700 pre-booked appointments ahead of the show next week (19-21 April). The stand will be run by London & Partners, the official promotional company and convention bureau for the city.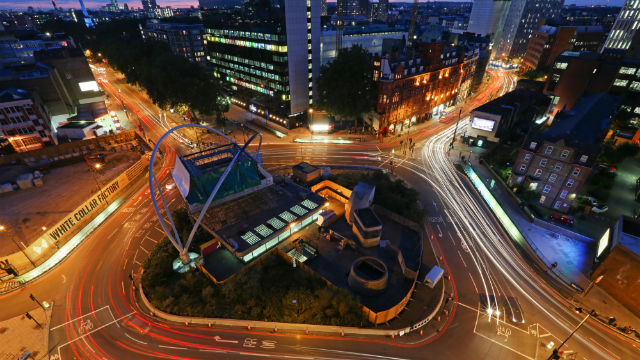 London & Partners will be exhibiting alongside twenty-three partners, ranging from accommodation through to transport providers, including Edwardian Group London, Historic Royal Palaces and Eurostar.  
While at IMEX Frankfurt, London & Partners will be showcasing the city's intellectual capital and its relevance to meetings planners through its new initiative "London: Capital of Cutting-Edge". 
This new campaign is the latest instalment in London & Partners' Love the Event & Love the Experience campaign, which was developed in 2015 based on the insight that deciding where to hold an event is based on both rational and emotional factors. This latest iteration of the campaign will focus on London's world leading sector expertise 
A new report produced by London & Partners highlights how the city's leading clusters such as finance, technology, life sciences and the creative industries have proved key in attracting major conferences and congresses in those areas. 
Those four clusters converging in one city have inspired cross-sector innovation and make London a unique and attractive destination in which to hold a business event, giving meeting planners access to the best talent and minds, and delegates the opportunity to network and do business in the capital.  
Tracy Halliwell MBE, Director of Business Tourism and Major Events at London & Partners, said: "London is at the forefront of rapidly innovating and converging financial, tech, life sciences and creative industries, making it a cutting edge business event destination. Hosting an event in a city which is a global hub of excellence for that sector can provide a wealth of added value and return on investment. London provides unlimited access to research, innovation and ideas, meaning talent gravitates towards London." 
Matt Scheckner, Managing Director at Advertising Week Europe said: "London is a melting pot of creativity and is building an exciting future tied to the creative industries. It's at the crossroads of creativity and technology which is re-defining our future. For our purposes, it is the capital of Europe and major agencies and AdTech players have their EMEA headquarters in London.  
"It is also an aspirational place that people want to visit. Our growth in the last three years from 14,000 in 2013 to an anticipated 35,000 delegates this year, is very much tied to having selected London as our host city." 
In recent years, London has been very successful in attracting medical congresses, such as that of the European Association of Periodontology and the record-breaking European Society of Cardiology congress in 2015 and the upcoming European League Against Rheumatology and European Respiratory Society congresses later this year. 
This area is set to grow even further as the life sciences sector expands and the opening of ground-breaking facilities such as The Francis Crick Institute will also add to the city's competitiveness.  
Dr David Roblin, Chief Operating Officer and Director of Scientific Translation, The Francis Crick Institute, said: "London is home to a winning combination of academic excellence, great universities and cutting-edge research. It's a fantastic place to do science, boasting both award-winning scientists and innovative business people to translate science for health and wealth benefits." 
London's status as a global financial centre, combined with its emergence as the world's biggest financial technology or FinTech hub, has helped the city to win Sibos 2019, which was announced last year and will bring an estimated 9,000 financial services professionals from across the globe to the city.  
Sven Bossu, Head of Sibos, said: "Fintech innovation is being led from London, making it the most compelling host city for Sibos 2019. The expertise in the sector means we can create a great experience for our delegates. We look forward to bringing Sibos to the financial heart of Europe for the first time – and to making it a great experience for our entire community." 
On the tech front, TechCrunch Disrupt arrived in London in 2014, following its launch in Berlin in 2013, drawn to the British capital by the vibrant tech start-up community and the access to top talent.  
Leslie Hitchcock, Director of Events at TechCrunch said: "There is great access to the start-up community in London which is very productive, there are great contacts in the city that attendees can speak to, allowing them to meet investors and get business done outside the event." 
"London: Capital of Cutting-Edge" video will be launching on Tuesday 19 April, at IMEX Frankfurt. 
Find London & Partners at stand F400 at IMEX Frankfurt, 19-21 April 2016. 
Access London & Partners' report and interactive map on http://conventionbureau.london/cutting-edge-business-events 
Notes to Editors
The following partners will be exhibition with London & Partners at IMEX Frankfurt: 
Arsenal Football Club Emirates Stadium 
Barbican 
Chelsea Football Club 
Church House Conference Centre 
Doyle Collection 
Edwardian Group London 
etc.venues 
Eurostar 
ExCeL London 
Historic Royal Palaces 
Kings Place Events 
Kuoni Destination Management 
Lancaster London 
Maybourne Hotel Group 
Park Plaza Hotel Group 
Rosewood London 
QEII Centre 
Searcys at the Gherkin 
Starwood Hotels & Resorts Worldwide Inc 
The Landmark London 
The Langham, London 
The O2 
Wembley Stadium 
About London & Partners. 
London & Partners is the official promotional company for London. We promote London and attract businesses, events, congresses, students and visitors to the capital. Our aims are to build London's international reputation and to attract investment and visitor spend, which create jobs and growth. 
London & Partners is a not-for-profit public private partnership, funded by the Mayor of London and our network of commercial partners. 
For more information visit www.londonandpartners.com 
Contact
Bettina Gimenez, Senior Press Officer - Tourism 
Tel: +44 (0)207 234 5892 / +44 (0)7825 785571 
bgimenez@londonandpartners.com 
London & Partners Media & PR Team 
Tel: +44 (0)20 7234 5710 
Switch: +44 (0)20 7234 5800 
Twitter: @London_PR