Indian tech firms look to boost investment in London following visit of Prime Minister Narendra Modi to UK
Cobra beer founder Lord Bilimoria has welcomed India's next high growth multi-national companies to London as new figures revealed the country's tech firms are investing in London at an unprecedented rate.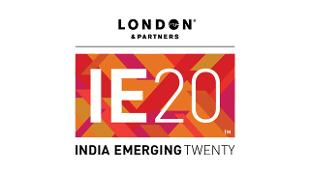 Leading entrepreneur Lord Bilimoria, who attended the IE20 event (India Emerging 20) which has demonstrated the Indian economy's extraordinary depth and breadth in technological innovation, said that London and the wider United Kingdom offered the best opportunities for businesses to internationalise.

Data from London & Partners, the Mayor of London's business and promotional organisation, shows that Indian companies are the second biggest investor in London, ahead of China and Japan, but behind the USA.
Since 2005 there has been a 117 per cent increase in Indian companies across all business sectors investing in London, with a 133 per cent increase in tech companies investing in the city, which accounts for 46 per cent of all projects.
Major tech investments in London from India in recent years include software testing service Cigniti Technologies, customer support company Kayako and many others.
Separate data from analyst fDi Intelligence also shows that London has cemented its position as Europe's most attractive city for foreign direct investment (FDI), attracting more projects and creating more jobs than any other city.
The new analysis shows that between 2010 and 2014, London attracted 1640 FDI projects, outperforming other major European business centres such as Dublin and Frankfurt and recorded more than two and a half times the amount of overseas investment projects than its closest competitor – Paris (645).
During the IE20 event at St James' Court Hotel, Lord Bilimoria, who was last year named International Indian of the Year 2014-15, said: "It is vital that we continue to foster connections with one of our most important trading partners here in London, where Indian companies have more than doubled in number in the past ten years. Like many Indian companies, the IE20 are young and fast-moving and have a brilliant future ahead of them, and London is absolutely the right place for them to grow."
The Mayor of London Boris Johnson MP said: "India is the fastest growing major economy in the world and Indian companies are now the second biggest foreign investor in London. To welcome 20 of their brightest and best businesses demonstrates how attractive the city is for Indian companies with global ambitions."
Following Indian Prime Minister Narendra Modi's visit to the United Kingdom last year which resulted in $13 billion of commercial deals being signed, over one million Indian businesses were made aware of the IE20 programme – designed to identify Indian companies destined for global growth - with the judges whittling entries down to just 20 places.
During a rigorous selection procedure, the companies, in financial and business services, technology and life sciences, were selected to come to London to meet and interact with senior business leaders, venture capital investors and decision makers from major global companies.
The winners come from a broad range of categories including life sciences, artificial intelligence, IT services, cyber security, sports tech, travel tech, adtech, e-commerce and analytics.
Opening the London Stock Exchange on Monday with leading Indian entrepreneurs, Universities and Science Minister Jo Johnson said: "London is a world-leader when it comes to raising capital, just as the UK is a springboard for Indian firms looking to expand in Europe.
"Whether they're in life sciences, technology, or finance, Britain is open to investment and we stand right behind ambitious companies as they look to grow across borders."
Gordon Innes, CEO London & Partners, added: "Following Indian Prime Minister Modi's recent visit, we wanted to bolster our already strong ties with India. India is such an exciting economy with so many emerging, global companies. And London is the world's preeminent global city, home to 40% of the top 250 companies from the Fortune Global 500. "That's why we developed the India Emerging 20 programme: to support Indian businesses looking to scale up and internationalise. Particularly, technology businesses, because of London's recent emergence as one of the world's largest tech clusters."
The IE20 programme is being run by London & Partners in partnership with British Airways, which flew the company representatives from India to the UK, BDO, Newland Chase and UK Trade and Investment. This week the company representatives have flown to London for a programme aimed at helping them facilitate international partnerships, alliances, business opportunities and to find out about setting up a global HQ in the city.
Arbinder Chatwal, BDO's Head of India Advisory Services Team, said: "The winning companies will benefit from opportunities to meet and network with peers, industry experts and investors, enabling them to gain insight into how to maximise their global potential."
Over the past 20 years, Indian companies have established themselves globally in terms of size, dynamism and innovation. IE20 offers an opportunity for companies to test themselves against the best and win recognition on the international stage.
Notes to Editors
About Lord Bilimoria 
Lord Bilimoria is the founder and chairman of Cobra Beer. Born in India, he graduated in law from Cambridge University and qualified as a chartered accountant with Ernst & Young, before going on to launch the Cobra Beer brand. A cross-bench peer in the House of Lords since 2006, he is also Chancellor of the University of Birmingham, chair of the Advisory Board of the Cambridge Judge Business School, the President of the UK Council for International Student Affairs, and founding chairman of the UK-India Business Council. 
India Emerging 20 (IE20) programme is being led by London & Partners, London's inward investment company which is supported by the Mayor of London and has a proven track record working with over 2,000 international businesses 

To participate in India Emerging 20 (IE20) programme, the companies must be established in or after the year 2000 and should have global ambitions. The companies should be registered in India or should have majority Indian management 

The companies should be in the field of Information Technology, Communications, Creative, Life Sciences, or Financial and Business Services 

The programme is also supported by BDO, Newland Chase and UK Trade and Investment with British Airways to identify the top 20 high-growth companies in India with global aspirations 

The selection process went on for over twenty weeks which involved multiple screening rounds 

Fifty companies made it through initial selection and then submitted their representations to a jury panel of eminent experts 

The jury round took place in Mumbai, Bangalore and Delhi in mid December 2015 
Data showing number of FDI projects for top European cities from 2010-2014
| | |
| --- | --- |
| Destination City | Projects |
| London | 1,640 |
| Paris | 645 |
| Dublin | 440 |
| Moscow | 356 |
| Frankfurt am Main | 355 |
About fDi Intelligence
fDi Intelligence is the largest global FDI centre of excellence. Specialising in all area relating to foreign direct investment and investment promotion, the full suite of services includes: location advertising to generate brand awareness; industry-leading intelligence  tools to develop FDI strategies and identify potential investors; and tailored FDI events  and investor roundtables to meet target companies and generate business leads. Products within the portfolio include fDi Markets, a database tracking cross border greenfield investment on a real-time basis; fDi Benchmark, a database which  benchmarks global locations on their attractiveness to foreign investors; and fDi Magazine.
The IE20 Companies 
 
Adadyn Technologies
Adadyn is an adtech company, simplifying programmatic advertising for mid-size advertisers. Adadyn's platform provides the tools to reach audiences with real-time optimization and the ability to create dynamic digital ads. Headquartered in Bangalore, India with offices in California, New York and Singapore. Adadyn raised $5m from IDG ventures.

Curadev Pharma
Curadev is a Noida-based drug discovery company that conducts research in preclinical space to make investigational new drugs. Curadev focuses on the creation and out-licensing of pre-IND assets (investigational new drugs) and IND packages for drug development. They develop and monetise intellectual property and then out-license the IP to partner organizations with strong clinical development programs. Curadev is expanding in different geographies to create focused R&D teams; seeded one of their inventions in the UK and are currently expanding by creating labs in Europe. Curadev has recently won a contract from Roche worth close to $555m to develop immuno-oncology drugs.

Happiest Minds Technologies
Happiest Minds is a Technology company focussing on next generation digital transformation, infrastructure, security and product engineering Services. With over 100 customers and about 1600 employees and strong focus on disruptive technologies, it is amongst the fastest growing IT companies. The 3.5 year old company achieved an annualised run rate of 50mn this year and hopes to become a $100mn company and go public over the next few years. Headquartered in Bangalore, India, Happiest Minds has operations in the US, UK, Singapore, Australia. Happiest Minds secured $52.5m Series A funding from JP Morgan Private Equity Group and Intel Capital.
 
Indix Internet
Indix is building the world's largest product database and Product Intelligence platform that helps businesses boost productivity, drive innovation, and accelerate growth. Indix is a Product Intelligence company delivering product information, insights, and analytics for brands, retailers, and developers. Indix currently tracks over 800 million products across more than 7,000 categories. The company has operations in Chennai – India, Seattle and San Francisco – US and employs 82 people currently. Indix has raised $15m in Series B round from Nokia Growth Partners.
 
ITKTS Interactive Technologies (Kyazoonga)
Kyazoonga is India's first and largest sports and entertainment ticketing company. Their platform provides centralized, end-to-end e-ticketing, access control, travel and tour packages, merchandise, bookings, taxi services and other ancillary products and services in emerging markets such as the Indian subcontinent. Founded by alumni from MIT and Sloan school of Management, Kyazoonga was ranked second in the bid for the Rio 2016 Olympics ticketing contract worth over $600 million. The company is based out of Mumbai and has now started ticketing for events in USA from its new office in Silicon Valley.
 
LatentView Analytics
LatentView Analytics is a predictive analytics and enterprise decision management services firm. The firm uses a combination of analytics, technology, machine learning science, large-scale data management and human expertise to build and deliver analytics solutions to large and mid-size clients in a number of sectors, including financial services, consumer goods and retail. LatentView works with over 25 of the Fortune 500 companies, some of their leading clients include Microsoft, PayPal, PepsiCo, Cisco, Pitney Bowes, Sony Music and Hotwire. They are the winner of the Deloitte Technology Fast 50 award for seven consecutive years from 2009-2015 and have been identified as a Cool Vendor in Analytics by Gartner. LatentView has sales offices in Princeton, New Jersey and Mumbai, India and its Global delivery centre is in Chennai. 
 
MoEngage
MoEngage is a User Analytics and Engagement platform, that helps mobile app companies retain and engage users through targeted and personalized messaging to users which, in turn, improve their retention and conversions. MoEngage's platform focuses on helping mobile apps to personalize push notifications, in-app notifications, and email campaigns, and deliver them at the right time to boost user engagement. MoEngage claims to be profiling 20% of smartphone users in India, amounting close to 1 billion personalized interactions each month. Based in Bengaluru, MoEngage also has an office in San Francisco. MoEngage secured a $4.25m in Series A funding from Helion Venture Partners, which it will use for global expansion.
 
Nanobi Data and Analytics
Nanobi is a cloud and mobile based SAAS Analytic Platform focussed on Small and medium enterprises. It offers analytics-as-a-service to enterprises on a cloud-based pay-as-you-use subscription model span domain areas of Banking, Healthcare, Retail, Utilities and quick service restaurants. It owns and operates an app store called Analytics Tree that has predefined analytics applications. The company was founded in 2012 and is based in Bengaluru, India. Nanobi is funded by Microsoft Ventures.
 
OSSCube Solutions
OSSCube is a leading global Open Source software development company with expertise in outsourced product development. The company provides solutions to businesses by leveraging open source software and open source technologies. Founded by serial entrepreneurs Lavanya Rastogi and Vineet Agarwal alumni from Harvard Business School and Delhi school of Economics, OSSCube has close to 300 employees across offices in India, UK and USA and is looking to go public over the next few years.
 
Perpetuity Technosoft
Perpetuuiti is an enterprise software company focused on building products that help Organizations increase Productivity and Efficiency deploying emerging technologies of Artificial Intelligence, Cognitive Computing, Machine Learning and Robotic Software Automation. Perpetuuiti has offices in USA, India, Singapore and UAE. The company's customer base comprises Fortune 500 organizations from a diverse set of industry verticals such as Telecom, Banking, Manufacturing, Insurance and Consumer Products. Perpetuuiti is funded by Intel Capital.
 
Pervazive
Pervazive is a machine intelligence company focused on network operations. They provide solutions in the telecom service assurance space and have more than 20 world leading telecom operators using their solutions. Their curative analytics offering helps telecom operators address the high cost and effort of network maintenance by automating mundane tasks of network. Pervazive has offices in India, USA and Canada.
 
RateGain Travel Technologies
RateGain is a leading provider of SaaS based hospitality and travel technology solutions for revenue management, rate intelligence, electronic distribution and brand engagement, helping customers around the world to streamline their sales and operations. RateGain's global customer base comprises of leading airlines, hotels, cruise lines, car rental companies, online travel agents, tour operators and wholesalers. RateGain works with over 12000 hotels worldwide, has over 500 employees and is present in 9 countries including India. In 2015, the company raised $50m from US based PE firm –TA Associates.
 
Seclore
Seclore is a software product company developing products and solutions for information rights management. The Company provides information rights management and secure outsourcing systems that enables companies to continuously control and monitor information going on personal devices, cloud based storage, collaboration technologies, and external agencies. Their product is being used by over 400 companies across sectors like financial services, engineering and education. They have offices in India and USA with clients from Middle East, Southeast Asia, India, Europe and North America. Seclore raised $6m from Helion Venture Partners.
 
Silveredge Technologies (SilverPush)
Based in San Francisco, Philippines and Gurgaon (Delhi NCR) , SilverPush works with global clients by providing them with cross-device mapping solution that helps big brands to understand their users and reach them effectively. Their patent-pending audio beacon technology enables tracking of user behaviour across multiple devices. Last Year, SilverPush raised $1.25m in pre-series A round from Japan based fund, M&S Partners and existing investors IDG Ventures and 500 Startups. The total amount of fund raised by the startup till date is USD 2.5 million.
 
Stelae Technologies
Stelae Technologies is an artificial intelligence company that offers information management solutions. Its flagship product Khemeia is a solution that transforms unstructured data into intelligent content through the use of artificial intelligence techniques to extract and semantically tag meta-data, structure and hierarchically organize information, generate table of contents, and convert them into XML-based outputs. Stelae Technologies is funded by angel investors in Europe, Israel, and India,  and operates offices in Bangalore, London and Lyon.
 
Teabox
Teabox is a vertically integrated tea brand delivering fresh tea to customers disrupting the way tea is delivered and consumed. Teabox ships fresh teas, chosen by tea experts to customers all over the world within 24-48 hours of production. With a selection of over 150 fresh teas from over 75 different plantations in Darjeeling, Nepal, and other parts of India, Teabox provides the largest selection of single estate and premium fresh teas online. Till date they have shipped over 30 million cups of teas to over 90 countries and generate over 95% of their revenue from customers outside India. The company raised $6m in Series A funding led by JAFCO Asia and with participation from Accel Partners, Keystone Group LP and Dragoneer Investment Group.
 
Technology Frontiers (TechFront)
TechFront is a leading global in-stadia arena management company providing activation solutions to the sports, media and entertainment industries. The company's offerings include highly engineered electronic video screens, sponsorship management services, and proprietary software for scoring and for increasing in-venue fan engagement. TechFront also provides analytical services to sponsors to help them track sponsorship value. The company is involved in notable events and venues in the sports, media and entertainment domains in all the major geographies across the globe. TechFront's unique products and services are visible in major sporting events such as Formula 1, the English Premier League, the Indian Premier League and the ICC Cricket World Cup. TechFront is based out of Chennai with offices in Dubai, London, Hungary, Johannesburg, Sydney, Germany and Shenzhen.
 
Telerad Tech
Telerad Tech is a teleradiology company. Telerad Tech offers a cloud based distributed platform that features a built-in workflow intelligence for tele-health workflows, Artificial Intelligence for detection of anomalies of digital images, and medical image management system for clinics, radiologists, hospital chains, diagnostic centres and tele-radiology. The Global cloud based platform is scalable & configurable, modular & secure, and works seamlessly across operating systems on desktop and mobile and operates in India and US.
 
Uniken Systems
Uniken is a cyber security company based out of Pune. The company has developed a military grade digital security platform REL-ID, which helps connect users, devices and apps through a secure network, protected from hi-tech online attacks. Currently REL-ID has over 2 million users from leading financial institutions. Uniken has offices in Pune, Israel and USA. Uniken raised $2m from Exfinity Venture Partners in 2015.
 
Uniphore Software
Uniphore Software is a technology firm delivering Speech-based Mobile Solutions. The company provides voice and data technologies to its clients in the banking, insurance, retail, healthcare sector. Their solutions allow any software application to understand and respond to natural human speech, thus enabling humans to use the most natural of communication modes, speech, to engage and instruct machines. Uniphore has over 70 enterprise customers with 4 million users, supporting 25 global languages with over 100 dialects. IDG Ventures funded Uniphore is based out of Chennai with offices in UAE and Philippines. 
 
About London & Partners
London & Partners is the official promotional company for London. We promote London and attract businesses, events, congresses, students and visitors to the capital. Our aims are to build London's international reputation and to attract investment and visitor spend, which create jobs and growth. 

London & Partners is a not-for-profit public private partnership, funded by the Mayor of London and our network of commercial partners.
For more information visit www.londonandpartners.com

About British Airways
British Airways' route network currently serves more than 179 cities in 75 countries. British Airways has been flying to India for over 90 years and currently operates 49 flights a week from London Heathrow to five cities – New Delhi, Mumbai, Chennai, Bengaluru and Hyderabad. From 25 October 2015, customers from Delhi have become the first at British Airways globally to experience the state-of-the-art brand new Boeing 787-9 and the new First cabin.

In September 2015, World Traveller Plus, the premium economy cabin available on selected long haul routes, was awarded the Best Premium Economy by Business Traveller Asia-Pacific. In October 2015, British Airways and its frequent flyer programme, Executive Club, was awarded the Best Short-Haul Carrier and the Best Frequent Flyer Programme by Business Traveller for the 10th consecutive year. The oneworld alliance, of which British Airways was a founding airline, came in first in the Best Airline Alliance category for the third year running.

In March 2015, British Airways was also named the top Business and Consumer Superbrand at the Superbrands 2015 Awards, becoming the first travel brand to win both prestigious titles.
For more information, please visit ba.com.