UK is Europe's favourite tech centre for global tech professionals
The United Kingdom is Europe's most desirable technology hub for global tech workers looking to move abroad, according to a survey of over eight hundred international technology professionals.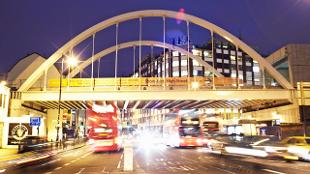 The findings of the poll1 reveal that mobile, global tech workers would prefer to relocate to London, over other rival tech hubs in Europe such as Berlin and Paris. The survey also found that London is viewed together with New York and San Francisco as one of the world's top three technology hubs.
The British capital scored highly across a range of business and lifestyle factors according to the research, commissioned by London & Partners, the Mayor of London's promotional company and carried out by YouGov. A large proportion of global tech respondents cited London's good international travel connections, cultural diversity and creative and innovative environment as important factors for its attractiveness.
The survey also found that London rated highly when compared with other tech hubs across the world. Respondents found London to be more favourable for ease of doing business, good international travel connections and culture arts and entertainment than hubs such as Bangalore, Ontario and Singapore.
Recent research has also found that London leads the way for high-skilled talent. In the past three years London has seen a sixteen per cent increase in high-skilled workers, making it the most talented city in the world. The growth of London's tech sector has helped it to attract more highly skilled workers than any other global rival including New York, Hong Kong and Sydney2.
The Mayor of London Boris Johnson MP said: "London is a technology powerhouse. With our competitive business environment and an unrivalled range of culture, arts and entertainment, we are able to attract some of the very best creative and entrepreneurial minds on the planet. Since the creation of the Tech City project six years ago, London has emerged as Europe's fastest growing technology hub while cementing our status as a world-class destination to live and work."
Russ Shaw, founder of the global advocacy network Tech London Advocates added: "London is a truly global city and has all the right ingredients to remain one of the world's leading tech hubs. London offers the world-class financial centre of New York, the thriving technology start-up culture of Silicon Valley, the political and regulatory environment of Washington DC and the dynamic entertainment industry of Los Angeles, all in one city. This creates an environment with unique potential for entrepreneurs."
While London ranked consistently high across a range of metrics, New York and San Francisco remain the two most desirable global tech destinations among respondents. The American cities narrowly scored higher than London in terms of ease of doing business and employment opportunities.
The research has been released to coincide with the global launch of the 'Transatlantic Tech Boom' campaign, a joint initiative between London & Partners, UK Trade & Investment and funded by the GREAT Britain campaign.
The campaign will target US technology businesses looking to expand into London and the UK. It will officially be launched at an exclusive event at the Great British House on Sunday 13th March at the global film, music and digital festival - South by SouthWest (SXSW). The event will showcase the brightest American and British figures from the UK's tech scene including keynote speeches from Russ Shaw, founder of Tech London Advocates, Ben Medlock, Co-founder of SwiftKey and a live performance from British singer-song-writer and music-tech entrepreneur, Beatie Wolfe.
Gordon Innes CEO of London & Partners said: "London is already Europe's leading destination for international technology companies looking to expand globally. But the research findings also demonstrate that London has joined San Francisco and New York to become one of the world's leading tech hubs. With easy access to world-class tech talent, international markets and a culture of innovation, we have already seen American tech companies such as Facebook, Amazon and Google establish a strong presence in the UK. We look forward to welcoming more US businesses and entrepreneurs to take advantage of the fantastic business and lifestyle opportunities that London and the UK has to offer."
Separate research from DueDil, the London-based fintech company, revealed the impact of US entrepreneurs on the UK tech sector. The research finds that 1,403 US entrepreneurs are directors of UK tech SMEs founded between 2010-2014, more than almost any other non-UK nationality (except Ireland and India). The findings also showed that the number of UK tech start-ups with US directors has more than doubled since 20103.
US entrepreneur and DueDil CEO Damian Kimmelman said: "The UK offers a host of opportunities for overseas entrepreneurs and tech businesses alike. The UK's open approach to data, strong government support, availability of finance and access to technical talent made it the perfect location to implement our business idea and scale the company. As an American, it is no surprise to learn that the UK is the destination of choice for US tech entrepreneurs looking to start and grow a digital business." 
London and the UK also remain the leading location for global companies looking to establish a European Headquarters, with London hosting forty per cent of the world's top companies. In the last five years, some of the world's largest technology companies such as Google, Facebook and Skype have all established developer and engineering hubs in London. Earlier this year, US technology giant Amazon announced plans to create an additional 2,500 jobs in the UK, bringing the company's total number of employees to more than 14,500 by the end of 2016.
Michael Xenakis, Managing Director EMEA of online restaurant booking service, OpenTable, commented on the company's decision to establish a European base in London: "London sits firmly at the forefront of the global restaurant scene, making it an obvious choice for OpenTable's European base. It offers excellent travel links to the US and Europe, and enables us to tap into an abundance of talent in relevant sectors for our business, from engineering to marketing and everything in between."
Notes to Editors
1 YouGov Research of Global tech professionals commissioned by London & Partners, 2016
2 Deloitte Global Cities, Global Talent Report 2016 
3 DueDil research based on DueDil data from 1/1/2010-31/12/2014 
About London & Partners
London & Partners is the official promotional company for London. We promote London and attract businesses, events, congresses, students and visitors to the capital. Our aims are to build London's international reputation and to attract investment and visitor spend, which create jobs and growth.
London & Partners is a not-for-profit public private partnership, funded by the Mayor of London and our network of commercial partners.
For more information visit www.londonandpartners.com  
About the YouGov Research  
YouGov was commissioned by London & Partners to conduct a survey of tech professionals in eight international locations. The international locations surveyed in the report include: London, New York, San Francisco, Bangalore, Ontario, Paris, Berlin and Singapore.
In total, 829 tech professionals were interviewed (a minimum of 100 per location). All interviews were conducted online using the same questionnaire in each location to facilitate comparisons. Fieldwork was conducted between 29th January and 7th February 2016.
About the DueDil Research 
DueDil provided data on the number of tech SMEs (defined as companies with a turnover of less than £250m) founded in each year from 2010 to 2014, along with detail on the nationality of the directors of those companies. 
The definition of tech was strictly defined by London & Partners as companies registered at Companies House under the following Digital Technology SIC code (SIC07) criteria: 26.11, Manufacture of electronic components; 26.12, Manufacture of loaded electronic boards; 26.2, Manufacture of computers and peripheral equipment; 26.4, Manufacture of consumer electronics; 26.51/1, Manufacture of electronic instruments and appliances for measuring, testing, and navigation, except industrial process control equipment; 26.51/2, Manufacture of electronic industrial process control equipment; 26.8, Manufacture of magnetic and optical media; 33.13, Repair of electronic and optical equipment; 58.21, Publishing of computer games; 58.29, Other software publishing; 62.01/1, Ready-made interactive leisure and entertainment software development; 62.03, Computer facilities management activities; 62.09, Other information technology and computed service activities; 63.11, Data processing, hosting and related activities;  63.12, Web portals; 95.11, Repair of computers and peripheral equipment
About the GREAT Britain campaign
The GREAT Britain campaign is the Government's most ambitious international marketing campaign ever and showcases the very best of what our whole nation has to offer in order to encourage the world to visit, study and do business with the UK. It is active in over 144 countries.
The campaign has delivered £1.5bn to the UK economy to date.
The campaign brings together the work of UK Trade & Investment, VisitBritain, British Council, the Foreign & Commonwealth Office and other government departments as well as hundreds of private sector companies. All work closely together to deliver jobs and growth across all parts of the UK. In 2015, the campaign supported over 1,100 separate events and activities in around 193 locations worldwide.
Contact
London & Partners Media & PR Team
press@londonandpartners.com
Tel: 
+44 (0)20 7234 5710
Switch: 
+44 (0)20 7234 5800