London universities in Qatar partnership drive
Eleven of London's leading universities have used an innovative exhibition at Katara Cultural Village to share knowledge about new technologies and highlight opportunities for collaboration with institutions and individuals in Qatar.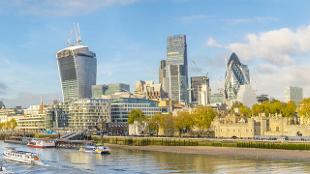 The exhibition, by the London Universities International Partnership (LUIP) and backed by the £2m GREAT UK Challenge Fund, part of the UK Government's GREAT Britain Campaign, explored the role of knowledge and skills in the development of 'Smart Cities', in support of Qatar's National Vision 2030.
The showcase, designed to represent the flow of the River Thames in London, demonstrated how London's universities are educating the next generation of city leaders, educators, planners, creatives, medics, researchers and builders. It explored a number of themes including building on the legacy of the London 2012 Olympic Games by working on projects aimed at making communities healthier and drawing on the creativity of the revitalised area around the Olympic Park in East London. Other ideas on show included initiatives to build sustainable homes and workplaces, projects to monitor the quality of food for humans and animals, and a programme about how schools can produce the leaders of the future.
London's Deputy Mayor for Environment and Energy Matthew Pencharz, who has championed the use of technology to help cities modernise and function more efficiently, said: "Collaboration between universities in London and Qatar-based institutions and individuals continues to grow and we are keen to build on that relationship to forge more partnerships in the future.
"It is the sharing of current thinking and research on smart cities through to the teaching of the next generation of city planners – whether that be town planners, civil engineers or more likely technologists who are creating new apps and programmes - that will continue to have profound effects on today's cities and how we all live. 
"The LUIP showcase at Katara is a wonderful demonstration of the depth of creativity and ideas in London's universities, which in turn can assist Qatar."
More than 100,000 international students from over 200 nations choose to study in London each year. The British capital is a trusted destination for students and accreditations earned in the UK are recognised and respected all over the world.
The British Ambassador to Qatar, His Excellency Ajay Sharma, said: "The relationship between students from Qatar and the United Kingdom is strong and enduring. So many of Qatar's leading figures have spent time studying in the UK and I am delighted that each year this figure increases. I am sure this will continue to be the case as demonstrated by the high level of interest in the London Universities International Partnership showcase at Katara. Britain is well placed, through its world class educational institutions, to assist Qatar in building a knowledge-based economy which is fundamental to delivering the 2030 National Vision. This is an important part of the partnership between the UK and Qatar, which I am committed to supporting."
Jennifer Parsons, LUIP Chair, added: "Our visit to Qatar has been a tremendous success with many people and organisations expressing an interest in collaborating across a range of areas, including education, sports and aeronautics among others. The shared history between London and Qatar creates a level of trust that is essential for effective collaboration. Thank you to everyone in Qatar who've made our visit so successful."
The LUIP showcase at Katara was designed by a Middle East graduate from the Architectural Association School of Architecture in the United Kingdom.
For further information about studying in London visit www.luip.co.uk
Notes to Editors
The GREAT Britain campaign is the UK's most ambitious international marketing campaign ever and showcases the very best of what the country has to offer in order to encourage more people to visit, study, invest in and do business with the UK. GREAT has delivered a confirmed return for the UK economy of over £1.4 billion to date and is active in 144 countries. It is the Government's common brand for overseas promotion of the UK. In addition, more than 400 businesses and high-profile individuals have supported the campaign.

The GREAT UK Challenge Fund supports new and innovative project ideas that use GREAT to promote the UK overseas and generate economic benefit at a local, regional or national level. There is more information about the GREAT UK Challenge Fund here: www.greatukchallengefund.com. More information about the GREAT Britain campaign is available from www.greatbritaincampaign.com. Press enquiries about the campaign should go to 0207 008 3100.

VisitEngland is administering the GREAT UK Challenge Fund, chairing the Programme Board and acting as the Secretariat. Funding decisions are being made by the Programme Board comprising of the Foreign & Commonwealth Office, Department for Culture, Media and Sport, British Council, UK Trade & Investment, VisitBritain, the Devolved Administrations and No10.

About Knight Frank
Founded in 1896, Knight Frank has grown to become the world's largest privately owned global property agency and consultancy. More than 13,000 professionals from over 417 offices in 58 countries across 6 continents handle in excess of US$850 billion worth of commercial, agricultural and residential real estate annually, advising clients ranging from individual owners and buyers to major developers, investors and corporate tenants.
Knight Frank established a permanent presence in the Middle East in 2008. With a growing team of experienced professionals operating across the Middle East, we provide a full range of property transactional, management and advisory services to the entire region, executed to the highest standards of quality and integrity.
The London Universities International Partnership (LUIP) is made up of 16 universities in partnership with the Mayor of London's International promotional agency, London & Partners. Set up to showcase London as a world-class study destination and the world's knowledge capital, since its effective launch at the House of Lords in March 2012, LUIP has already had a major impact with its social media campaigns and overseas showcase events. These have also included hugely successful events with the Mayor of London in India, China and the USA.

Members:

Architectural Association School of Architecture

Brunel University

Goldsmiths University London

Kingston University

London School of Hygiene and Tropical Medicine

London South Bank University

Middlesex University London

Royal College of Art

Royal Veterinary College, University of London

School of Oriental and African Studies, University of London

St George's, University of London

University College London Institute of Education

University of the Arts London

University of East London

University of Roehampton

University of Westminster

 

The Partnership aims to:

Showcase London as a world-class study destination and the world's knowledge capital;

Establish collaborations, in each key market, with stakeholders, partners and businesses;

Raise the profile of London's universities and all their world-class activities and facilities

Lobby regionally and nationally to raise issues that affect international students;

Share resources and research.
For more information visit www.luip.co.uk or www.studylondon.ac.uk
Contact
Blaine Pike
Consultant
Blue Rubicon
4020 6061