London scoops award for Best City at the 2016 Times Travel Awards
London been named as the best city to visit in the prestigious Times, Sunday Times and Sunday Times Travel Magazine Awards. It's the fourth year in a row that London has scooped Best City, ranking ahead of New York, Venice, Paris, Sydney, Las Vegas and Dubai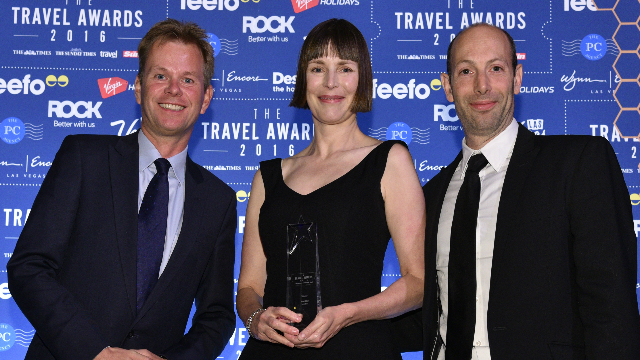 Julie Chappell, Chief Digital Officer at London & Partners, who accepted the award during a ceremony at the Wynn Hotel in Las Vegas, said: "To have won this reader nominated award for the fourth time shows that people really do love this multicultural city which offers a unique visitor experience few other places on earth can match."
Jane Knight, Times Travel Editor, said; "Despite stiff competition from the likes of Paris, Barcelona, Venice and New York, London came out on top. It just goes to show how much the capital has to offer and how it continues to regenerate itself and create a buzz - from the new Tate Modern to the bustling stalls selling artisan products at nearby Borough Market and the hip bars, restaurants and vintage cloth shops of Shoreditch. Cool new hotels mean there are more interesting places to stay, and room rates are kept competitive. With exciting new productions in the West End and art exhibitions, there's always another reason to visit."
Although the summer season is now coming to an end, London continues to offer a jam packed autumn season of culture. Major exhibitions include the highly anticipated; You say you want a Revolution at the V&A, Rodin and Dance: The Essence of Movement, at the Courtauld Gallery and South Africa: The Art of a Nation at the British Museum.
Record numbers of tourists continue to travel to London each year to sample the capital's world-class attractions. The city received 31.5 million visits from all over the world in 2015 including 12.9 million tourists from Great Britain. A recent survey by London & Partners, the Mayor of London's promotional company found that 90 per cent of American visitors (and 80 per cent of UK visitors), who'd travelled to the capital in the last two years, rated London's cultural attractions as the best in the world.
Notes to Editors
About The Times Travel Awards
The Awards, now in their fourth year see The Times, The Sunday Times and The Sunday Times Travel Magazine come together to bring you the best destinations, hotels and travel companies as voted for by our globe-trotting readers.
About London & Partners
London & Partners is the official promotional company for London, which owns and manages the official tourism site, VisitLondon.com. We promote London and attract businesses, events, congresses, students and visitors to the capital. Our aims are to build London's international reputation and to attract investment and visitor spend, which create jobs and growth. London & Partners is a not-for-profit public private partnership, funded by the Mayor of London and our network of commercial partners. For more information visit londonandpartners.com   
Contact
London & Partners contact details:
Becka Cornell, Press Officer                            
+44 (0)20 7234 5737