Mayor of London Boris Johnson helps high growth firms set sights on international expansion
Mayor of London Boris Johnson helps high growth firms set sights on international expansion
More than 40 per cent of London-based SMEs aiming to trade internationally
London exports worth £140bn to capital's economy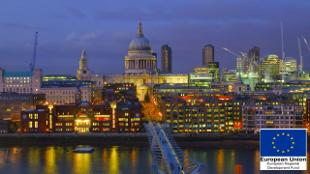 Fifty of London's fastest growing companies will join the first cohort of the Mayor's International Business Programme, a new initiative launched today to help the capital's high growth firms break into new international markets or grow their existing operations overseas. 
The programme is led by London & Partners, the Mayor's official promotional company and part-funded by the European Regional Development Fund, and supported by industry partners including BDO, KPMG, PA Consulting Group, Benoy and London Chamber of Commerce and Industry. It is the first programme of its kind, using peer-to-peer mentoring and private sector backing, to help London companies to scale up and internationalise.
Companies joining the programme span the technology, life sciences and urban sectors and include the likes of the transport app Gett, the urban cycling company Blaze which is backed by Index Ventures and the Branson family. Other companies joining the programme include Technology Will Save Us, Kano, Adzuna, Grub Club, Bloom & Wild, Big White Wall and RealEyes.
The programme, launched by the Mayor of London, Boris Johnson MP, aims to support 800 high growth companies based in the capital over the next three years to increase their international business potential.
The Mayor of London Boris Johnson MP, said: "London has a strong heritage as an international trading city and our position at the centre of the business world means the city offers the perfect springboard for companies looking to expand internationally. London's businesses and entrepreneurs continue to be at the forefront of innovation and creativity and I have seen first-hand the demand for their goods and services across the world. By helping the capital's businesses become the next global leaders we will see the creation of more jobs for Londoners."
Serial entrepreneur and mentor for the programme, Sherry Coutu CBE added: "As London's technology and creative sectors continue to grow, we are starting to see a new wave of high growth companies. International expansion is a key enabler in helping us to produce more UK businesses of genuine scale. It is important that we draw upon our existing strengths from the large number of UK companies who are already international success stories while removing the barriers for the next generation of rising stars."
Companies joining the Mayor's International Business Programme will get bespoke advice and mentoring from some of the world's most recognised and celebrated businesses leaders from across North America, Europe and Asia including Sarah Wood, Co-Founder of Unruly and Kathryn Parsons, Co-Founder and Co-CEO of Decoded and Nilesh Gopali, Country Head, India, cloudBuy.
Commenting on their reasons for joining the programme, Bethany Koby CEO and co-founder of Hackney education technology start-up Technology Will Save Us said: "Being based in London has given us access to an incredible community of ambitious entrepreneurs who've been instrumental to our growth in the UK and internationally. There are more and more businesses focused on the importance of tech skills for young people and who are excited about making and coding as a way to unleash their potential. I'm not sure there has ever been a more exciting time to be building a learning-focused organisation in the UK, and we are thrilled to be leading the charge and championing EdTech in this field."
28 per cent of London-based SMEs are currently trading internationally (importing or exporting) according to recent research conducted by KPMG Small Business Accounting. However, more than 40 per cent say they aim to be doing so within the next five years.1
Exports from London are a key driver of the capital's economy. Current estimates put the value of London's exports at £139.9 billion a year, up from £60 billion a decade ago2 and the capital is home to more than a quarter (25.5%) of all companies in the UK that are exporting3.
Gordon Innes, CEO London & Partners said: "London's innovations in technology and life sciences are gaining worldwide recognition and the city has already produced global pioneers in areas such as fintech and digital health. Drawing on the expertise of our business partners and entrepreneur networks, we have designed a bespoke programme to help London's growth heroes meet their global ambitions."
Separate research from KPMG, found that 47 per cent of global CEOs are looking to invest further into geographic expansion outside of their home countries. The report surveying 1200 chief executives of businesses across 10 countries, also found that over half of UK CEOs (58 per cent) said that global economic growth is a leading issue impacting their companies today4. 
Kevin Smith, London Chairman at KPMG said: "Doing business in international markets is absolutely vital for any small enterprise looking to grow but where to start and how to find out what opportunities are out there is often the biggest barrier for business owners. KPMG is delighted to support the Mayor in his International Business Programme helping start-up businesses in London by offering advice on how to export, connections abroad and access to opportunities to build confidence and sales.  We believe we have a role to play in helping to make this journey as seamless as possible for the small business owner with big ambitions."
Kim Hayward, International Liaison Partner at BDO, said: "London is one of the command centres for the international economy but we cannot take its pre-eminence as a truly global city for granted. One of the crucial areas for development is around helping London's businesses expand abroad - especially its highly ambitious and entrepreneurial mid-market businesses. That's why schemes like the Mayor's International Business Programme are so important and will help businesses on the journey from strong domestic scale-ups to successful exporters to international businesses."
Colin Stanbridge, chief executive of London Chamber of Commerce and Industry: "LCCI has a long and rich history of delivering trade support and several missions every year as part of an international network of chambers, and we know that supporting SMEs with exporting is crucial to help them grow their business overseas. LCCI is delighted to join the Mayor's International Business Programme and we look forward to supporting the Programme in delivering events and missions."
Colm Reilly, who leads PA Consulting Group's economic development service said: "It is not enough to talk about internationalisation. We are now in a world where specific Global Supply Chains are increasing in value faster than GDP in all developed countries. The International Business Programme is about targeting those supply chains, indentifying the entry points and allowing the right SMEs to scale quickly by being part of this programme. The Mayor has created this programme to achieve real and tangible outcomes for business and we are delighted to have this platform."
Tom Cartledge, Global Director at Benoy commented: "Benoy is proud to be a part of the Mayor's International Business Programme and is delighted to able to share its global experience with companies taking their first and formative steps on their international journey. Working in partnership with the Programme, Benoy is looking forward to encouraging and supporting British Business in its endeavours in the international marketplace." 
Notes to Editors
1 KPMG Small Business Accounting
2 GLA Economics August 2015  
3 ONS Annual Business Survey 2015
4 KPMG CEO Outlook Revolution or Evolution
About London & Partners
London & Partners is the official promotional company for London funded by the Mayor of London and a network of commercial partners. We provide bespoke advice based around business drivers to help companies make better informed decisions more quickly.
Working with a network of over 1,000 partners, we provide investors with the information they need to take advantage of London's opportunities from day one. We have offices and representatives based around the world.
About the Mayor's International Business Programme
The Mayor's International Business Programme, is a £5million programme part funded by the European Regional Development Fund (ERDF), aims to support high-growth companies in the life sciences, technology and urban sectors to increase their export success across a range of key markets in Europe, Asia and North America.
The three year programme, which will target 800 companies, is being led by London & Partners, the Mayor's official promotional agency, in partnership with KPMG, PA Consulting, BDO, Benoy and London Chamber of Commerce and Industry.
The programme will support companies that register and qualify in quarterly cohorts – the first cohort will comprise of 51 high growth businesses from Tech, Life Science and the Urban sectors.
About KPMG
KPMG LLP, a UK limited liability partnership, operates from 22 offices across the UK with approximately 12,000 partners and staff.  The UK firm recorded a turnover of £1.9 billion in the year ended September 2014. KPMG is a global network of professional firms providing Audit, Tax, and Advisory services. It operates in 155 countries and has 162,000 professionals working in member firms around the world. The independent member firms of the KPMG network are affiliated with KPMG International Cooperative ("KPMG International"), a Swiss entity.  Each KPMG firm is a legally distinct and separate entity and describes itself as such. 
About the KPMG Small Business Accounting
In November 2015 1,000 small business leaders from across the UK were interviewed about how they manage their finances and the results were compared with their company's performance. Respondents are all owner managers, or managerial level directors, running UK small businesses with two to thirty employees. 313 of these small business leaders are based in London.
KPMG Small Business Accounting provides accounting services for businesses from start-up through to fifty employees.
It offers one-to-one advice from KPMG experts on business critical areas, including cash flow and management reports. Small businesses are offered this level of support as part of a fixed fee, starting from £125 per month.
KPMG Small Business Accounting services include accounting and bookkeeping, 24/7 access to accounts, tax, compliance, payroll and business performance growth via KPMG's advice and networks.
About the KPMG CEO Outlook Revolution or Evolution
KPMG UK CEO Outlook Revolution or Evolution was published by KPMG in October 2015 based on interviews with over 1200 CEOs from 10 key markets to take the pulse of business.  The report seeks examine UK CEO sentiment based on the views of 151 UK respondents of corporate businesses.  Global respondents to the survey were based in Spain, France, Germany, India, Italy, Japan, US, China and Australia.
About PA Consulting Group
PA is a firm of over 2,500 people, operating globally from offices across North America, Europe, the Nordics, the Gulf and Asia Pacific. Our specific expertise is in energy and utilities, financial services, health, life sciences, consumer and manufacturing, government, defence and security, transport and logistics.
Our deep industry knowledge together with skills in management consulting, technology and innovation allows us to challenge conventional thinking and deliver exceptional results with lasting impact. www.paconsulting.com
About PA's economic development work
PA has a dedicated economic development arm which supports companies around the world in achieving revenue, job and profitability growth by enabling them to understand what is really happening to global markets and resultant trade and investment. Our reputation is built on enabling companies to expand and scale through successful programmes of work where value is shared by all.
About BDO
Accountancy and business advisory firm BDO LLP has a clear ambition to be known in the market for exceptional service delivered by empowered people. The Mid-Market Monitor shows that BDO is the market leader for client satisfaction for the fourth year running – outperforming all its major competitors.
BDO's heartland is the mid-market. The UK mid-market accounts for less than 1% of all firms but delivers a third of UK revenue and one in four jobs. In the last five years, medium-sized businesses have grown turnover by 55% and profits by 110%. BDO's New Economy research (www.bdo.co.uk/neweconomy) calls for the government to put the UK mid-market at the heart of its plans to rebalance the economy and help this already successful sector expand further.
BDO LLP
BDO LLP operates in 18 offices across the UK, employing 3,500 people offering tax, audit and assurance, and a range of advisory services. BDO LLP is the UK member firm of the BDO International network with UK revenues approaching £400m.
BDO International
The BDO International network provides business advisory services in 154 countries, with 64,500 people working out of 1,400 offices worldwide. It has revenues of $7.3bn.
About London Chamber of Commerce and Industry
London Chamber of Commerce and Industry (LCCI) is the capital's largest independent networking and business support organisation. Representing the interests of thousands of companies, we connect businesses and people locally and globally, and offer our members a wide range of useful business services.
About Benoy
Benoy is an international, award-winning firm of Architects, Masterplanners, Interior and Graphic Designers. With a global network of 11 strategically located studios and an international reach that extends to over 75 countries, Benoy is an established, and indeed respected, design brand in its markets around the world.
About Technology Will Save Us
Technology Will Save Us is one of the UK's most exciting, design-led technology start-ups focused on learning and is on a mission to spark the creative imagination of young people using hands-on technology. Based in East London, Technology Will Save Us has created an accessible ecosystem for hands-on learning with technology that includes DIY kits and digital tools. Using everyday life as inspiration, all of their products are vehicles for education that encourage everyone to make, play, code and invent with technology. Established in 2012, the company has enjoyed fast-paced growth. In the past year alone, Tech Will Save Us has ushered in new UK stockists including John Lewis, Topshop and Urban Outfitters. Internationally, Technology Will Save Us is increasingly well-represented: DIY kits have been shipped to 87 countries and the company has resellers on 3 continents; North America (US & Canada), Europe (UK, the Netherlands, France and Germany) and Australia.
European Regional Development Fund
The project is receiving funding from the England European Regional Development Fund (ERDF) as part of the European Structural and Investment Funds Growth Programme 2014-2020.  The Department for Communities and Local Government is the Managing Authority for ERDF. Established by the European Union ERDF funds help local areas stimulate their economic development by investing in projects which will support innovation, businesses, create jobs and local community regenerations. For more information visit https://www.gov.uk/european-growth-funding
Contact
London & Partners Media & PR Team
+44 (0)20 7234 5710
Switch: +44 (0)20 7234 5800
Twitter: @London_PR