Prudential Ridelondon raises record-breaking £12 million for charity
The 2015 Prudential RideLondon-Surrey 100, part of the Mayor of London's award-winning festival of cycling, has set a new fundraising record for the third successive year after the 25,564 finishers in the 100-mile sportive raised more than £12 million for charity.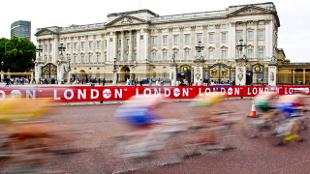 The world's greatest festival of cycling, held for the first time in 2013, has now raised more than £29 million for charity in just three years. At the inaugural event, 16,000 riders raised more than £7 million and in 2014 the 20,709 finishers battled through heavy rain and wind on a shortened route to break the £10 million barrier.
The Mayor of London, Boris Johnson MP, said: "Prudential RideLondon is not just the greatest mass-participation cycling event in the world, it's also a hugely successful charity weekend that raises millions of pounds for good causes. I congratulate everyone who helped to make it another record-breaking year and I look forward to seeing cyclists of all ages and abilities take to the capital's streets again this year."
Macmillan Cancer Support was one of many charities that raised six-figure sums and is already hard at work planning its fundraising for the 2016 Prudential RideLondon-Surrey 100.
Liz Taylor-Hemming, Challenge Events Programme Manager at Macmillan Cancer Support, said: "2015 saw the highest number of Macmillan riders in the Prudential RideLondon to date. We are extremely grateful to our 570 Team Macmillan riders who between them raised over £450,000. This is a fantastic total which will be used by Macmillan to provide services for people affected by cancer so that nobody has to face cancer alone."
Event Director Hugh Brasher said: "After just three years, Prudential RideLondon is firmly established as one of the most successful fundraising sports events in the world. We thank all the riders for their fundraising work and look forward to breaking more records in 2016." 
Notes to Editors
NOTES TO EDITORS
1.    Prudential RideLondon is the world's greatest festival of cycling. At the 2015 edition, 95,000+ cyclists participated in five separate events on traffic-free roads in London and Surrey over the weekend of 1-2 August. The events that make up the festival are: the Prudential RideLondon FreeCycle, the Prudential RideLondon Grand Prix, the Prudential RideLondon-Surrey 100, the Prudential RideLondon Handcycle Classic and the Prudential RideLondon-Surrey Classic. The 2016 event takes place over the weekend of 30-31 July. Find out more at www.PrudentialRideLondon.co.uk.
2.    Prudential RideLondon was developed by the Mayor of London, Transport for London and London & Partners in partnership with Surrey County Council and is sponsored by Prudential. The event is managed by the London & Surrey Cycling Partnership.
3.    Prudential RideLondon has won a total of 11 major awards to date:
·         European Sport Tourism Event of the Year (2014)
·         London Cycling Awards Event of the Year (2014)
·         BT Sport Industry Awards: Participation Event of the Year (2013 and 2014)
·         UK Event Awards: Large Event of the Year (2013) and Sports Event of the Year (2013 and 2014)
·         2013 Cyclosport Industry Award, given for an outstanding contribution to the cycling industry
·         Most Innovative Cycling Event and Favourite British Cyclo-Sportive in the Cycling Weekly readers' annual poll
·         UK Cycling Event of the Year in the Total Women's Cycling readers' awards