UK tech firms smash venture capital funding record
VC investment in UK tech sector approaches $10bn since 2010
London's booming Fintech sector continues to fuel investment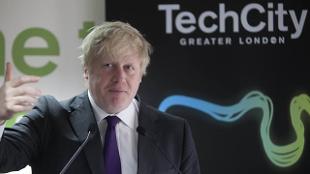 The UK's technology sector is continuing to attract record levels of venture capital funding, with companies raising more than $3.6 billion in 2015, according to figures compiled by London & Partners, the Mayor of London's promotional company1.
The investment represents an increase of over 70 per cent on the record amount raised in 2014 ($2.1 billion). London-based tech companies raised a record $2.28 billion during the period, representing a 69 per cent increase on the $1.3 billion raised in 2014.
Analysis of VC investment by London & Partners shows that since 2010 UK technology companies have collectively raised almost $10 billion ($9.7bn) with London-based firms accounting for more than half of the total ($5.2 billion). During 2015 the investment secured by London-based tech firms accounted for 63 per cent of total VC investment raised by UK tech firms.
Mayor of London Boris Johnson MP said: "The Mayor of London Boris Johnson MP said: "With a flourishing tech scene and one of the world's leading financial centres, it is no surprise to see that London's tech companies are attracting record levels of investment. Our world-class talent pool and our culture of innovation and entrepreneurial spirit are helping the sector to grow from strength to strength. We can expect the capital's tech sector to continue to generate jobs and growth for the city's economy for many years to come."  
Eileen Burbidge, Partner at Passion Capital and Mayor of London tech ambassador said: "Today's record investment figures offer further proof that the UK's tech sector continues to mature. Investors are increasingly attracted by the diversity of London's tech ecosystem but also our strengths in certain sectors such as FinTech. With more investment coming in from overseas and greater access to London-based growth funds, there has arguably never been a greater time to start and grow a digital business in London."
London's booming financial technology ('FinTech') sector has also continued to secure record funding during 2015. The sector accounted for almost a quarter of all investment raised by London-based tech companies. Some of the largest FinTech deals this year include TransferWise ($58m) and WorldRemit ($100m).
In April 2015, London-based peer-to-peer lending company, Funding Circle secured the largest single deal of the year with a $150m funding round led by DST Global. James Meekings, co-founder and UK Managing Director Funding Circle said: "Small businesses are the lifeblood of the economy and we're passionate about helping them to access finance by connecting them directly with investors. The money we raised, from some of the world's leading investors, allows us to continue to increase the number of small businesses that can borrow through Funding Circle, both in the UK and across the world. We want to become the first choice for small business lending."
Last year was also a strong one for the UK's ecommerce sector, with a number of companies featuring in the top ten deals including: FarFetch ($86m), MADE.com ($60m) and Secret Escapes ($60m).
The online takeaway start-up Deliveroo had a successful year securing a total of $195m in three separate funding rounds. William Shu, co-founder and CEO of Deliveroo, said: "We're proud to be a London-based company. Not only is the city great for investors and tech talent, but it's been an ideal launch pad for our global business."
Investment into London's technology sector has been boosted by a growing number of venture capital houses choosing to setup funds and operations in London. In October 2015 Octopus Ventures announced a $140m London based fund, joining the likes of Passion Capital, Index Ventures and Hoxton Ventures who already have a presence in London and have chosen the capital as a strategic base to invest in European technology start-ups.
Separate research from London & Partners (see Appendix 3) found strong backing for London tech companies from local investors with 50 per cent of all VC deals originating from investors based in the UK. However, London tech companies are also enticing US investors, with almost one third (29%) of all deals into London-based tech firms originating from US venture capital investors.
Gordon Innes, CEO of London & Partners added: "With London businesses receiving over 60 per cent of all the funding into the UK's tech sector, it's clear that investors believe that London offers a great return on investment. As well as some of Europe's most exciting start-ups, the capital now houses businesses of genuine scale. These companies are flourishing as they are able to benefit from the city's easy access to talent and international markets. This makes London one of the world's most attractive tech hubs for entrepreneurs and investors alike."
In 2015, Index Ventures was the most active investor into London tech companies, participating in 12 deals worth up to $345.55. Index's high profile investments in 2015 include Deliveroo, Secret Escapes and Onefinestay. The top five investment houses in London tech companies for 2015 also include: Accel Partners, Balderton Capital, 83North and Hoxton Ventures.
Notes to Editors
1 Data sourced from CB Insights
Appendix 1: Total VC investment in technology for London and UK (Source: CB Insights database)
All UK

Amount $m

2010

2011

2012

2013

2014

2015

Total VC investment

791.02

968.18

1027.09

1151.83

2122

3647.01
London

Amounts $m

2010

2011

2012

2013

2014

2015

Total VC investment

100.71

301.5

502.03

756.84

1350.41

2281.12
Appendix 2: Top 10 VC investment deals in 2015 (Source CB
Insights database)
| | |
| --- | --- |
| Company | Amount ($) |
| Funding Circle | 150 |
| Deliveroo | 100 |
| WorldRemit | 100 |
| FarFetch | 86 |
| Ebury Partners | 83 |
| Deliveroo | 70 |
| MADE.com | 60 |
| Secret Escapes | 60 |
| TransferWise | 58 |
| Blippar | 45 |
Appendix 3: Graph showing VC investment into London tech sector according to origin of investment (Source: CB Insights Database) - To see graph please click here
Contact