London Voted Favourite UK City for the 6th Year Running
London has won two prestigious accolades at the annual Condé Nast Traveller Readers' Choice Awards 2016.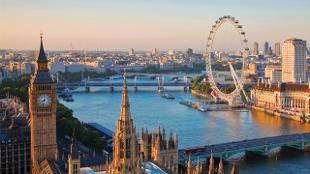 The capital came out on top as Best UK City for the 6th year running, and Best UK City for Restaurants and Bars for the second consecutive year in the reader-nominated awards ceremony at Soho's Ham Yard Hotel last night.
London's hotels have also swept the board by boasting twelve of the top 15 UK Business Hotels, and the Soho Hotel winning silver for best UK Holiday Hotel. Three of the city's spas also topped the UK Hotel Spas category; The Spa at Mandarin Oriental Hyde Park, The Bulgari Spa at Bulgari Hotel & Residences, and ESPA Life at Corinthia Hotel London.
The awards from the readers of one of the most popular travel magazines in the world comes as recent research from London & Partners, the Mayor's official tourism body for London found that last year, overseas visitors made 18.7 million visits to the city's best known cultural institutions, which is 1.8 million more than in 2012*.
Separate research also reveals that London's booming tourism trade is set to continue post-Brexit, as two thirds of Americans who visited in the last two years said they will definitely return due to a more favourable exchange rate**.
Julie Chappell, Head of Visitlondon.com, the official city guide from London & Partners said: "These awards have come at a perfect time for London, as the capital is primed to stage yet another fantastic blockbuster season of culture – which is the main reason tourists visit the city.
"London's culinary scene and nightlife are clearly going from strength to strength, with cuisines from every corner of the globe, eclectic and traditional bars and pubs, and 65 Michelin-star restaurants to enjoy – it's no surprise that Condé Nast readers have voted for the capital's bars and restaurants".
To discover London's Autumn Season and more, go to Visitlondon.com.
Notes to Editors
The results of the 19th annual survey were based on millions of votes submitted by readers of the Condé Nast Traveller magazine. For more information about the Condé Nast Traveller Readers' Awards 2016 see http://www.cntraveller.com/awards/readers-travel-awards/best-travel-experiences
* Visitor data supplied by Morris Hargreaves McIntyre.
Morris Hargreaves McIntyre (MHM)
Morris Hargreaves McIntyre is a strategic research consultancy working within the culture, heritage, leisure, media and charities sector. MHM's clients include some of the world's leading museums, galleries and theatres as well as heritage bodies and charities. Clients include British Museum, National Trust, Southbank Centre and Tate.
Methodology
Morris Hargreaves McIntyre (MHM) data is based on approximately 14,000 face-to-face annual visitor exit surveys undertaken at the following venues: IWM London; Natural History Museum; National Gallery; Tate Modern; Tate Britain; V&A, Museum of Childhood; National Portrait Gallery; British Museum; Science Museum; Museum of London and Museum of London Docklands.
** The poll was carried out by TCI Research, an UNWTO accredited company, on behalf of London & Partners. American results are based on a representative sample of 509 respondents from the USA, men and women, aged from 18 to 65, who have visited London at least once over the past two years. Data was collected by TCI Research using online Access Panel, end of July 2016.
UK Cities
London (1)
Edinburgh (2)
Bath (3)
Glasgow (5)
Salisbury (12)
Cambridge (8)
Newcastle (10)
Oxford (11)
Leeds (-)
York (4)
Liverpool (6)
Cardiff (9)
Belfast (-)
Manchester (7)
Cheltenham (-)
UK Holiday Hotels
Chewton Glen Hotel & Spa, Hampshire (3)
The Soho Hotel, London (11)
The Pig, Hampshire (1)
Cliveden House, Berkshire (6)
Ham Yard Hotel, London (9)
The Gleneagles Hotel, Perthshire (14)
Coworth Park, Berkshire (10)
Lime Wood, Hampshire (5)
Babington House, Somerset (2)
The Kensington, London (-)
The Gainsborough Bath Spa (-)
Belmond Le Manoir aux Quat'Saisons, Oxfordshire (4)
Malmaison Cheltenham (-)
The Pig on the Beach, Dorset (-)
Covent Garden Hotel, London (-)
Lucknam Park Hotel & Spa, Wiltshire (13)
The Scarlet Hotel, Cornwall (12)
The Royal Crescent Hotel, Bath (16)
Barnsley House, Gloucestershire (8)
Soho Farmhouse, Oxfordshire (-)
UK Business Hotels
Rosewood, London (4)
Claridge's, London (2)
Mandarin Oriental Hyde Park, London (1)
The Dorchester, London (7)
The Ritz London (-)
The Connaught, London (3)
The Langham, London (15)
Corinthia Hotel London (8)
The Savoy, London (5)
Waldorf Astoria Edinburgh – The Caledonian (-)
Radison Blu Edwardian Manchester (-)
The Berkeley, London (9)
Four Seasons Hotel London at Park Lane (11)
The Lowry Hotel, Manchester (-)
The May Fair Hotel, London (-)
UK Hotel Spas
The Spa at Mandarin Oriental Hyde Park, London (2)
The Bulgari Spa, Bulgari Hotel & Residences, London (1)
ESPA Life at Corinthia, Corinthia Hotel London (4)
Spa Village Bath, The Gainsborough Bath Spa (-)
The Spa, Chewton Glen, Hampshire (3)
The Dorchester Spa, The Dorchester, London (10)
ESPA Life, Gleneagles, Perthshire (8)
Sequoia, The Grove, Watford (7)
Cowshed Spa, Babington House, Somerset (5)
Aman Spa, The Connaught, London (13)
The Spa at Lucknam Park, Wiltshire (11)
C-Side Spa, Cowley Manor, Gloucestershire (14)
The Spa, Coworth Park, Berkshire (6)
Herb House, Lime Wood, Hampshire 12)
House Spa, Dormy House, Worcestershire (-)
About London & Partners
London & Partners is the official promotional company for London. We promote London and attract businesses, events, congresses, students and visitors to the capital. Our aims are to build London's international reputation and to attract investment and visitor spend, which create jobs and growth. London & Partners is a not-for-profit public private partnership, funded by the Mayor of London and our network of commercial partners. For more information visit www.londonandpartners.com
Contact