LONDON IS THE MOST TALKED ABOUT TRAVEL DESTINATION ON TWITTER
VisitLondon.com surprises 'Super Fans' of the capital – film available to view here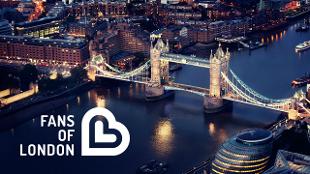 London is the most talked about travel destination on Twitter, according to new research from London & Partners, the Mayor of London's official promotional company.
The data, which has been released to coincide with the launch of a campaign celebrating 'Fans' of the city, was compiled by Spredfast for London & Partners and reveals the words 'London' and 'travel' were tweeted together more than 630,000 times in 2015, which is 200,000 more than the next most popular cities, Paris, New York, Rome and Tokyo.
In fact, the word London on its own was tweeted more than 81 million times in 2015, which is more than Sydney, Tokyo and Rome combined.
Some of the top words used in association with London include, 'art', 'travel' and 'fashion.'
The Mayor of London, Boris Johnson commented: "With our unbeatable cultural attractions, outstanding dining and top notch shopping, it's no wonder that London is the most talked about travel destination on social media. Even better, this online chatter is translating into record breaking visitor numbers and our museums, galleries and other attractions continue to top the charts. With another fantastic year of world-class events in store, we look forward to welcoming even more fans of London throughout the coming months and the years ahead."
Today (10 March) VisitLondon.com, in partnership with the GREAT Britain Campaign, British Airways and Hilton, launches 'Fans of London', a new initiative to celebrate the blockbuster events, exhibitions and anniversaries taking place across the capital this year. Highlights include: the Queen's 90th Birthday, the 400th anniversary of Shakespeare's legacy, Harry Potter and the Cursed Child, and the world's first exhibition of the Rolling Stones.
Fans of London launches with a series of four special "super-fan" films, the first of which follows the journey of Christine Meer, a dedicated American fan of the British Royal family who was hand-picked to visit the capital for the first time, for a once-in-a-lifetime experience. Christine was given VIP access to London's Historic Royal Palaces, as well as a Royal makeover. Christine is a speech therapist for adults.
Royal super fan Christine Meer from Columbus Ohio said: "I have been a huge fan of the British Monarchy ever since I can remember, and have always loved learning about their rich history, as well following the legacy of the younger Royals. To come to London for the very first time and experience the palaces as an insider was like a dream come true for me."
Chris Gottlieb, Chief Marketing Officer for London & Partners said: "Fans of London was born out of a desire to shine a spotlight on the unmissable events happening across the city this year, and each of these from The Queen to Harry Potter, has truly dedicated followers around the world.
"Fans of London features something for all, from cutting edge exhibitions to Shakespearean performances. By promoting these events together we can attract new international audiences to experience and share the very best that London has to offer this year."
Additional research from Spredfast highlights that many of London's top visitor attractions are also generating huge amounts of Twitter traffic. The Coca-Cola London Eye was the most tweeted about attraction in the capital (over the past 12 months) followed by the British Museum and the Natural History Museum in second and third place. Separate research has also shown that:
London has been Googled more than any other capital city since 2004*

London is the most 'selfied' city on Instagram**

Social media has an increasing influence over holiday choices, and 89% of those recently surveyed had used social media at some stage of their holiday***
Sara Dunham, British Airways' Head of Marketing, Retail and Direct, said: "This campaign will showcase some special moments, as fans travel to one of the world's greatest cities for a once-in-a-lifetime experience. At British Airways we love to make amazing things happen, and with dozens of daily flights connecting people between 21 US cities and London, we look forward to flying hundreds of fans to follow in their footsteps."
Aligi Gardenghi, Vice President Marketing Europe, Middle East & Africa at Hilton Worldwide said: "As fans of London we are excited to be involved in the London & Partners campaign and look forward to setting the stage for incredible and heartfelt experiences for our guests and visitors to the capital. With 35 properties in Greater London offering a diverse range and breadth of hospitality, Hilton provides the ideal backdrop for a memorable stay in one of the most popular worldwide destinations."
Commenting on the data, Rod Favaron, CEO of Spredfast said: "Social data is always a valuable resource for understanding what interests viewers, consumers, and even travellers. With London's cultural, historic, and unique entertainment offerings, it's no surprise that this location is the top travel destination, according to Twitter users. Our own team is often jockeying for more opportunities to travel to our London office, and it appears that they are not alone."
Notes to Editors
Twitter: #FansofLondon / @visitlondon
INFOGRAPHIC OF ABOVE DATA is available to download from https://www.dropbox.com/s/hxd0kc88mmk4zdo/Infographic%20final.jpg?dl=0
*Google data from a comparison of over 200 capital cities of the countries listed as UN member states and observers.
**Research conducted by airport transport company hoppa, http://www.hoppablog.co.uk/insta-holidays-a-snapshot-of-how-our-holiday-experience-takes-flight/
*** VisitBritain Foresight https://www.visitbritain.org/sites/default/files/vb-corporate/Documents-Library/documents/foresight_142_-_november_2015_social_media_v3.pdf
London is the Most Talked About Travel Destination on Social

Number of mentions (tweets) of the top 5 cities associated with the word "Travel" over the past year (Feb 2015 - Jan 2016). Compiled by Spredfast.

             London

630,222

             Paris

431,662

             New York

291,894

             Rome

175,514

             Tokyo

136,272

Top 5 Tweeted London attractions

Taken from Top 10 attractions compiled by VisitLondon.com, based on visitor figures provided by ALVA and Merlin.

241,570

219,074

129,737

117,420

101,566
About London & Partners London & Partners is the official promotional company for London. We promote London and attract businesses, events, congresses, students and visitors to the capital. Our aims are to build London's international reputation and to attract investment and visitor spend, which create jobs and growth.
London & Partners is a not-for-profit public private partnership, funded by the Mayor of London and our network of commercial partners. For more information visit www.londonandpartners.com
About British Airways British Airways, part of International Airlines Group, is one of the world's leading global premium airlines and the largest international carrier in the UK. The carrier has its home base at London Heathrow, the world's busiest international airport, and flies to more than 190 destinations in 80 countries.  British Airways has a fleet of more than 280 aircraft, including the A380 and 787. The airline carries more than 40 million customers a year. www.ba.com
About Hilton Worldwide
Hilton Worldwide is a leading global hospitality company, comprised of more than 4,600 managed, franchised, owned and leased hotels and timeshare properties with more than 758,000 rooms in 100 countries and territories. For 96 years, Hilton Worldwide has been dedicated to continuing its tradition of providing exceptional guest experiences. The company's portfolio of 13 world-class global brands includes Hilton Hotels & Resorts, Waldorf Astoria Hotels & Resorts, Conrad Hotels & Resorts, Canopy by Hilton, Curio - A Collection by Hilton, DoubleTree by Hilton, Embassy Suites by Hilton, Hilton Garden Inn, Hampton by Hilton, Tru by Hilton, Homewood Suites by Hilton, Home2 Suites by Hilton and Hilton Grand Vacations. The company also manages an award-winning customer loyalty program, Hilton HHonors®. Hilton HHonors members who book directly through preferred Hilton channels have access to benefits including free standard Wi-Fi, as well as digital amenities that are available exclusively through the industry-leading Hilton HHonors app, where HHonors members can check-in, choose their room, and access their room using a Digital Key. Visit news.hiltonworldwide.com for more information and connect with Hilton Worldwide on Facebook, Twitter, YouTube, Flickr, LinkedIn, and Instagram. www.hilton.com and www.hiltonfansoflondon.com
About the GREAT Britain campaign
The GREAT Britain campaign is the Government's most ambitious international marketing campaign ever and showcases the very best of what our whole nation has to offer in order to encourage the world to visit, study and do business with the UK. It is active in over 144 countries. The campaign has delivered £1.5bn to the UK economy to date.
The campaign brings together the work of UK Trade & Investment, VisitBritain, British Council, the Foreign & Commonwealth Office and other government departments as well as hundreds of private sector companies. All work closely together to deliver jobs and growth across all parts of the UK. In 2015, the campaign supported over 1,100 separate events and activities in around 193 locations worldwide.
About Spredfast
Spredfast is a social software company and platform, headquartered in Austin, Texas with offices in New York City, London, Madison, Wisconsin, and Sydney, that seeks to connect every company in the world with the people that they care about the most. Spredfast's "Smart Social" software enables companies to manage, integrate, and amplify social content across any digital touch point. With global reach, Spredfast customers have managed more than one billion social connections across 84 countries. Today, Spredfast helps more than fifty percent of Interbrand's 2015 World's Best Brands to create first-class social experiences. For more information, visitwww.spredfast.com.
Spredfast methodology Spredfast has access to real-time and historical data from Twitter, meaning that platform users can search anything from terms to hashtags to account authors in addition to a host of other data pulls. Every mention of "Travel" for the past year has been scanned and examined to find which cities surfaced under the "top terms" associated with "Travel".
INFOGRAPHIC OF ABOVE DATA is available to download from https://www.dropbox.com/s/hxd0kc88mmk4zdo/Infographic%20final.jpg?dl=0
FILM CONTENT AVAILABLE:
The Royal Super Fan film with Christine Meer

Edited film package including Royal Super Fan, Christine Meer interview and Chris Gottlieb, Chief Marketing & Communications Officer at London & Partners.

B-roll including behind-the-scenes footage of Christine's trip to London, soundbites Christine and Chris Gottlieb discussing the Fans of London campaign.

HD broadcast quality and low res footage (with access media worldwide, all rights cleared including music) can be accessed via:
PHOTOGRAPHS:
Images of Christine's VIP trip to London and photos depicting London's programme of events and anniversaries can be accessed from the following Dropbox: https://www.dropbox.com/sh/xs7y5i9krzvg5z0/AADBJPhR98HKjO3Ww3qZRoH_a?dl=0