Industry leaders join Mayor of London in declaring London is open for business
Leading figures from London's business community have joined Mayor Sadiq Khan to declare that London is open for business as banking giant Barclays today announced they had helped 2,500 businesses set up in the city in the month after the Brexit vote.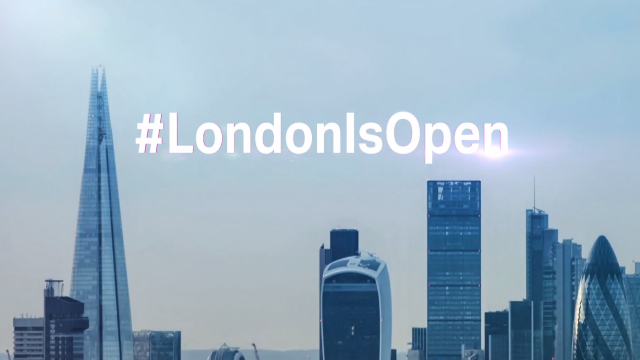 Senior business leaders from Google, Barclays and serial entrepreneurs Baroness Martha Lane Fox, and Sherry Coutu, are among the industry figures who have pledged support for the Mayor of London's campaign.
Barclays said they had helped nearly 2,500 new businesses set up in London in the month after Brexit, with borrowing by new businesses higher than the same time last year. 
The Mayor launched the #LondonIsOpen campaign to show London is united and open for business to the world following the EU referendum.
Mayor of London Sadiq Khan said: "Entrepreneurs, business leaders and investors cite London's talent, creativity, innovation and dynamism as key to its long-term success.
"The message is loud and clear: London is open to business and investment from around the world."
Ian Rand, CEO of Business Banking at Barclays, said: "Barclays has been here for 326 years and will be here for another 326 years. London's financial services system is world renowned making it the go-to place for international business and trade. London is open for business and we will play our part in ensuring it remains so."
Since the Brexit vote a number of global businesses have pledged their commitment to London and the UK. This includes major US bank Wells Fargo, which announced a £300m investment in a new European Headquarters in the heart of London's financial district, and US technology company Amazon, which has pledged to create an extra 3,500 jobs to be based in London and other locations across the UK.
Martha Lane Fox added: "We understand European markets, we understand US markets, so if you are going to invest, invest now."
Gordon Innes, CEO London & Partners, said: "London has all the ingredients you need to imagine, to create, to set up, to scale up and to globalise your business."
Investment into London technology companies remains strong since the Brexit vote with a number of businesses announcing venture capital funding including MarketInvoice, Network Locum, fintech firm Revolut and what3words. Meanwhile, Santander announced that its London based venture capital fund has secured an additional $100 million to invest in UK fintech companies.
Talking about the company's recent $7.55 million investment, Melissa Morris, CEO and Founder, Network Locum said: "London is the world's coolest city – it attracts some of the most interesting people from across the world… We've just closed a round of funding, and our plans are very much about growth."
Eileen Burbidge, Partner at London venture capital firm, Passion Capital added: "VCs and investors are always attracted to London because this is where the best entrepreneurs are, and the highest level of ambition, so the best companies get founded."
Notes to Editors
Film Link - https://youtu.be/P3ZZI0H89Fs
Dropbox to download film - https://www.dropbox.com/s/0gavy1ggpsucsmi/London%20Is%20Open%20MIXED%20FINAL%20260716.mov?dl=0
Youtube - https://youtu.be/P3ZZI0H89Fs
Notes to Editors:
About London & Partners.
London & Partners is the official promotional company for London. We promote London and attract businesses, events, congresses, students and visitors to the capital. Our aims are to build London's international reputation and to attract investment and visitor spend, which create jobs and growth. London & Partners is a not-for-profit public private partnership, funded by the Mayor of London and our network of commercial partners.
For more information visit www.londonandpartners.com      
About #LondonIsOpen
#LondonIsOpen will show the world that London remains entrepreneurial, international, and full of creativity and possibility, while reassuring the more than one million foreign nationals who live in London that they will always be welcome, and that any form of discrimination will not be tolerated.
The Mayor is urging all Londoners, organisations and businesses to show their support for the #LondonIsOpen message via social media, through other creative ways.
For more information visit: www.londonisopen.com
Contact
Media contact:
Ben Pattie, PR Manager FDI & Tech 
Tel: +44 (0)20 7234 5872/+44 (0)7879224349 
London & Partners Media & PR Team
Tel: +44 (0)20 7234 5710
Switch: +44 (0)20 7234 5800
Twitter: @London_PR