Surge in Chinese Students Studying Architecture
United Kingdom universities have experienced a surge in Chinese students coming to study at some of the world's best architectural schools and then returning home to help build the megacities of the future.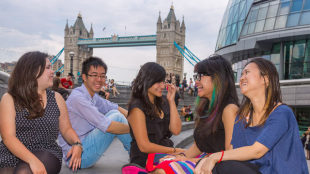 According to official figures, architecture and planning schools in the UK have seen a 140 per cent increase in the number of Chinese students, while there has been an even bigger rise of 200 per cent in London over the last five years.
Britain has some of the world's best architecture and urban planning schools, including The Bartlett School of Architecture at UCL, the Architectural Association School of Architecture, Cardiff, Bath and Cambridge among many others, where students can get an unrivalled education.
Professor C J Lim from The Bartlett School of Architecture UCL, said: "UCL is one of the world's great universities, situated in one of the world's greatest cities. We teach students here to think beyond four walls because architecture is so much more than that. It encompasses social change, economics, politics, history, heritage and most of all people, which all help make up the fabric of cities including London.
"Students here learn from some of the best academics but they also have a city on their doorstep with a thriving cultural and creative scene, which includes some of the best museums, libraries and creative practices."
According to a recent report by the Organization for Economic Cooperation and Development, China has 15 megacities with populations over 10 million people. In the last 35 years the country has added more than 500 million people to its cities
The Bartlett School of Architecture has experienced significant growth in Chinese students coming from 'all over China' to the institution.
Talking at the launch of The Bartlett Summer Show, Professor Lim added: "Whereas the UK has built cities in centuries, China is building them almost overnight. Students are coming to The Bartlett School of Architecture and gaining a different perspective so they can take back new innovative ideas.  The career opportunities from coming here are enormous and not just from architecture but for many other creative industries."
In the last five years, according to the Higher Education Statistics Agency (HESA), Chinese students studying architecture, planning and building, has increased from 1080 to 2580, an increase of 130 per cent. While in London Chinese architecture students have gone up from 170 to 505, an increase of 197 per cent.
Kevin McCarthy, Head of Education at www.studylondon.ac.uk, said there were currently over 13,000 Chinese students and a further 3,000 from Hong Kong, studying in the capital.
The most popular subject for Chinese students in London is business studies followed by creative arts and design. Engineering, technology, computers and mathematics are also popular and have seen significant increases in recent years.
Mr McCarthy, from London & Partners, the Mayor of London's business and promotional organisation, said: "In the last 10 years we have seen a consistent rise in Chinese students studying at London's top universities.  It is a really positive sign that the number of Chinese students studying architecture is increasing so dramatically because it demonstrates that Chinese students are broadening their choice of subject areas.
"This will have positive results not just for London but also for China when they return to help build the cities of the future."
First year student Tiffany Chong said: "The biggest advantage of The Bartlett School of Architecture is its ability to attract top scholars and architects from around the world to unite in this building, providing a wide range of diversity with its teaching.
"I think one of the biggest advantages of coming to the UK to study architecture is that it allows people to easily build a social network and to connect with the rest of the world.
"China is a developing country whereas London is a living example of the perfect fusion between historical and modern architecture."
'London & Partners recently interviewed a number of current Chinese students. You can hear what they said about why they chose to study in London on London.cn
London & Partners has produced a film about studying in London and why Chinese students want to come to the city. It can be viewed at http://london.cn/study/london-higher-education/
Notes to Editors
Bartlett Summer Show 2015:
The Bartlett School of Architecture at UCL will present its annual student Showcase.
The Bartlett Summer Show from 27 June – 11 July 2015, held in a new temporary space on Hampstead Road. This year has seen the School take the top spot in the Guardian League tables and The Bartlett, UCL's Faculty of the Built Environment, to which it belongs, has been ranked second in the world in the international QS rankings.
The annual celebration of student work is one of the world's biggest architecture degree shows. Nearly 500 architecture students will present a range of inventive, creative and visual work, from models and drawings, to films, multimedia installations and computer fabrications.
The show takes place during the month-long London Festival of Architecture, and annually attracts over 5000 visitors making it one of the most hotly anticipated events in the architectural calendar.
This year's show sees the new addition of family activities on the public opening day, 27 June 2015, with a range of drop-in activities throughout the day a 'treasure hunt' around the exhibition's unique Unit spaces, 'build a house' with laser-cut models, and a Minecraft workshop.
About The Bartlett School of Architecture, UCL
The Bartlett School of Architecture is part of The Bartlett, UCL's Faculty of the Built Environment. It was established in 1841 and is UCL's world-leading centre for education and research in architecture.
It has been voted the best school of architecture in the UK for twelve years in a row by the Architect's Journal and for the past three years has topped the Guardian league tables.
Located in the heart of London, the School is at the forefront of international research and teaching, encompassing interdisciplinary collaboration and methodologies. Bartlett students are amongst the most sought after in the UK and Europe for their outstanding drive, creativity and skills.
With around 800 students, 40% of whom represent more than 45 nations, and more than 220 staff of diverse backgrounds, The Bartlett is widely known as one of the most influential, exciting and innovative architecture schools in the world.
10% of students are doctoral candidates. Over the past 20 years they have received more RIBA medals than any other school. Many have gone on to occupy leading roles in established practices worldwide, many others have set up award-winning businesses of their own, such recent examples: Asif Khan, Bio-Bean, Bombass & Parr, Duggan Morris, Factory Fifteen, HUT, Moxon, Threefold and WeMadeThat.
In 2016 it celebrates the 175th anniversary of the appointment of Thomas Donaldson to UCL as the UK's first Chair of Architecture. In the same year, the School is scheduled to move back into substantially refabricated and extended premises at 22 Gordon Street within a period of investment in its future not seen in over 40 years
Contact
For more information or images please contact:
Estelle Jarvis | Jacqueline Townsend
Caro Communications
Tel: +44 (0)20 7713 9388
estelle@carocommunications.com | jacqueline@carocommunications.com
Michelle Lukins
The Bartlett School of Architecture, UCL
Tel: +44 (0)20 7679
London & Partners
Phil Nettleton 
pnettleton@londonandpartners.com 020 7234 5787