India's best emerging companies strive for place on UK business programme
A London business programme to identify India's most innovative and high growth companies with global aspirations has received an overwhelming response with over 10 times as many applications as places.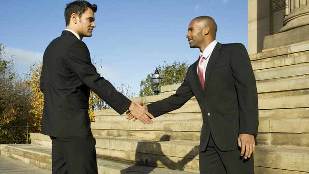 Following Indian Prime Minister Narendra Modi's visit to the United Kingdom last month, which was aimed at strengthening economic ties between the two nations, well over 200 applications have been received from India's brightest and best companies for just 20 places on the programme, run by London & Partners, the Mayor of London Boris Johnson's inward investment company.
During a rigorous selection procedure, the companies, in financial and business services, technology and life sciences, will be selected to come to London to meet and learn from senior business leaders, venture capital investors and decision makers from major global companies in February next year.
The programme entitled 'India Emerging 20 (IE20) 2016' has seen applications from companies from all over India, including ones involved in cloud-based telephony, data analytics, genome research, real estate investors, financial technology and many more.
Next week (14th December) Gordon Innes, Chief Executive London & Partners, is travelling across India with four other business leaders and vc investors to listen to company's pitching their ideas to get on to the IE20 programme.
Once the pitching events, which are taking place in Mumbai, Bangalore and Delhi, are finished, the panel then has the job of whittling down the number of companies to just 20.
Mr Innes said: "Indian Prime Minister Narendra Modi recently came to the UK to strengthen ties between the UK and India and this is what we are trying to build on. India is the fastest growing major economy in the world and Indian companies are already the second biggest foreign investors in London.
"We want to bolster those already established ties and that's why we have developed the India Emerging 20 programme to support Indian businesses looking to succeed globally.
"There has been an overwhelming response from businesses who want to find out more about using London as a springboard to take their brands global. However, it is not just the number of companies but the quality, which has impressed us most. It is going to be one of the toughest jobs I've had in order to select which companies to come to London."
The IE20 programme is being run by London & Partners in partnership with British Airways, BDO, Newland Chase and UK Trade and Investment. Company representatives will be flown to London early next year in order to help them facilitate international partnerships, alliances, business opportunities and find out about setting up a global HQ in the city.
Arbinder Chatwal, Audit Director at international accounting firm BDO leading their India Advisory Services Team, said: "The diversity and quality of companies aligning to the programme, shows that London and the UK are strategic focus corridors for Indian corporates looking to expand in to Europe."
Varun Shoor, CEO of cloud-based software development company Kayako, said: "We had a fantastic experience with moving our HQ to London. Since our move in 2014, we now have easy access to talent across Europe, a business friendly and proactive regime, and exceptional clarity on international tax issues. London has been the perfect springboard for us to expand our market reach."
Over the past 20 years, Indian companies have established themselves globally in terms of size, dynamism and innovation. IE20 offers an opportunity for companies to test themselves against the best and win recognition on the international stage.
The benefits include opportunities to meet and network with peers, industry experts and investors, which offers the opportunity to maximise a company's global potential.
An awards ceremony will take place in London early next year once India's brightest prospects have been identified.
Notes to Editors
India Emerging 20 (IE20) programme is being led by London & Partners, London's inward investment company which is supported by the Mayor of London and has a proven track record working with over 2,000 international businesses
To participate in India Emerging 20 (IE20) programme, the companies must be established in or after the year 2000 and should have global ambitions. The companies should be registered in India or should have majority Indian management
The companies should be in the field of Information Technology, Communications, Creative, Life Sciences, or Financial and Business Services
The programme is also supported by BDO, Newland Chase and UK Trade and Investment with British Airways to identify the top 20 high-growth companies in India with global aspirations
The selection process will go on for over twenty weeks which involves multiple screening rounds
Fifty companies that will make it through initial selection will submit their representations to a jury panel of eminent experts
The jury round will take place in Mumbai, Bangalore and Delhi in the week starting December 14 2015
For more information, visit www.indiaemerging20.com or email IE20@valuenotes.co.in
About London & Partners
London & Partners is the official promotional company for London. We promote London and attract businesses, events, congresses, students and visitors to the capital. Our aims are to build London's international reputation and to attract investment and visitor spend, which create jobs and growth. 
London & Partners is a not-for-profit public private partnership, funded by the Mayor of London and our network of commercial partners.
For more information visit www.londonandpartners.com
About British Airways
British Airways' route network currently serves more than 179 cities in 75 countries. British Airways has been flying to India for over 90 years and currently operates 49 flights a week from London Heathrow to five cities – New Delhi, Mumbai, Chennai, Bengaluru and Hyderabad. From 25 October 2015, customers from Delhi have become the first at British Airways globally to experience the state-of-the-art brand new Boeing 787-9 and the new First cabin.
In September 2015, World Traveller Plus, the premium economy cabin available on selected long haul routes, was awarded the Best Premium Economy by Business Traveller Asia-Pacific. In October 2015, British Airways and its frequent flyer programme, Executive Club, was awarded the Best Short-Haul Carrier and the Best Frequent Flyer Programme by Business Traveller for the 10th consecutive year. The oneworld alliance, of which British Airways was a founding airline, came in first in the Best Airline Alliance category for the third year running.
In March 2015, British Airways was also named the top Business and Consumer Superbrand at the Superbrands 2015 Awards, becoming the first travel brand to win both prestigious titles.
For more information, please visit ba.com.
Contact
For media enquiries on British Airways, please contact:
Radhika Raikhy
Edelman Delhi
Ankita Tuli
+91 9953161210
For further information about Kayako please go to - http://www.kayako.com/company/
For further information about BDO please go to - http://www.bdo.co.uk/