London's international students provide £3billion boost to UK economy
International students studying at London universities last year provided a £3billion boost to the UK economy and helped support over 37,000 jobs, according to a new report by London & Partners, the Mayor of London's official promotional company.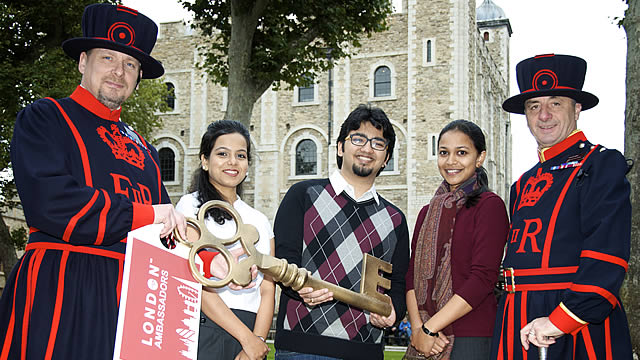 International students provided significant and growing revenue for the city and the rest of the UK, with spending increasing by 18 per cent compared to four years ago and by 98 per cent when compared to 2005-06.
China, USA and India are the three leading international student markets in London and the biggest contributors, injecting £407million, £217million and £130million respectively last year.
Students from the US were the highest contributors per capita, spending £33,600 per year on average, while EU countries occupy the lower rungs of the top ten league, with per capita spending for Italian, German, French and Greek students averaging around £23,000 per year.
In 2013-14, London welcomed over 106,000 international students, who choose the city because of its world-class reputation. Tonight an event at the Museum of London, will welcome over 600 international students from many different nationalities to the city.
During the evening violinist Julia Pusker, from Hungary, who studied at the Royal Academy of Music, and former Westminster University student and The Voice Finalist Emmanuel Nwamadi will entertain the new student arrivals.
Mayor of London Boris Johnson said: "There's a reason why thousands of university students from all over the world are drawn to London each year – we have some of the best universities on the planet, producing everything from ground breaking scientific research to virtuoso musicians.
"London's universities help to make the capital such a thought-provoking, stimulating and breathtaking city which provides a learning experience in itself. London is also the global capital of culture and I urge this year's intake of international students to make the absolute most of their time here. Visit our iconic theatres and galleries, take in our amazing museums, learn from our greatest minds and inspire others to follow in your footsteps."
International students in London make up 23 per cent of all international students in the United Kingdom. The majority of international students (66 per cent) studying in London are from outside the European Union. China, USA, India, Italy, Germany, France, Hong Kong, Greece, Malaysia and Nigeria are the top 10 countries of origin for international students in London.
According to the report compiled by London & Partners, one of the main factors which contributed to the estimated increase in spending has been a 25 per cent increase in the number of international students enrolled in London universities since 2005-06.
Subsistence spending comprises £1.641 billion (55 per cent) of the economic impact, followed by tuition fees at £1.218 billion (41 per cent). The remaining £131million comprises of the economic impact of friends and relatives visiting the UK.
Kevin McCarthy, Head of www.studylondon.ac.uk, said: "International students studying in the city are a vital part of London and the wider United Kingdom economy. Not only do they provide billions of pounds of economic benefit but they also help support nearly 40,000 jobs.
"London is a big city and for some people on first arrival it can appear quite daunting and a culture shock. We wanted to provide a welcome which said that we are grateful to students for choosing the city and that we hope they will enjoy not only studying here but also the diverse culture, history and lifestyle the city offers."
Patrick Loughrey, Warden of Goldsmiths, University of London, said: "There's no greater city to study in than London. It's a creative and cultural hub that draws academics from across the world to produce cutting edge and life-changing research. That's why you'll find some of the world's leading universities here.
"It's also a place where you'll meet people from every corner of the world, experiencing new views, new ideas, new ways of thinking and being. At Goldsmiths, our buzzing campus is powered by the vibrancy and energy of our local community in South East London. We're very happy to welcome international students and hope they enjoy every minute while in this fantastic City."
Professor Michael Caine, Dean of Loughborough University London, said: "Loughborough excels in delivering high quality education that is developed with businesses and other partners to meet economic and social needs. Our campus in London, on the Queen Elizabeth Olympic Park, is enabling us to diversify and expand the education opportunities we offer to postgraduate students. It is also allowing us to connect with an even greater range of organisations to enhance our research and enterprise activity that will help to drive social change and boost prosperity."
Júlia Pusker added: "The Royal Academy of Music is not just an institution but is also a big family where everyone is given the freedom and is encouraged as well to recognise and build on her or his own strengths.
"The Academy possesses that rare quality to act as a bridge to young musicians who require more structured guidance to make the final important steps into a successful musical career.
Being an international student in London and at the Royal Academy of Music been a constant source of inspiration and definitely the most exciting part of my life."
Tristan Bailey, Welcome to London, Event Organiser, said: "We timed the event to correspond with the general arrival of international students in London as an additional way of making them feel welcomed. Universities run fantastic welcome programmes but we wanted to create a simple gesture that demonstrates our appreciation as a city and industry as a whole. We seriously appreciate overseas students being here and it's important we recognise this point."
Notes to Editors
To access the full report, please click here.
About London & Partners.
London & Partners is the official promotional organisation for London. Our company attracts and delivers value to business, students and visitors. London & Partners is a not-for-profit public private partnership, funded by the Mayor of London and a network of commercial partners.
Last year 106,000 students from 222 countries come to study in London contributing £3billion to the city's economy. London welcomes more international students than any other city in the world.
Visit www.studylondon.ac.uk or www.studylondon.cn the official London study guide.
Studylondon.cn was launched by the Mayor of London in Beijing in October 2013, the website and weibo account provides practical information on studying in London as well listings for all London's 45+ universities and information on the range of courses they offer. London.cn also contains up-to-date guides on London's museums, restaurants, shops, etc, that are helpful to both prospective Chinese students and their visiting family.
About Loughborough University.
Loughborough is one of the country's leading universities, with an international reputation for research that matters, excellence in teaching, strong links with industry, and unrivalled achievement in sport and its underpinning academic disciplines. It has been awarded five stars in the independent QS Stars university rating scheme, putting it among the best universities in the world, and was named University of the Year in the What Uni Student Choice Awards 2015.Loughborough is consistently ranked in the top twenty of UK universities in the Times Higher Education's 'table of tables' and is in the top 10 in England for research intensity. It was 2nd in the 2015 THE Student Experience Survey and was named Sports University of the Year 2013-14 by The Times and Sunday Times. In recognition of its contribution to the sector, Loughborough has been awarded seven Queen's Anniversary Prizes. In September 2015 the University opened an additional academic campus in London's new innovation quarter. Loughborough University London, based on the Queen Elizabeth Olympic Park, offers postgraduate and executive-level education, as well as research and enterprise opportunities.
Further notes Welcome to London! 2015
Urbanest, one of the sponsors of the event, is hosting a prize draw with prizes being donated from The Shard, London Rib Voyages, The BB Bakery and Urbanest, are donating a foldable bike! Our other partner, The London Pass has also donated x100 complimentary London Passes worth £52 each.
The London Pass – is used by more than 2 million visitors. It is a sightseeing city card helping visitors make the most of their trip, saving them both time and money.
Urbanest is student accommodation with a difference where everything is just that bit better. Every urbanest student accommodation in London has a community feel where students can enjoy a superb lifestyle with the best rooms, study areas and social spaces as well as a great support network which encourages them to meet people and even make lifelong friends. In short, hassle free, secure living in the most exciting and distinctive areas of London.