London chosen as the host city for New Scientist Live 2016
New Scientist Live has chosen London as the host city for its 2016 event, London & Partners, the Mayor's official promotional company for the city announced today.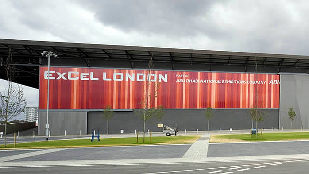 The unique 4-day event, taking place from 22nd-25th September 2016 at London's ExCeL Centre, will illustrate how science and technology improves lives, shapes society and drives economic growth. Featuring world-renowned experts and famous faces from the world of science, engineering and technology including mathematician Marcus de Sautoy, quantum physicist Jim Al-Khalili and Astronomer Royal Martin Rees, New Scientist Live will offer interactive demonstrations of cutting-edge technology and provide unparalleled insights into the objectives and aspirations shaping our futures.
London was selected as the host for the event due to its position as a leading global centre for Life Sciences and technology, says Publishing Director John MacFarlane: "We are delighted to launch our inaugural New Scientist Live event in London. London is home to renowned academic centres, a vibrant ecology of global research and development companies and entrepreneurial start-ups, and a highly skilled, educated workforce. We're confident that London is our perfect partner, and look forward to putting on a great show for the capital."
Today's announcement comes just over a year since the Mayor of London Boris Johnson launched MedCity – an organisation that aims to promote and grow the life sciences economy in London and the greater south east.
The Mayor of London, Boris Johnson, today welcomed the news and said: "I'm delighted that our great city has been chosen to host this fantastic celebration of science. London is a global hub for scientific discovery and the development of cutting-edge new technologies. New Scientist Live will bring together our innovative thinkers and showcase London's world-leading credentials on a global stage."
New Scientist Live is expected to attract tens of thousands of attendees from the UK and around the world. Already 20,000 New Scientist readers have expressed interest in the event, ahead of tickets going on sale.
Tracy Halliwell, Director of Business Tourism & Major Events at London & Partners, commented: "We are thrilled that New Scientist Live has chosen London for their global celebration of science and innovation. Our partners across the capital, from Med City to the Francis Crick Institute, are committed to driving forward the Life Sciences industry and further positioning London as a hub for science, technology and engineering. With New Scientist Live providing a fantastic focal point, we invite other leading events in the field to choose London at the same time and take advantage of the surge of interest in these subjects that will stem from this internationally renowned event."
World-leading innovations including the Mars Exploration Rover and the Bloodhound Project's supersonic car will be on display at the event, alongside some of the most well-known science and tech brands including Airbus, Rolls Royce and the European Space Agency (ESA). The event at London's ExCeL Centre will consist of four dedicated zones covering all aspects of science and technology together with a Main Stage which will present the leading speakers alongside entertaining debates.
Jeremy Rees, Executive Director, ExCeL London, said: "ExCeL is delighted to have been chosen as the host venue for New Scientist Live in London. As the home of world-leading events, we continue to invest heavily in our infrastructure to deliver the best possible experience for the 4 million visitors and 38,000 exhibitors who pass through our doors each year. New Scientist Live joins an ever-expanding portfolio of STEM events that take place here and across London, cementing the capital's exciting position as a hub of scientific innovation and excellence."
For more information about New Scientist Live, please contact Mike Sherrard, Mike.Sherrard@newscientist.com or visit live.newscientist.com
Notes to Editors
Images
Images to support the story available to download from http://bit.ly/1GEhaGH
About New Scientist Live
About New Scientist
Since 1956, New Scientist has been communicating the greatest ideas and developments in science and technology to people around the world. Through an influential weekly magazine, website and app, New Scientist is an authoritative voice on the discoveries that improve our knowledge of the universe and shape our world, placing them in the context of life today and explaining what they mean for our future.
New Scientist is enjoyed by over 5m people per week, across digital and print channels, including editions in the USA, and Australia. Since 2014, a series of live events have allowed readers to experience the brand face-to-face, and September 2016 sees the launch of our flagship event, New Scientist Live, at the ExCel centre in London's Docklands.
About London & Partners
London & Partners is the official promotional company for London. We promote London and attract businesses, events, congresses, students and visitors to the capital. Our aims are to build London's international reputation and to attract investment and visitor spend, which create jobs and growth. London & Partners is a not-for-profit public private partnership, funded by the Mayor of London and our network of commercial partners. For more information visit www.londonandpartners.com
About ExCeL London
ExCeL London is the capital's international convention and exhibition centre, located in London's Royal Docks. Since opening in November 2000, ExCeL London has hosted over 4,000 events including trade and consumer exhibitions, conferences, association meetings, product launches, AGMs, gala dinners, award ceremonies, sporting events and religious festivals. More than twenty million people from over 200 different countries have visited ExCeL London.  ExCeL London was acquired by ADNEC, the Abu Dhabi National Exhibitions Company in 2008.
Contact
Ellie Wilson, Head of Tourism PR
Tel: +44 (0)20 7234 5709 / +44 (0)7595 654 085
London & Partners Media & PR Team
Tel: +44 (0)20 7234 5710 / Switch: +44 (0)20 7234 5800
For details on ExCeL London please visit www.excel.london
For further media queries, please contact:
Lucy Merritt
T: +44 (0) 20 7069 4781