Events industry not using sensory experiences to their full potential, according to new study
Just 27 per cent of event professionals believe the five senses of sight, sound, taste, smell and touch are being used effectively by the industry, according to new research from London & Partners, the official convention bureau for London, and CWT Meetings & Events, the award-winning global meetings and events agency.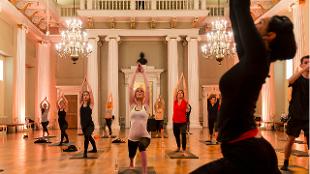 Despite this small number, the survey of more than 600 event organisers reveals that 78 per cent believe multi-sensory events deliver more memorable and creative experiences for event attendees, while 42 per cent say sensory activations can also help events stand out from the competition. The study released at IMEX America today and ahead of IBTM World next month, shows that over three-quarters of those surveyed agree that the senses should be increasingly incorporated into events in order to deliver greater engagement among attendees.
The research also reveals less than a quarter (23per cent) of the planners surveyed feel pressured to bring the senses to life for their events, with the majority (57 per cent) saying they are happy with the status quo. When asked what is stopping them from delivering sensory-led experiences, the top three responses were not having the budgets required (43 per cent), lack of time (26 per cent) and difficulties finding sensory content suitable for their clients or events (24 per cent).
Tracy Halliwell MBE, Director of Business Tourism and Major Events at London & Partners, said: "It's clear that the industry can do more to fully embrace sensory experiences in order to deliver unforgettable experiences for event goers. In a world full of distractions the events world needs to be more creative in its approach and not stick with the status quo because it is easier to achieve. Our senses are the cornerstone of our experiences and by producing events that incorporate sight, sound, smell, taste and touch effectively, the messages conveyed to delegates at conferences, meetings and tradeshows will become much more memorable and impactful."
Thierry Duguet, CWT Meetings & Events' Global MarketingDirector agreed: "As a global agency, we want to make all our events as memorable and engaging as possible – it's not simply about delivering messages anymore - it's about making the audience 'feel'. The findings of this study are fascinating, and we believe that we need to educate our clients in the benefits of using sensory experiences. By combining the sense with the latest technology and the right KPIs, which can measure the value of engagement, we will show the power of experiential events."
When asked which of the senses is being used most effectively by the MICE world, three-quarters selected sight, while the senses of smell and touch were identified as being poorly integrated into events.
Of the event professionals who have successfully incorporated sensory activities into their events, 42 per cent said they have used light activations such as projections and visual illusions, while a third have featured culinary experiences to stimulate taste and sight.
Halliwell added: "In London you'll find some of the world's most talented and creative event production and design companies that can deliver dynamic, truly memorable events. The city leads the way in the delivery of innovative meetings and events which use the power of the senses to give event attendees unforgettable experiences."
Chetan Shah, CEO & Founder of MICEBOOK.com, the relationship management tool for event planners, added: "Time pressure and a lack of understanding of how the multi-sensory approach can help deliver event objectives is a barrier to adopting these powerful engagement tools. With attention spans getting shorter, multi-sensory activations can be the differentiator that ensures event are memorable and deliver strong return on objective."
Visit London & Partners at booth 2416 at IMEX Las Vegas or stand G10 at IBTM World in Barcelona to explore our interactive senses gallery and find out how you can transform your events in London with multi-sensory experiences.
Visit conventionbureau.london and tweet us @London_CVB #lovetheevent.
Notes to Editors
Images
Images to support the above are available to download via the link below:
Methodology
London & Partners and CWT Meetings & Events conducted the Sensory Survey from Monday 5 October to 12pm BST on Monday 12 October 2015. 601 respondents completed the survey which was hosted on surveymonkey.com.

About London & Partners
London & Partners is the official promotional company for London. We promote London and attract businesses, events, congresses, students and visitors to the capital. Our aims are to build London's international reputation and to attract investment and visitor spend, which create jobs and growth. London & Partners is a not-for-profit public private partnership, funded by the Mayor of London and our network of commercial partners. For more information visit www.londonandpartners.com.
About CWT Meetings & Events
CWT Meetings & Events is the meetings & events division of Carlson Wagonlit Travel business portfolio, the world's leading business travel and meetings management company.
CWT Meetings & Events is where ideas meet results. We are a global, full-service meetings and events agency with unparalleled experience, providing innovative, effective end-to-end strategic meetings and event management. With over 1,400 event specialists across over 68 countries, our expert local knowledge is backed up by our global resources.
We are driving industry-leading innovation in strategic meetings management and delivering over 35,000 creative, high-quality events for customers from all industry sectors each year. Our creative know-how helps us to deliver events with creative and innovative venue sourcing, while with our logistics expertise, we help clients with group travel, compliance, logistics, and at the same time save them money.
For more information about CWT Meetings & Events, please visit our website or follow us on Twitter.
Contact
Jodie Byford, Media & PR Manager – Tourism
jbyford@londonandpartners.com
Tel: +44 (0)20 7234 5737 / +44 (0)7917 604 025
London & Partners Media & PR Team
press@londonandpartners.com
Tel: +44 (0)20 7234 5710 / Switch: +44 (0)20 7234 5800