Mayor of London welcomes Lumiere London: a new light festival for the city from Artichoke, 14th-17th January 2016
•   Major international festival brings more than 20 artists to London's
West End and King's Cross
•   New commissions from UK artist Julian Opie and US artist Janet
Echelman
• London's new free light festival will draw thousands of visitors to the capital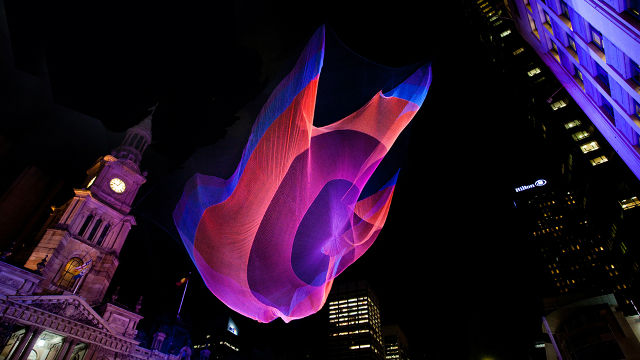 The Mayor of London has welcomed the news that the first Lumiere light festival will be launched in the city this January, taking place over four nights from 14th-17th January 2016. Lumiere London will be a free-to-attend event, produced by Artichoke and supported by the Mayor of London and VisitLondon.com, with founding support from Bloomberg Philanthropies, Heart of London Business Alliance and King's Cross, and additional support from a raft of partners and sponsors.
Lumiere London will be the first major light festival in the city, an event to rival international festivals such as Vivid Sydney, Berlin's Festival of Lights and Fête de Lumières in Lyon. It will take place over four evenings across more than 20 landmark locations in London's West End and King's Cross.
Artichoke, one of the UK's leading creative companies, has produced a biennial Lumiere festival in Durham since 2009, but this is the first time the company has brought the concept to London. Pioneering international artists have been commissioned to create works for Lumiere London, giving visitors and Londoners the opportunity to see the city in a new light.
Designed as an antidote to the post-holiday blues, Lumiere London will appeal to tourists and Londoners alike. This ground-breaking new festival will reinforce London's global reputation as a leader in culture and the arts and is expected to draw visitors to the capital from the UK and around the world at a traditionally quieter time of year.
The sites for the installations will include some of the city's most iconic buildings and locations. As with all Artichoke projects, an element of surprise will be integral to the experience and the exact locations will remain under wraps until closer to the time.
Lumiere London will be a journey of discovery, weaving a nocturnal art trail and inviting people to explore the city in new ways. The four artists revealed today give a flavour of the programme.
• British artist Julian Opie has been commissioned to make a major new work especially for the festival, supported by Shaftesbury PLC. He will join more than two dozen international artists, performers and designers who have been invited to transform London's iconic streets and architecture using the
medium of light.
• US artist Janet Echelman combines ancient craft techniques with cutting edge technology for her vast aerial net sculptures inspired by natural phenomena. 1.8 London is a new work constructed from thousands of feet of knotted twine. The sculpture is inspired by the 2011 Japanese Tsunami, which sped up the earth's vibrations and temporarily shortened the length of the day by 1.8 micro-seconds. Floating high above a central London meeting point, the delicate simplicity of Echelman's work belies the architectural precision and complex rigging involved. Audiences will be able to change its light and patterns via a specially-created App, powered by Atom Bank.
• Paris-based Irish artists Anne Cleary and Dennis Connolly use innovative new technologies to make huge interactive projections and describe their work as 'observer participation'. Cleary Connolly's Joining the Dots is a new commission by King's Cross, developed from the artists' recent collaboration with perceptive psychologists and composed with people from the local community.
• BinaryWaves by Belgian art-studio LAb[au] has its roots in the cybernetic art of the 1960s. Transposing the electromagnetic waves that carry telecommunications into light, sound and motion across 40 undulating illuminated panels, the work responds to the everyday rhythms of the city.
Helen Marriage, Artichoke Director and curator of Lumiere London said: "Lumiere London is the first Artichoke event in the capital for six years and marks the opening of our 10th anniversary year. Free and accessible to all, it brings great art out onto the streets, beyond the closed spaces of the gallery or the concert hall".
"Lumiere was born in Durham and its incredible success has been recognised across the world. Lumiere London will be a very different event with its own artistic programme, but the principles remain the same".
"Lumiere is about changing expectations – buildings you think you know change their shape and appearance; public spaces become places where strange and delightful things happen. It's exciting because it makes everyone think differently about the city and what is possible".
The Mayor of London, Boris Johnson, said: "Lumiere London will be a dazzling new festival for the capital, designed to expel the post-Christmas blues and bring a much needed fillip for businesses and the public during dark and dreary January. It's another example of our city's creativity and its unrivalled cultural riches, which draw visitors from around the world and bring billions to our economy."
Artichoke are working with Team London, the Mayor's volunteering programme for London, to recruit over 200 volunteers from across the capital to help make the festival a success.
Further details about Lumiere London are available on the dedicated website created by lead media partner London & Partners:  www.visitlondon.com/lumiere.  More details on the festival and artists involved will be announced in November. #LumiereLDN.
Notes to Editors

Images are available to download from: http://bit.ly/1koKBHN
About Lumiere
Lumiere was created by Artichoke in Durham in 2009, and took place again in 2011. In 2013 the festival returned to Durham attracting 175,000 visitors to the city, bringing economic benefits worth £5.8m. It was commissioned by Durham County Council, and supported by Arts Council England. In 2013, Artichoke also produced Lumiere in Derry~Londonderry UK City of Culture, commissioned by Culture Company 2013. Lumiere will return to Durham in November 2015. lumiere-festival.com
About Artichoke
Producers of extraordinary live events, Artichoke is one of the country's leading creative companies and is a registered charity, funded by Arts Council England. At Artichoke we use art to undermine the mundane and disrupt the everyday, and create a new kind of world that we'd all like to live in.
Our previous projects include Royal de Luxe's The Sultan's Elephant, which brought an estimated one million people onto the streets of London in 2006; La Machine's 50- foot high mechanical spider for Liverpool's Capital of Culture celebrations in 2008; Antony Gormley's One & Other 100-day long invasion of the Fourth Plinth in Trafalgar Square in London in 2009; and Deborah Warner's commission for the London 2012 Festival, Peace Camp, a nationwide celebration of landscape and poetry, which took place across eight separate sites around the UK; and most recently, Temple by David Best in Derry~Londonderry, attended by more than 60,000 people. Artichoke creates and produces Lumiere, the UK's largest light festival, which has been staged in the medieval English city of Durham every two years since 2009; and in Derry~Londonderry in Northern Ireland as part of the celebrations for City of Culture 2013.  www.artichoke.uk.com
Mayor of London
The Mayor of London supports a range of cultural events and activities throughout the year. For more information go to www.london.gov.uk/culture or email communitydesk@london.gov.uk.
LUMIERE LONDON FOUNDING PARTNERS Bloomberg Philanthropies
Bloomberg Philanthropies works to ensure better, longer lives for the greatest number of people. We focus on five key areas for creating lasting change: arts, education, the environment, government innovation, and public health. The arts are a valuable way to engage citizens and enhance communities. Through innovative partnerships and bold approaches, the Bloomberg Philanthropies arts program works to increase access to culture using new technologies, empower artists and strengthen cultural organizations to reach broader audiences. For more information, please visit bloomberg.org or follow us on Facebook, Instagram and Twitter @BloombergDotOrg.
Heart of London Business Alliance
Heart of London Business Alliance operates two West End Business Improvement Districts, representing 500 businesses in the Piccadilly & St James's and Leicester Square & Piccadilly Circus areas.  Heart of London Business Alliance was the first Business Improvement District (BID) in central London and the first UK BID to receive the support of its businesses in renewing its third term.  Heart of London Business Alliance is the first to establish Property Owner Business Improvement Districts.
Our role at Heart of London Business Alliance is to serve as a robust voice on behalf of the businesses and property owners we represent, placing the issues affecting business onto the wider agenda and working in partnership with others to act as a positive catalyst for change. We promote the district to a global audience, ensuring that the area is renowned as a hub for business, education, culture and leisure and remains an integral part of the Capital for people to visit, live, trade and work in.
King's Cross
King's Cross is 67 acres of homes, offices, schools, restaurants and shops over 8 million square feet of development in central London. Aside from the sheer scale, what makes King's Cross different is the determination to create an interesting part of the city, with a varied mix of uses. The area benefits from a lively and diverse arts and events programme that makes use of the 26 acres of public spaces being delivered.
Organisations such as Google, PRS for Music, Louis Vuitton, Camden Council, The Office Group, Argent and ArtFund have offices here, alongside cultural institutions including House of Illustration and Central Saint Martins - University of the Arts London. The area is a foodie destination, with Caravan King's Cross, Grain Store, Plum & Spilt Milk, Dishoom, Vinoteca, Notes, Grainger & Co, Drake and Morgan and street food collective KERB calling it home. In 2015 D&D London will open, and in
2016 The Lighterman and Jamie Oliver Group will open up spaces surrounding the
Granary complex.
King's Cross is a great place to live: over 1,000 people have made King's Cross their home in the buildings Rubicon Court, Tile House, Saxon Court, Roseberry Mansions and ArtHouse, and in 2015 more move into The Plimsoll Building (some households through Dolphin Living), and Tapestry. Two schools opened in September 2015; Frank Barnes School for Deaf Children and the new (primary age) King's Cross Academy.
The developer is the King's Cross Central Limited Partnership, made up of Argent and Hermes Investment Management, DHL, Australian Super, and LCR. http://www.kingscross.co.uk
London & Partners
London & Partners is the official promotional company for London and owns and manages VisitLondon.com, the digital home for Lumiere London. We promote London and attract businesses, events, congresses, students and visitors to the capital. Our aims are to build London's international reputation and to attract investment and visitor spend, which create jobs and growth. London & Partners is a not-for-profit public private partnership, funded by the Mayor of London and our network of commercial partners. www.londonandpartners.com
MAJOR SUPPORTERS
The Crown Estate
Regent Street Association
Shaftesbury PLC
EVENT SUPPORTERS
Atom Bank
The David and Claudia Harding Foundation
SUPPORTERS
The Ampersand Foundation
Arup
D&D London
Daniel Peltz
Embassy of the Kingdom of the Netherlands Eurostar - International Rail Service Provider Great Portland Estates
Leathersellers' Company Charitable Fund
Contact

Anna Vinegrad
T: +44 (0)20 7650 7611 / +44 07813 808487
E:  anna.vinegrad@artichoke.uk.com
Ellie Wilson, London & Partners
T: +44 (0)20 7234 5709
E: ewilson@londonandpartners.com