ExCeL opens its doors for London's biggest ever congress
Tomorrow morning (Saturday 29th August 2015) ExCeL will open its doors for London's biggest ever congress - ESC (European Society of Cardiology) 2015. 
With up to 35,000 delegates from 100 countries, ESC is the world's largest and most influential cardiovascular event and Europe's largest medical congress, including:
5 days of scientific sessions
150 CV (cardio vascular) topics
11 000+ abstracts submitted
500 expert sessions
180+ exhibiting companies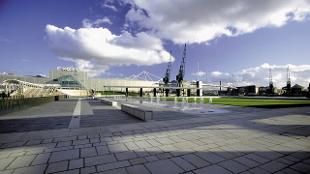 ExCeL has been a hive of activity in preparation for what will be the venue's biggest event since the Olympic and Paralympic Games, as James Rees, Executive Director, explains: "In 2012, we were delighted to announce that London would be the host city for ESC 2015 and are hugely excited that it is almost upon us. ExCeL was purposefully designed to host events of this magnitude and the huge numbers they need to accommodate. We continue to make multi-million pound investments to enhance and improve the experience for delegates with recent innovations including upgrades to our complimentary Wi-Fi, a refurbishment of our meeting rooms and a brand new retail and catering experience."
During the 8-day build, which occupies all of ExCeL's 100,000 m2, the venue has welcomed almost 500 contractors, set-out 20,000 chairs, installed over 600 graphics, put together 23,000 lunch bags and is busy preparing for over 1,000 onsite functions.
James Rees, continues: "ExCeL's ambition is to be the home of world leading events and we are enormously proud to be the host venue for ESC 2015. We look forward to extending a warm welcome to all delegates and demonstrating how we take every event to heart. We hope that the experience we create at ExCeL set against the backdrop of one of the most exciting cities in the world will create a truly memorable event for everyone involved." 
Becky Graveney, Head of Associations, London & Partners, says: ""In the world of congresses, hosting ESC 2015 is equivalent to hosting the Olympic and Paralympic Games. We were delighted to be chosen as the host city during our Olympic year. Since then it has been an honour to be involved with the various stages of event preparation, from making the initial bid a reality to supporting the build up to the event, including the launch of the city-wide awareness activation, the London Heart Trail last week. We are confident that ESC 2015 at ExCeL London will be a great success, further positioning London as a leading worldwide destination for congress events and a top European medical and life sciences hub."
Notes to Editors
About ExCeL London:
ExCeL London is the capital's international convention and exhibition centre, located in London's Royal Docks. Since opening in November 2000, ExCeL London has hosted over 4,000 events including trade and consumer exhibitions, conferences, association meetings, product launches, AGMs, gala dinners, award ceremonies, sporting events and religious festivals. More than twenty million people from over 200 different countries have visited ExCeL London.  ExCeL London was acquired by ADNEC, the Abu Dhabi National Exhibitions Company in 2008.