London welcomes 35,000 cardiologists with launch of the London Heart Trail
The cast of Annie Jr have officially launched the London Heart Trail, an interactive walk along the South Bank between the London Eye and Tower Bridge, ahead of the European Society of Cardiology's annual congress at ExCeL London next week.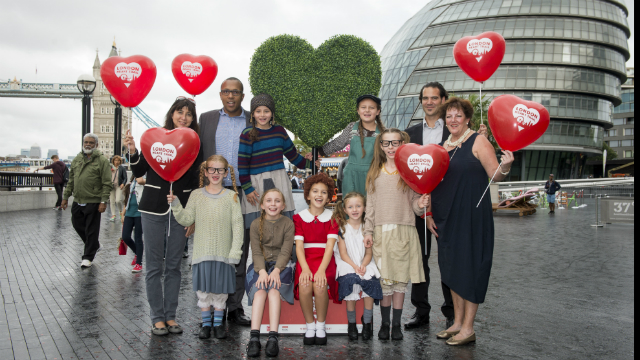 The short one to two hour walk from VisitLondon.com is free to enter for people of all ages, with an optional charity donation to the British Heart Foundation. Participants will be given the chance to win prizes by completing interactive challenges, unlocking clues and answering questions about heart health using the London Heart Trail App. The walk will not only provide an opportunity to take in some of the most iconic sights along the South Bank, it will also encourage Londoners and visitors to see the city on foot.
The London Heart Trail has been created to coincide with the five-day European Society of Cardiology (ESC) congress at ExCeL London from 29 August – 2 September 2015, which will see 35,000 leading cardiologists arrive in the city for one of the largest and most influential cardiovascular events in the world. The event, which is expected to generate over £100 million in economic benefit for London, takes place just over a year since the Mayor launched MedCity - an organisation that aims to help the life sciences industry in London and the greater south east of England to thrive. 
The Mayor of London, Boris Johnson, said: "It's an honour to welcome thousands of international cardiology experts to London. The focus of the medical world will once more be on our great city as a leader in science, education and medical innovation, making it the perfect opportunity to also get Londoners and visitors thinking about the simple steps they can take to look after their health. Walking is one of the best – and healthiest - ways to explore the capital and the London Heart Trail App will signpost some of our greatest attractions, whilst learning about our own health and wellbeing at the same time."
Designed to encourage Londoners and visitors to the capital to be more active, experience the city in a healthier way and learn about the impact of a healthy lifestyle on heart health and wellbeing, the walk will feature twelve hotspots, seven of which are 'hidden'. Prime locations along the route including City Pier and the London Eye will also feature heart-shaped trees.
Tristam Jones, Head of Mass Participation at the British Heart Foundation, added: "We're delighted to be chosen as the charity partner for the London Heart Trail. Heart disease is heartless, and can affect anyone at any age. That's why we're pioneering innovative research to help change the way we prevent and treat these devastating conditions which blight the lives of over 7 million people across the UK. By taking part in the London Heart Trail, and donating to the BHF, you can help us fund new life saving discoveries and continue our fight for every heartbeat."
Gordon Innes, CEO of London & Partners, London's official promotional company, which led the bid to secure the ESC congress for London, said: "London is the destination of choice for a great variety of people, from business travellers to families on their annual holiday. It is fantastic that in London we are able to make the best of both worlds – drawing in investment while promoting a healthy lifestyle for future generations of Londoners and visitors to our city."
The London Heart Trail has been developed by London & Partners in association with the British Heart Foundation, King's Health Partners and ExCeL London, and produced by psLIVE with the app developed by Wildgoose Events.
Professor John Moxham, Director of Clinical Strategy at King's Health Partners, said: "It is important that we do all we can to improve the public health of Londoners and promote healthy lifestyle choices. Regular exercise is good for both your physical and mental health, and this is a great opportunity for people to learn about a healthy heart in a fun and interesting way."
James Rees, Executive Director, ExCeL London, added: "We are excited to be hosting ESC's congress this year and to be supporting their mission to reduce the burden of cardiovascular disease in Europe. The heart trail will be a perfect way for London to show its support for this mission and help to drive a legacy of health awareness in London and the UK as a result."
Speaking about the development of the Trail, Stephanie Laird, Head of Partnerships at Wildgoose, commented: "We are proud to be associated with the London Heart Trail and the British Heart Foundation and delighted with the results of the London Heart Trail app that we have designed. The app not only promotes the importance of a healthy heart, but also provides a unique, fun and accessible way to get Londoners and visitors active."

The London Heart Trail will run until 3 September 2015. To find out more about the trail go to: www.visitlondon.com/heart.
Notes to Editors
Images
Photos of the Annie Jr. cast taking part in the London Heart Trail are available to download via the link below
About London & Partners
London & Partners is the official promotional company for London. We promote London and attract businesses, events, congresses, students and visitors to the capital. Our aims are to build London's international reputation and to attract investment and visitor spend, which create jobs and growth. London & Partners is a not-for-profit public private partnership, funded by the Mayor of London and our network of commercial partners. For more information visit www.londonandpartners.com
About British Heart Foundation (BHF)
Coronary heart disease is the UK's single biggest killer. For over 50 years we've pioneered research that's transformed the lives of people living with heart and circulatory conditions. Our work has been central to the discoveries of vital treatments that are changing the fight against heart disease. But so many people still need our help. From babies born with life-threatening heart problems to the many Mums, Dads and Grandparents who survive a heart attack and endure the daily battles of heart failure. Join our fight for every heartbeat in the UK. Every pound raised, minute of your time and donation to our shops will help make a difference to people's lives. For more information visit bhf.org.uk.
About King's Health Partners
King's Health Partners Academic Health Sciences Centre (AHSC) is a pioneering collaboration between King's College London and three of London's leading NHS foundation trusts – Guy's and St Thomas', King's College Hospital and South London and Maudsley. Our partnership brings together world-class research, education and clinical practice for the benefit of patients. We want to make sure that the lessons from research are used more swiftly, effectively and systematically to improve healthcare services for people with physical and mental health care problems. For more information, visit www.kingshealthpartners.org
Contact
Ellie Wilson, Head of Tourism PR
ewilson@londonandpartners.com
Tel: +44 (0)20 7234 5709 / +44 (0)7595 654 085
London & Partners Media & PR Team
press@londonandpartners.com
Tel: +44 (0)20 7234 5710
Switch: +44 (0)20 7234 5800