Ballot Registration For RideLondon 2016 Open
The online registration system for the ballot for places in the 2016 RideLondon-Surrey 100 opens today at www.RideLondon.co.uk.
The Mayor of London's 2016 RideLondon festival of cycling will take place over the weekend of 30-31 July 2016 with the 100-mile sportive on Sunday 31 July. The exact routes will be confirmed following the full review of this year's event.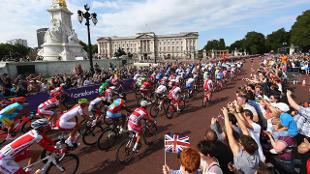 The registration system will remain open until Friday 8 January 2016 or until 100,000 registrations have been received; whichever is the earlier.
Boris Johnson, the Mayor of London, said: "The magnificent RideLondon has proved that it is without doubt the greatest mass-participation cycling event in the world. Whether it is elite athletes from across the globe, enthusiastic amateurs or families and children who have got into the cycling spirit, it is a wonderful advert for the sport and the city. The event is rapidly turning into the London Marathon on wheels and I hope it will be a firm fixture in London's sporting calendar for many more years to come."
Richard Walsh, the Surrey County Council Cabinet Member for Localities and Community Wellbeing, said: "Surrey's stunning scenery was on full display as elite riders and amateurs alike covered miles of countryside in glorious sunshine, cheered on by crowds lining the route. No doubt this celebration of pedal power will inspire many others to enjoy the benefits of taking to two wheels. Now we are looking forward to welcoming the event to Surrey next year and once again showcasing the county to the world."
The entry fee for UK participants in the RideLondon-Surrey 100 will again be £58.00.
Notes to Editors
1. RideLondon is the world's greatest festival of cycling with more than 95,000 riders participating in five separate events: the RideLondon FreeCycle, the RideLondon Grand Prix, the RideLondon-Surrey 100, the RideLondon Handcycle Classic and the RideLondon-Surrey Classic over the weekend of 30-31 July 2016. Find out more at www.RideLondon.co.uk.
2. RideLondon is a world-class weekend cycling festival developed by the Mayor of London, Transport for London and London & Partners in partnership with Surrey County Council. The event is managed by the London & Surrey Cycling Partnership.
3. The RideLondon festival of  cycling has won a total of 11 national awards to date:
•    European Sport Tourism Event of the Year (2014)
•    London Cycling Awards Event of the Year (2014)
•    BT Sport Industry Awards: Participation Event of the Year (2013 and 2014)
•    UK Event Awards: Large Event of the Year (2013) and Sports Event of the Year (2013 and 2014)
•    2013 Cyclosport Industry Award, given for an outstanding contribution to the cycling industry
•    Most Innovative Cycling Event and Favourite British Cyclo-Sportive in the Cycling Weekly readers' annual poll
•    UK Cycling Event of the Year in the Total Women's Cycling readers' awards