Visitlondon.com teams up with Pinterest for a season of festive pinning this Christmas
London's official visitor guide, VisitLondon.com, has teamed up visual bookmarking site Pinterest as part of a new campaign "Christmas London Moments", which aims to increase audience interaction with festive content across VisitLondon.com and its social media platforms.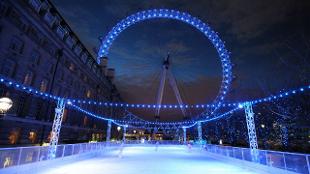 Launching today the collaboration with Pinterest, a competition to 'Pin Your Dream trip',will ask users from around the world to create London inspiration boards in the lead up to and during the Christmas period. Pinners will be invited to select their favourite things to see and do in the capital, from festive activities to boat rides along the Thames.
Julie Chappell, Chief Digital Officer for London & Partners, the official promotional organisation for the capital which runs VisitLondon.com, said: "We are delighted to be working with Pinterest. Christmas is such a magical time of year for the capital, and we have a huge variety of festive content to capture the public's imagination, bringing to life all that city has to offer during this time. Whether it's glittering lights, bustling markets or festive department store displays, entrants will be able to get creative and share their favourite London moments online for a chance to win their dream trip to our wonderful city. 
Last year traffic to VisitLondon.com's Christmas pages increased by 34 per cent, compared with the same period for 2013 - totalling 1.85m visits - and the Pinterest collaboration is set to drive traffic further this Christmas year.
Adele Cooper, Pinterest's UK Country Manager, said, "We're thrilled to be collaborating with VisitLondon.com to help people discover and save the activities that would make up their dream London holiday. Pinterest is a great source of ideas for all aspects of your life and we're already seeing a 50% increase in ideas being Pinned around what to see and do in London during the Christmas season, compared to this same time last year.  We really look forward to seeing creative submissions from the community."
The online competition opens today at visitlondon.com/pinterest. Pinterest users will be able to create and enter their festive London boards until 1st January 2016. All boards will be entered into the competition, which will see one winner will receive a four-night trip to London.
ENDS
Notes to Editors
About London & Partners.
London & Partners is the official promotional company for London. We promote London and attract businesses, events, congresses, students and visitors to the capital. Our aims are to build London's international reputation and to attract investment and visitor spend, which create jobs and growth.
London & Partners is a not-for-profit public private partnership, funded by the Mayor of London and our network of commercial partners.
For more information visit www.londonandpartners.com
About Pinterest:
Pinterest is a visual bookmarking tool that helps people discover and save creative ideas. Launched in 2010, Pinterest is based in San Francisco, California and available atwww.uk.pinterest.comand on iOS and Android.
Contact
Becka Cornell, Press Officer - Tourism
bcornell@londonandpartners.com
London & Partners Media & PR Team
Tel: +44 (0)20 7234 5710
Switch: +44 (0)20 7234 5800
Twitter: @London_PR