Mayor of London says city is 'education capital of the world'
Mayor Boris Johnson has declared London the 'education capital of the world' after an influential study showed the city has the greatest concentration of top class universities in the world.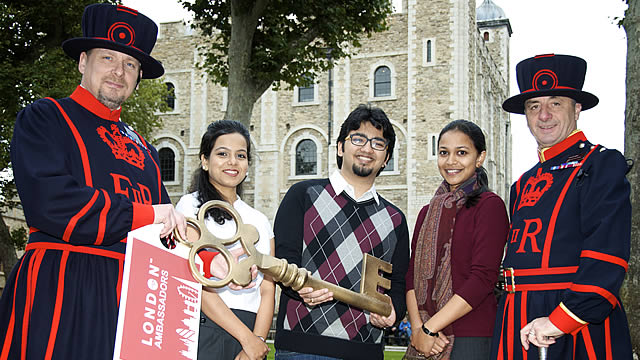 According to the QS World University Rankings 2015/16, London is the only city in the world with four universities in the Top 50, more than Boston and New York (3) Paris, Sydney, Hong Kong and Beijing (2). The London School of Economics and Political Science (LSE) moves into the top 40 for the first time.
Mayor of London, Mr Johnson, said: "London is unequivocally the education capital of the world. With four of our universities in the top forty, the city's education sector is going from strength to strength, attracting the world's top talent and producing the next generation of great thinkers and leaders."
The QS World University Rankings are designed to provide students with comparable, accurate data to make informed decisions about their educational future. This year the rankings place less emphasis on universities strong in medical science citations in order to acknowledge those institutions which are outstanding in the Arts and Humanities. 
LSE Director Professor Craig Calhoun said: "LSE's latest global university ranking as the best social science institution in the UK and second best in the world is testament to both the School and London's reputation as a world class centre for education.
"For 120 years we have been located in the heart of London, providing outstanding teaching and research which focuses on real-world problems and helps shape government policy at the highest level."
Ben Sowter, QS Head of Research says: "That the London School of Economics is a world-class institution is not news. Indeed they have been a firm fixture in the QS Top 100 for over a decade, but in any ranking system that places emphasis on Medicine and Sciences, their strength in their areas of specialty are never likely to shine as brightly as they ought to. The QS methodology now evens the playing field and LSE climbs 36 places to be counted, rightfully, amongst the world's top 40."
According to QS, the Massachusetts Institute of Technology (MIT) is the world's top university followed by Harvard (2nd), The University Cambridge and Stanford University (3rd=).
To view the complete rankings, featuring the world's top 891 universities as well as the Top 400 by Faculty areas: www.TopUniversities.com
-Ends-
Follow us
@worlduniranking 
 www.facebook.com/universityrankings
Global Top 20
| | | | |
| --- | --- | --- | --- |
| 2015 | 2014 | Institution | Country |
| 1 | 1 | MASSACHUSETTS INSTITUTE OF TECHNOLOGY (MIT) | US |
| 2 | 4 | HARVARD UNIVERSITY | US |
|   3= |   2= | UNIVERSITY OF CAMBRIDGE | UK |
|   3= | 7 | STANFORD UNIVERSITY | US |
| 5 | 8 | CALIFORNIA INSTITUTE OF TECHNOLOGY (CALTECH) | US |
| 6 |   5= | UNIVERSITY OF OXFORD | UK |
| 7 |   5= | UCL (UNIVERSITY COLLEGE LONDON) | UK |
| 8 |   2= | IMPERIAL COLLEGE LONDON | UK |
| 9 | 12 | ETH ZURICH (SWISS FEDERAL INSTITUTE OF TECHNOLOGY) | CH |
| 10 | 11 | UNIVERSITY OF CHICAGO | US |
| 11 | 9 | PRINCETON UNIVERSITY | US |
| 12 | 22 | NATIONAL UNIVERSITY OF SINGAPORE (NUS) | SG |
| 13 | 39 | NANYANG TECHNOLOGICAL UNIVERSITY (NTU) | SG |
| 14 |   17= | ECOLE POLYTECHNIQUE FÉDÉRALE DE LAUSANNE (EPFL) | CH |
| 15 | 10 | YALE UNIVERSITY | US |
| 16 |   14= | JOHNS HOPKINS UNIVERSITY | US |
| 17 | 19 | CORNELL UNIVERSITY | US |
18

13

UNIVERSITY OF PENNSYLVANIA

US

  19=

  25=

AUSTRALIAN NATIONAL UNIVERSITY (ANU)

AU

  19=

16

KING'S COLLEGE LONDON (KCL)

UK

© QS Quacquarelli Symonds 2004-2015  www.TopUniversities.com All rights reserved
Notes to Editors
Notes for the editors
QS World University Rankings ®
The QS World University Rankings is an annual league table of the top universities in the world and is arguably the best-known and respected ranking of its kind. Compiled by the QS Intelligence Unit in close consultation with an international advisory board of leading academics, the QS World University Rankings ® is widely referenced by prospective and current students, university professionals and governments worldwide. The purpose of the rankings has been to recognise universities as the multi-faceted organizations they are and to provide a global comparison of their success against the notional mission of remaining or becoming world-class. The QS World University Rankings are based on four key pillars, research, teaching, employability and internationalization and the methodology consists of six indicators: academic reputation (40%), employer reputation (10%), and faculty student ratio (20%), citations per faculty (20%), international students (5%) and international faculty (5%).
Methodological enhancements
For 2015/16 edition of the QS World University Rankings we have improved the depth of these surveys by making more use of historic data. In the past we have counted the latest response from any one respondent within the previous three years. If you responded a year ago and two years ago, for example, only last year's response would be used. We are still following this rule. But in addition, we are now using data which is four or five years old as well, weighting these votes at a half or a quarter respectively of more recent ones. Again, this material is only used if the same person has not also voted more recently. As well as adding stability to the ranking, this change improves its consistency. It means that we are using five years of data both for our surveys and for our citations measure.
Rationalising citations
The biggest change to this year's Rankings applies to the measure which makes up the final 20 per cent of each institution's possible score. This is the measure of citations per academic faculty member. This indicator looks radically different this year because we have introduced a system to compensate for the large volume of citations generated by researchers in the life sciences and, to a lesser degree, those in the natural sciences. The need for this process, which we term normalisation, is apparent when one considers that the medical sciences account for 49 per cent of the citations in the Scopus database used in these rankings but only 14 per cent of university students (that figure being for the UK). By contrast, the arts and humanities make up nearly 30 per cent of students but only one per cent of citations, because of their very different publishing culture.
We believe that it is right to correct for this bias at the faculty level, in other words in terms of the arts and humanities; the social sciences, including management; the natural sciences; engineering and technology; and the biomedical sciences. We have normalised the weight of these five areas in our academic survey since its creation in 2004.  The normalisation process works by weighting the citations from each of these areas at 20 per cent of the total.
But even this reform does not recognise the full variation in academic publishing patterns around the world. In the arts and humanities and in the social sciences, a large amount of research is not published in English and does not appear in journals, reducing its chance of appearing in Scopus's citations database. We allow for this by further adjusting the citations in these two areas, but not the other three, in accordance with the publishing pattern in each university's home country, as reflected in the total percentage of papers in Scopus in these two fields.
Finally, the data we use will continue to cover five years of the Scopus database. But it will no longer credit citations where the paper has more than ten affiliated institutions. This change cuts out only 0.34 per cent of Scopus papers. For more details, please check:
http://content.qs.com/qsiu/Faculty_Area_Normalization_-_Technical_Explanation.pdf
Key facts and figures
76798 academics and 44226 employers' responses contributed towards the results, making both surveys the largest of their kind in the world.
3,539 institutions were considered for inclusion this year and 891 ranked, 28 more than in 2014
11.1 million papers indexed by the Scopus/Elsevier bibliometric database were analysed, 58.2 million citations counted which amounted to  44.9m citations once self-citations were excluded
QS Intelligence Unit www.iu.qs.com
QS has been conducting research in a range of areas since 1990 beginning with a global survey of MBA employers. The QS World University Rankings®, the most established of the range of research projects that QS operates, have been in existence since 2004. To meet the increasing public interest for comparative data on universities and organisations, and the growing demand for institutions to develop deeper insight into their competitive environment, the QS Intelligence Unit (QSIU) was formed in 2008 as a distinct and autonomous department. Committed to the key values of rigorous integrity, unique insight, undeniable value and accessible presentation, QSIU strives to be the most trusted independent source of global intelligence on the higher education sector.
Ben Sowter
Sowter is the Head of Research at QS, QS Intelligence Unit. He holds a BSc in Computer Science from the University of Nottingham, where he was also awarded the Union Prize for outstanding contribution to the student union and served as chairman of the Nottingham University Debating Society. Ben is fully responsible for the operational management of all major QS research projects and is actively involved in all the collection, compilation and tabulation of all the data that lead to, amongst others, the World University Rankings research in which he has been involved since its initial inception in 2004. A frequent contributor to the press, Ben's opinion on global education trends and his expertise is used regularly by major global publications.
About Scopus 
Scopus is the largest abstract and citation database of peer-reviewed literature and features tools to track, analyse and visualise scholarly research. Its comprehensive database contains 55+ million items indexed from 21,000 titles from more than 5,000 publishers worldwide, ensuring broad interdisciplinary coverage in the fields of science, technology, medicine, social sciences and arts and humanities. Scopus was designed and developed with input from researchers and librarians and features direct links to subscribed full-text articles, other library resources and interoperability with applications such as reference management software. Scopus is part of the Elsevier Research Intelligence portfolio which includes the SciVal tools, the Pure system, rich data assets and custom Analytical Services.
About Elsevier
Elsevier is a world-leading provider of information solutions that enhance the performance of science, health, and technology professionals, empowering them to make better decisions, deliver better care, and sometimes make groundbreaking discoveries that advance the boundaries of knowledge and human progress. Elsevier provides web-based, digital solutions — among them ScienceDirect, Scopus, Elsevier Research Intelligence and ClinicalKey — and publishes over 2,500 journals, including The Lancet and Cell, and more than 33,000 book titles, including a number of iconic reference works. Elsevier is part of RELX Group plc, a world-leading provider of information solutions for professional customers across industries.
 Global impact of the QS World University Rankings
IREG approval
QS Quacquarelli Symonds is the first compiler of global and regional university rankings to receive the " IREG Approved" label for three of its research outputs. The  Observatory on Academic Rankings and Excellence (IREG) Executive Committee, at its meeting in Warsaw on 15th May 2013, decided to grant to QS the rights to use the "IREG Approved" label in relation to the following three rankings: QS World University Rankings, QS University Rankings: Asia, and QS University Rankings: Latin America. More information on its correct usage is available here.
The Global Innovation Index The QS World University Rankings has been used as one of the indicators for the GII since 2013. The QS ranking is the only ranking of its kind to be used for the study.  The GII is co-published by Cornell University, INSEAD and the World Intellectual Property Organization (WIPO, a specialised agency of the United Nations).  The annual report consists of a ranking of world economies' innovation capabilities and results.
The Bank of Communication Sea Turtle Index
The Bank of Communications Sea Turtle Index was developed and produced by The Economist Intelligence Unit (EIU), which benchmarks the potential returns—academic, financial and social—on an international undergraduate education in 80 cities worldwide. These were chosen first by clustering the top 300 universities from the QS World University Rankings into major cities, allowing for richer data and greater regional diversity in results. EIU analysts then used OECD statistics on the percentage of international students going to each country to decide on the number of cities to feature per country.
Contact
For more information please contact Phil Nettleton at London & Partners on 020 7234 5787 or pnettleton@londonandpartners.com
For requesting interviews with QS experts please contact:
Simona Bizzozero
Head of PR
+44 (0) 7880620856
simona@qs.com