Prince Harry Launches The Rugby World Cup Trophy Tour to mark 100 Days to Go
The final countdown to Rugby World Cup 2015 kicked off today at Twickenham Stadium as Prince Harry, Honorary President of England Rugby 2015, and Rugby World Cup 2003 winners Jonny Wilkinson and Will Greenwood launched the Rugby World Cup Trophy Tour on the 100 days to go milestone.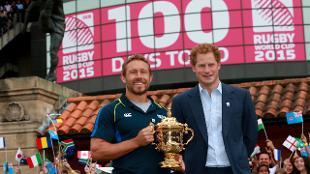 The trio were joined by local schoolchildren from Richmond and Hounslow, as well as RFU Chief Executive Ian Ritchie, England Rugby 2015 Chairman Andy Cosslett and Managing Director Stephen Brown, and Rugby World Cup Limited Director David Pickering to send the Webb Ellis Cup off on its 100 day journey around the UK and Ireland. The Rugby World Cup Trophy Tour will visit over 300 events including Rugby clubs, sporting events, schools, community festivals and iconic landmarks. The Trophy Tour will celebrate Rugby and the hosting of Rugby World Cup 2015, providing as many people as possible with the chance to engage with the Tournament and see Rugby's greatest prize.  

The Trophy Tour will spend five days in Scotland, five days in Northern Ireland, five days in the Republic of Ireland, ten days in Wales and 75 days in England before arriving at the Opening Ceremony on September 18. It follows the successful international Trophy Tour which completed visits to 15 countries, engaging and exciting fans across the world in the run up to England 2015.  To view the full Rugby World Cup Trophy Tour schedule click here. 

Speaking at Twickenham Stadium, Prince Harry said:"This is a very exciting day - just 100 days until the start of Rugby World Cup 2015. I am pleased to send the Webb Ellis Cup on the Rugby World Cup Trophy Tour which will enable rugby fans from across the country to play their part in the build up to the Tournament. Rugby is a game built on values – respect, pride, teamwork and discipline. In 100 days' time, England and Cardiff will play host to an incredible festival of rugby with the world's best players, the world's best teams and of course the world's greatest fans demonstrating these values.
 
"As we have shown with the Olympic, Commonwealth and Invictus Games, we are a nation of great hosts; a nation that seizes the moment. The world will be expecting us to deliver and I know we won't disappoint. I have no doubt the British public will make every nation feel at home and we will provide the best possible welcome to the 20 teams, and hundreds of thousands of fans coming to the UK. This Tournament – the most significant moment in English Rugby since that night in Sydney in 2003 – has the ability to broaden the reach of the game and deliver a long lasting legacy for the sport.  With 48 matches spread across the country, I hope that every community can be part of this Tournament and celebrate the Game of rugby."

With 100 days to go Tournament Organisers England Rugby 2015 and Tournament Owners Rugby World Cup Limited (RWCL) confirmed planning for Rugby World Cup 2015 is in good shape, on track and set to deliver the biggest Rugby World Cup to date. Ticket sales last week hit 2 million through all official sales channels, including general sale and the official hospitality and travel programmes. Tickets are currently on sale through all official channels and additional tickets will continue to be added to the general sale on a monthly basis as they become available. Click here to view tickets on sale at tickets.rugbyworldcup.com.

England Rugby 2015 today also announced details of their CSR ticketing programme 'Engaged' which will see 15,000 tickets allocated across the Host Cities and Proud Host the town of Rugby, the Mayor of London's Sports Legacy Programmes, RFU Regional Legacy Boards, the Injured Players Foundation and Tickets for Troops. The tickets will enable community groups, young people and Rugby development programmes to be part of Rugby World Cup 2015. Details will be announced by the Host Cities and relevant organisations over the coming weeks. 

As readiness and testing continues in earnest, successful test events in Rugby World Cup 2015 match venues Brighton Community Stadium (March) and Stadium MK (April) will be followed by the first ever Rugby match at The Stadium, Queen Elizabeth Olympic Park, between the Barbarians and Samoa on August 29. Transport and event footprint testing opportunities will also be utilised at the two England Rugby World Cup warm-up matches at Twickenham Stadium in August and September. Venue scenario testing and desktop exercises are also underway with key security, transport and operational stakeholders, enabling England Rugby 2015 to ensure the best possible delivery of the Tournament. 

The 100 day milestone also marks the start of the Festival of Rugby 2015 programme which will run from June 10 – October 31 and gives events across the UK a way to join in and be part of Rugby's biggest year. The programme, delivered in partnership with the RFU, enables any event with a connection to Rugby or Rugby theme to be part of a nationwide festival and is supported via www.festivalofrugby2015.com. Events started today across the country including a Tag Rugby Word Record attempt at Luton RFC, attended by England Women's World Cup winner Maggie Alphonsi. For more on the Festival of Rugby 2015 click here. 

England Rugby 2015 Managing Director, Stephen Brown, said: "The 100 days to go milestone today marks a key countdown moment for Rugby fans. We were delighted to be joined by Prince Harry and Rugby World Cup 2003 winners Jonny Wilkinson and Will Greenwood today to launch the Rugby World Cup Trophy Tour from Twickenham Stadium. The Tour will embark on a full 100 day tour of the UK and Ireland, following the successful International Trophy Tour of 15 countries over the last 12 months, and will engage and inspire the nation to be part of this fantastic Tournament, enabling fans to create unforgettable memories in the lead up to the very exciting six weeks of Rugby ahead of us all. 

"As the Organising Committee we are pleased to be fully on track with our delivery plan. We've sold 2 million tickets, recruited 6,000 volunteers who will form 'The Pack', confirmed our 15 Official Fanzones and are delivering a Rugby World Cup 2015 testing and readiness programme. We continue to work hard with all our key stakeholders to ensure Rugby World Cup 2015 is a true celebration of Rugby for the nation and the watching world."

World Rugby Chairman, Bernard Lapasset, said: "Today the countdown officially begins for fans across the UK and Ireland and around the world as we look forward to a very special Rugby World Cup. We are confident that Rugby World Cup 2015 will be an unforgettable event for participating teams and fans, but also a record-breaking commercial and economic success that drives unprecedented Rugby development worldwide and delivers enormous benefits to the host nation."

RFU Chief Executive, Ian Ritchie, added: "The iconic Webb Ellis Cup, that will be seen by so many people across the country during the Rugby World Cup Trophy Tour, will continue to drive excitement as we count down to a Tournament that we all hope will be memorable both on and off the pitch. Rugby World Cup 2015 has the ability to create a step change in interest in participation for Rugby in England that will benefit generations to come.  The RFU aims to deliver a meaningful legacy by creating more capacity, improved facilities, more people – coaches, officials and volunteers - and more schools offering Rugby and we continue to work closely with England Rugby 2015 to maximise the impact both in 2015 and beyond."

Minister for Sport Tracey Crouch said:"With 100 days to go until Rugby World Cup 2015 kicks off, I am delighted that plans are in great shape to put on an incredible Tournament. Excitement is building and I am sure the players, volunteers and fans will all contribute to an event that will live long in the memory. The Trophy Tour and Festival of Rugby will be fantastic and spread the Rugby message across the country. I am sure the Tournament will bring new people to the Game, both as spectators and players. It will show the world the best of Britain, boosting tourism and the economy more widely."

 
Notes to Editors
Schools from across the London Boroughs of Richmond and Hounslow joined Prince Harry, Jonny Wilkinson and Will Greenwood at Twickenham Stadium today including:

Richmond Park Academy
St Stephen's School
The Queen's C of E School
Teddington School
Newland House School
Waldegrave School
Nelson Primary School
Collis Primary School
St Richard Reynolds Catholic College
Buckingham Primary School
St Mary's CE Primary School
Chase Bridge School
St Edmund's Catholic Primary School
Isleworth and Syon
Ivybridge School
Chatsworth School