London welcomes 17.4 million international visitors in another record-breaking year for tourism
London welcomed more international visitors than ever before in 2014, with the city's cultural attractions and world class sporting events proving irresistible draws for millions, according to new figures released today by the Office for National Statistics International Passenger Survey (IPS).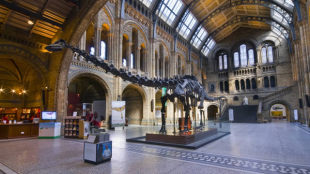 The new figures show there were 17.4 million visits to the city in 2014 up 3.5% from the previous record of 16.8million visits in 2013.
The surge in visitors since the 2012 Olympic Games has been welcomed by businesses as international visitors are spending more in the city's restaurants, hotels and attractions than ever before. In 2014 visitors boosted London's economy by £11.8 billion compared to £11.5 billion in 2013, an increase of 3%. 
The city proved to be one of the world's biggest tourist magnets with a diverse and eclectic mix of blockbuster exhibitions and events, including Henri Matisse: The Cut Outs at the Tate Modern, Ming: 50 years that Changed China at the British Museum, Anselm Kiefer at the Royal Academy, Sherlock Holmes at the Museum of London, the Frieze Art Fair, the Tour de France Grand Départ, Wimbledon Tennis Championships and the Chelsea Flower Show, encouraging people to visit from all over the world.
The Mayor of London, Boris Johnson, said: "These terrific new figures confirm that record numbers of tourists are spending record amounts of dosh in our amazing city. Our status as the number one destination in the world is surely beyond any doubt, and with incredible attractions like the Rugby World Cup heading our way we look forward to welcoming many thousands more visitors to London."
The uplift in visitor numbers is reflected across Britain which welcomed nearly 34.4 million visitors, a 5.2% increase compared to 2013. International tourists spent £21.8 billion, up 2.8% compared to the previous year.
A record 58 million people from the UK and overseas visited the city's 40 most popular tourist attractions last year, up four per cent compared to 2013, according to the Attractions Monitor*, a detailed visitor survey compiled by London & Partners, the Mayor's international promotional company for the city.
Driven by the 100th Anniversary of World War I, one of the most significant trends was an increase in people visiting military exhibitions, which rose by 22% to 3.6million. The Tower of London's Blood Swept Lands and Seas of Red, captured the world's attention, with more than 5 million people visiting the display. Maritime attractions, such as the HMS Belfast, also increased 13% to 3m visits.
"It has been incredible to welcome so many visitors to our three London branches, IWM London, HMS Belfast and Churchill War Rooms, since 2014", says Diane Lees, Director-General of Imperial War Museums. "We hope to see a continuing rise in visitors during the next 12 months, with our new autumn exhibition Lee Miller: A Woman's War, and our on-going contemporary art programme at IWM London." 
This year London has secured some of the world's best exhibitions including Goya: the Portraits at the National Gallery, No Colour Bar at the Guildhall Art Gallery, The World Goes Pop at the Tate Modern, and the phenomenally popular Alexander McQueen: Savage Beauty at the V&A. The city will also host Formula E, the NFL International Series, and some of the biggest matches in the 2015 Rugby World Cup.
Gordon Innes, Chief Executive of London & Partners, which runs www.VisitLondon.com, added: "London continues to attract record numbers of international visitors, injecting billions into the capital's economy each year. Royal occasions, like the arrival of Princess Charlotte, combined with London's heritage, attractions and world-leading cultural offer, is expected to attract many more millions from the UK and abroad, continuing the growth of international visitor numbers in 2015."
Linton Wadsworth, from Radisson Blu Edwardian, London part of Edwardian Group London, says: "London is a booming world city with a tourism offer that is diversifying and improving year-on-year. We are committed to helping drive forward the city's tourism economy, through ongoing investment and continuous innovation across our properties."
International visitors are the leading driver for growth across London's cultural attractions, accounting for the majority of visits**. In an effort to continue that growth, later this year VisitLondon.com, in partnership with the GREAT Britain Campaign, will launch its 2nd annual international campaign to promote the impressive breadth of cultural activities happening across the capital. It will include blockbuster exhibitions, performances, and festivals, during the upcoming Autumn Season.
London's Autumn Season will showcase to the world the incredible season of culture coming to the capital, taking in the world-class events that strengthen the city's reputation as a global cultural powerhouse.  
Notes to Editors
*The London Attraction Monitor Annual Summary is based on monthly data collected from 40 London attractions and accounts for both domestic and international visitors.
**Source: DCMS, Sponsored museums annual performance indicators 2012-13
For high-res images of London, please visit http://www.londononview.com/. All images are free to download upon registration and confirmation.
Free-to-use broadcast quality London b-roll can be accessed on www.thenewsmarket.com/londonandpartners

About London & Partners
London & Partners is the official promotional company for London. We promote London and attract businesses, events, congresses, students and visitors to the capital. Our aims are to build London's international reputation and to attract investment and visitor spend, which create jobs and growth.
London & Partners is a not-for-profit public private partnership, funded by the Mayor of London and our network of commercial partners.
For more information visit www.londonandpartners.com      
Contact
Rebekah Clement, Media & PR Manager – Leisure Tourism
Tel: +44 (0)20 7234 5861 / +44 (0) 7826 907 415
rclement@londonandpartners.com
London & Partners Media & PR Team
Tel: +44 (0)20 7234 5710
Switch: +44 (0)20 7234 5800
Twitter: @London_PR