London & Partners attract record number of foreign companies come to capital
More foreign companies – driven by a surge in tech start-ups – are expanding or setting up headquarters in London than ever before, according to new figures released today.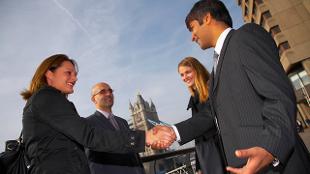 London & Partners, the Mayor's business and promotional company, last year helped a record 270 companies, set up or grow significantly in the last year, creating nearly 5,000 jobs.
Global giants like Pfizer, Greenland Group, Tata Elxsi have all expanded or created new HQ's, while one of the most significant trends is a 60% increase in US companies which has been driven by a big increase in tech firms choosing to tap into London's access to talent and European markets.
A decade ago just 26 tech companies came to London but last financial year there were a record 108 brought to the city by London & Partners.  Investment in tech has also shot up reaching a record £450m in venture capital financing in the first three months of this year.
Many innovative tech apps designed to make our lives run as smoothly as possible, such as ones offering taxis (Gettaxi), house cleaners (Homejoy), guaranteed parking spaces (ParkJockey), keeping track of your physical fitness (Strava), online music (Musikki) and gadgets (Wowzer) have all made a home in the capital in the last year.
Companies from India, China, Japan, Australia, Spain and France are also key investors, creating many jobs in tech, financial and business services and the life science industry. 
Gordon Innes, Chief Executive London & Partners, said: "Over the last decade foreign investment in London has gone through the roof and the tech sector is now leading the way. Companies from all over the globe want to establish a base here because we have the best access to finance and markets, an incredibly talented workforce and overall first-class conditions in which to do business.
"On top of this, London is one of the most desirable cities in the world to live with a vibrant cultural scene, exciting history and more green space than any other city in the world." 
Kamal Rajput, ParkJockey's UK General Manager, said: "London was a natural place for ParkJockey to expand its business as we develop new international opportunities. London is an enormous market for us and we have been delighted with the welcoming business environment that has enabled us to expand here and succeed."
The city has also experienced record numbers of companies from the financial services sector including companies like Asian Insurance Brokers, China Merchant Securitities (China) and La Caixa (Spain).
Boosted by London's Med City initiative and the opening of the Francis Crick Institute later this year, the city's life sciences sector has also experienced an increase in large firms, including pharmaceutical company Takeda Global Research and Development Centre from Japan and Cipla Life sciences from India.
Since the company was formed in 2011 London & Partners has brought 954 companies to the capital – that's an average of one firm every day and-half – which commits to moving or expanding in London.  This is worth £331m to the city's economy and has created 17,293 jobs, which will increase significantly to 31,000 after the companies have been here three years.
Across all its business lines which includes www.studylondon.ac.uk, www.visitlondon.co.uk, major events and business tourism the company has created and supported over 27,000 jobs and added £831m to London's economy.
Gordon Innes added: "London offers everything the business community needs but don't forget we also welcome more tourists than any other city in the world, more students choose to study at our great academic institutions than anywhere else and we are one of the best sporting cities with dozens of top quality events. London's a global city and it is important we remain the number one place for decades to come."
Notes to Editors
London & Partners is the official promotional company for London. We promote London and attract businesses, events, congresses, students and visitors to the capital. Our aims are to build London's international reputation and to attract investment and visitor spend, which create jobs and growth.
 London & Partners is a not-for-profit public private partnership, funded by the Mayor of London and our network of commercial partners.
For more information visit www.londonandpartners.com   
London & Partners is responsible for securing investment of about 40% of foreign companies expanding or setting up in the city.
Contact
For further information please contact Phil Nettleton pnettleton@londonandpartners.com or 07920 759 018