London is the most popular city stand at IMEX Frankfurt 2015
London & Partners, the official convention bureau for London, has more pre-booked appointments than any other city stand at IMEX Frankfurt ahead of this week's exhibition. London is also on course for a record year for appointments, with 650 meetings already booked with stand partners and convention bureau representatives, up by 32% since 2011.
London is expected to break more records later this week when the 2014 full year international visitor figures from the Office of National Statistics are released on Wednesday. The city is on track to top the high of 2013, which saw 16.8 million international visitors to London.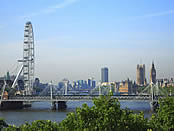 Barbara Jamison, Head of Business Development Europe for London & Partners, says: "We are delighted to have the most popular city stand at IMEX Frankfurt this year. London is booming and it's a real honour to be able to share a selection of the city's best venues, hotels and incentive travel options with event professionals from around the world at this year's exhibition. Though we are the busiest city stand at the show, we are very much open for business and have many more appointments available for buyers keen to discuss bringing their event to London."
London & Partners is attending IMEX Frankfurt alongside 27 stand partners from hotels and venues across the city.
Leading hotel group, Radisson Blu Edwardian, London part of Edwardian Group London will join London & Partners on the stand. Debbie Ives, Account Director, MICE from Edwardian Group London, adds: "Our team has a number of important meetings taking place during IMEX Frankfurt that could potentially bring in significant levels of new business. The business tourism market is an increasingly important sector for us and events such as IMEX Frankfurt are a crucial part of our promotional calendar and important forums for connecting with meeting buyers from around the world."
London's International Convention Centre, ExCeL London, will also be exhibiting on the London & Partners stand. James Rees, Executive Director at ExCeL London, says: "2015 will be the biggest ever year for conferences at ExCeL. We are hosting more ICCA rated events than ever before, including this summer's European Society of Cardiology which is bringing 35,000 delegates to London. We are now celebrating our 15th anniversary and year-on-year we are hosting record numbers of events. Our meetings calendar for IMEX Frankfurt includes some key associations and large congresses and we are confident that we will secure vital new business wins from this week's event."
Stand partner Robin Parker, General Manager at London's Church House Conference Centre, adds: "This is our second visit to IMEX Frankfurt following the success of 2014, which was in great part due to exhibiting with London & Partners.  We are delighted to contribute to the promotion of London as a fantastic destination and are looking forward to this year's show."
London & Partners can be found at stand F400 at IMEX Frankfurt. Delegates interested in booking an appointment with a London Convention Bureau representative or stand partner should click here.
Leonard Sommer, world known creative expert, will be on the London & Partners stand at 3pm on Tuesday 19 May for networking, drinks and discussion on creative thinking. Register to attend here.
Notes to Editors
About London & Partners
London & Partners is the official promotional company for London. We promote London and attract businesses, events, congresses, students and visitors to the capital. Our aims are to build London's international reputation and to attract investment and visitor spend, which create jobs and growth. London & Partners is a not-for-profit public private partnership, funded by the Mayor of London and our network of commercial partners. For more information visit, conventionbureau.london.
London & Partners stand partners are Ace Hotel London, Barbican, Chelsea Football Club, Church House Conference Centre, Copthorne Tara Hotel, Edwardian Group London, etc.venues, ExCeL London, Hilton London Heathrow Airport Terminal 5, Historic Royal Palaces, Hotel Cafe Royal, InterContinental London - The O2, Kuoni Destination Management UK & Ireland, Lancaster London, Marriott Hotels London, Maybourne Hotel Group - Claridge's, the Connaught, the Berkeley, Park Plaza Hotels & Resorts – London, QEII Centre, Sofitel London Heathrow, Starwood Central London Hotels, The Chelsea Harbour Hotel, The Doyle Collection, The Landmark London, The O2, The Royal Society of Medicine - 1 Wimpole Street, Wildgoose Events and 30 Euston Square – Royal College of General Practitioners.
Contact
Ellie Wilson, Head of Tourism PR
Tel: +44 (0)20 7234 5709 / +44 (0)7595 654 085
Bettina Gimenez, Press Officer
Tel: +44 (0)20 7234 5892 / +44 (0)7825 785 571
bgimenez@londonandpartners.com
London & Partners Media & PR Team
Tel: +44 (0)20 7234 5710
Switch: +44 (0)20 7234 5800
Twitter: @London_PR