London's specialist univeristies are best in the world
London's specialist higher education colleges are rated among the best in the world, an in-depth study of academics and employers has found.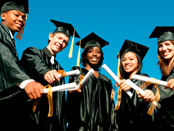 The QS World University Rankings by Subject rates the London Business School, (Business and Management) University College London Institute of Education (Education) and the Royal College of Art (Art and Design) as the best in the world.
Other highlights include University College London's Bartlett School ranked second for architecture, London School of Economics and Political Science (LSE) ranked second for geography and the Royal Veterinary College rated third for Veterinary Science.
The Golden Triangle of London, Oxford and Cambridge perform especially strongly across a number of disciplines. The University of Cambridge ranks among the top-ten in 31 subjects more than any other higher education institution in the world. While the University of Oxford ranks among the top ten in 29 subjects, the LSE 11, Imperial College eight and UCL six.
Kevin McCarthy, Head of education at www.studylondon.ac.uk, said: "London has some of the best specialist institutions in the world across a very broad range of subjects. From veterinary science, art and design, business, education and many more subjects the city leads the world in the educational standards it sets."
The results released today (Wednesday 29th April) on www.TopUniversities.com features a record-breaking 36 disciplines making it the largest ever ranking of its kind. They are the expert opinion of 85,062 academics and 41,910 employers, alongside the analysis of 17.3 million research papers and over 100 million citations. (Scopus/Elsevier bibliometric database).
The United Kingdom is second only to the US and picks up the global silver medal with six separate institutions leading in at least one subject. The UK also ranks second only to the USA when it comes to world-leading life sciences and medicine research with 13 UK universities in the top 30.
John O'Leary, member of the QS Global Academic Board, said: "UK universities show up well in virtually all the subjects – Oxford boasts the best performance as the only university to lead in more than one subject, but specialist providers like the Royal College of Art and
the University College London Institute of Education are also shown to be world-leaders."
The 79 UK universities featured in the rankings have secured 11.2% of the places across all disciplines and 14% of the Top 50 spots available, confirming UK's global silver medal. Unsurprisingly, only the US exceeds this impressive performance, taking 23.1 % of the spots overall and d 36.6% of the Top 50 places.
Of the 927 placements achieved by UK institutions this year, 16.1% are new entries, 18.3 % have improved on their 2014 performance, and 35.9% have maintained the same position. Nevertheless, 29.7% have lost ground – albeit in some instances only minimally- which is to be expected in a dynamic exercise as a global rankings, with emerging  leaders in higher education which are challenging the dominant countries.
Harvard and the Massachusetts Institute of Technology (MIT) take the lion's share of top places, leading in 21 subjects between them. However, UK universities have improved their positions overall, with six separate institutions leading in at least one subject.
In September 2014 the separate QS World University Rankings named Imperial College London the second best university in the world, joint with Cambridge, with University College London and Oxford in joint fifth. Overall 18 London universities made the rankings, making it the city with the highest number of top rated universities in the world.
Notes to Editors
Notes for editors
For further information contact Phil Nettleton 0207234 5787 or 07920 750 018 pnettleton@londonandpartners.com @London_PR
Simona Bizzozero Head of public relations QS Quacquarelli Symonds
simona@qs.com or pressoffice@qs.com

 
@QS_pressoffice + 44(0)7880620856 or +44 (0) 2072847248
QS World University Rankings by Subject

 
Since 2011, QS has extended the scope of the world's rankings to include the evaluation of 36 individual disciplines. The methodology utilizes adaptive weightings for the four criteria, to take into account the differences among disciplines. Details of the methodology can be found at http://www.iu.qs.com/university-rankings/subject-tables/
The rankings are based on research citations, alongside reputational surveys of over 126,000 academics and graduate employers worldwide.
| | |
| --- | --- |
|   | 2015 |
| Universities selected by academics in at least one subject | 3,551 |
| Institutions ranked in at least one subject | 2,186 |
| Within published range in at least one subject | 894 |
| Within top 200 in at least one subject | 835 |
| Within top 100 in at least one subject | 512 |
| Within top 50 in at least one subject | 310 |
| Research paper attributions counted | 17.3m  |
| Citation attributions counted |  100m |
| Self-citations excluded | 24.1m  |
| Programs verified | 14,074 |
| Total survey responses( academics and employers) | 126,972 |
|   |   |
QS Quacquarelli Symonds www.qs.com

 
Founded in 1990, QS Quacquarelli Symonds is the leading global provider of higher education and careers information, independent research and solutions. Its activities span across 50 countries, working with over 2,000 international universities and business schools. QS's mission is to enable motivated people around the world to fulfil their potential by fostering international mobility, educational achievement and career development. QS provides services at each key career stage; first degree, Masters, PhD, MBA, and Executive-level. The team at QS consists of over 250 highly dedicated individuals from every corner of the world; collectively speaking 35 languages. QS is headquartered in London. Main offices: Paris, Singapore, Bucharest, Stuttgart. Satellite offices: Alicante ( Spain), Beijing, Johannesburg, Philadelphia, Portland (Oregon), Shanghai, Sydney and Washington DC.
Contact