London gets set to welcome a fairy-tale summer and tourism boom
The much anticipated new visitor attraction from Merlin Entertainments PLC in collaboration with DreamWorks has launched its tickets sales today in the form of an ogre-sized Gingerbread House Ticket Office on London's South Bank.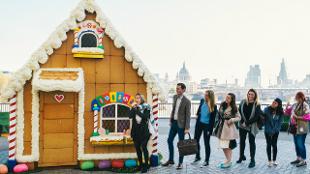 The edible Ticket Office, made from 700 real gingerbread biscuit tiles and 100kg of icing will be selling the first tickets for Shrek's Adventure! London – a brand new Shrek adventure, complete with a cast of fairy tale characters, themed shows and sets, 4D bus ride, dramatic special effects and new DreamWorks animation.
The summertime opening of this family attraction is set to further strengthen London's tourism offering and encourage more international and domestic visitors to the capital. Last year, London's visitor attractions experienced continued growth with a 7.11% increase on the previous year, and the 2014 full year international visitor figures due out next month are on course to top a record breaking 2013, which welcomed 16.8 million international visitors to London.
Gordon Innes, CEO London & Partners said, "London's world class visitor attractions have been helping drive a big increase in tourists coming to the capital from all over the world – putting the city on course for its most successful and exciting tourism year yet.
We are confident that the addition of Shrek's Adventure! London along with a vibrant and diverse calendar of summer events will further boost London's visitor economy as the capital continues to go from strength to strength."

Summer highlights across London include the third annual Prudential RideLondon (1-2 August), a two-day cycling festival for families, amateurs elite cyclists alike, as well as the new Sunset Safari experience at ZSL London Zoo (5 June - 17 July) which gives visitors the chance to unwind in the company of over 750 species after hours.
This year, for the first time ever at the Summer Opening of Buckingham Palace, displays throughout the State Rooms will recreate the settings for state visits, receptions, garden parties, investitures and private audiences (1 August 2015 - 27 September). Elsewhere at the National Portrait Gallery, Audrey Hepburn fans can explore the celebrated film star's fascinating life and career through the Portraits of an Icon exhibition (2 July - 18 October).
For more information on what's on in London this summer and beyond, go to Visitlondon.com
Notes to Editors
Merlin Entertainments PLC
MERLIN ENTERTAINMENTS plc is the leading name in location-based, family entertainment. Europe's Number 1 and the world's second-largest visitor attraction operator, Merlin now operates 105 attractions, 11 hotels/3 holiday villages in 23 countries and across 4 continents. The company aims to deliver memorable and rewarding experiences to its almost 60 million visitors worldwide, through its iconic global and local brands, and the commitment and passion of its managers and c25,000 employees. Among Merlin's attractions are - SEA LIFE, Madame Tussauds, LEGOLAND, The Coca-Cola London Eye, Dungeons, Gardaland, LEGOLAND Discovery Centres, Alton Towers Resort, Warwick Castle, THORPE PARK Resort, Blackpool Tower, Heide Park Resort, WILD LIFE Sydney Zoo, Sydney Tower Eye and SKYWALK.  All brands which are distinctive, challenging and innovative – and which have great potential for growth in the future. Visit www.merlinentertainments.biz for more information.
DreamWorks Animation
DreamWorks Animation creates high-quality entertainment, including CG animated feature films, television specials and series and live entertainment properties, meant for audiences around the world. The company has world-class creative talent, a strong and experienced management team and advanced filmmaking technology and techniques. DreamWorks Animation has been named one of the "100 Best Companies to Work For" by FORTUNE® Magazine for five consecutive years. In 2013, DreamWorks Animation ranked #12 on the list.  All of DreamWorks Animation's feature films are produced in 3D. The Company has theatrically released a total of 30 animated feature films, including the franchise properties of Shrek, Madagascar, Kung Fu Panda, How to Train Your Dragon, Puss In Boots and The Croods.
London & Partners
London & Partners is the official promotional company for London. We promote London and attract businesses, events, congresses, students and visitors to the capital. Our aims are to build London's international reputation and to attract investment and visitor spend, which create jobs and growth.
London & Partners is a not-for-profit public private partnership, funded by the Mayor of London and our network of commercial partners.
For more information visit www.londonandpartners.com