Tech investment in London soars
London's technology sector has smashed previous funding records, as the capital's technology firms attracted more venture capital financing during Q1 2015 than in any previous quarter.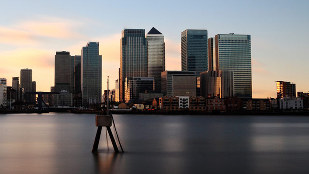 The figures, which are compiled by London & Partners, the Mayor's promotional company for London, show that the city's technology companies secured over $682 million in VC financing during the first three months of the year - more than ever before and up 66% on Q1 2014. The previous record was $411.6 million in Q4 2014.
 
The amount raised by London companies comprises 80% of that raised by all UK companies in the quarter ($856.7m). During the period, significant investments into London were made by some of the most well-known global venture capital funds, including Silicon Valley firm Andreessen Horowitz investing in online payments company TransferWise ($58m) and virtual worlds creator Improbable ($20m).
 
Eileen Burbidge, London technology ambassador and Partner at Passion Capital, which invests in technology startups, said: "This quarter is the most exciting yet in London's tech development, as we have seen companies based in the capital attract substantial new investments from some of the world's most tech-savvy and influential investors. London is one of the most electrifying tech hubs in the world, with companies and investors all brought here by the city's ideas and entrepreneurial spirit, as well as its talent and access to markets."
 
The figures indicate that London-based technology start-ups are proving they can access the international capital they need to grow into major global companies, said Sherry Coutu, the well-known entrepreneur and investor.
 
Ms Coutu said: "London has shown that it can produce exceptional companies that grow to scale quickly and become significant players on the international stage. Global investors are increasingly tapping into this ability, providing the funding and access to export markets that companies need to 'scale up'. This is powering the UK's entire economy through creating growth and new jobs both in London and beyond."
 
WorldRemit, a London-based company that enables online money transfers, raised the most funding in the period, securing a $100m round led by Technology Crossover Ventures.
 
Ismail Ahmed, founder and CEO of WorldRemit, said: "London is the ideal place to start a fintech company, as it is a technology hub as well as a financial services hub. There is an abundance of world-class talent in the city, and the convenient time zone, which enables communication with Asia and the Americas in same working day, is an attractive factor for us as an international money transfer service."
 
Other London-based tech companies to announce significant funding deals in Q1 2015 include fashion retailer Farfetch ($86m), augmented reality advertising firm Blippar ($45m), and music technology company Shazam ($30m). The Mayor of London, Boris Johnson, also visited the US East Coast during the quarter and showcased London's tech expertise and leading companies – including Blippar – to leading US figures, investors and startups.
 
Ambarish Mitra, CEO and Co-founder of Blippar, said: "We have found London to be the perfect location from which to grow our global technology business - well on our way to a multi billion-dollar valuation. The city has been a springboard for Blippar to open 10 offices in 6 countries and grow threefold year-on-year since we started 3.5 years back. We've recently raised $45m in Series C funding, which will further accelerate our breakthrough in technology and our fast growth. We have enjoyed great support from the British Government throughout our rapid global ascent to date and give credit to them for introducing policies favourable for British tech startups."
 
The new figures also indicate the extent of London's development as a tech hub and the city's ability to attract investment. The $682.5m raised in Q1 2015 is not only more than the sector raised in all of 2012 ($472.5m), but is more than 6 times the amount raised during the whole of 2010 ($100m) – the year when the Prime Minister and the Mayor of London launched the Tech City initiative to highlight the capital's tech expertise and encourage growth.
 
Gerard Grech, CEO of Tech City UK, said: "2015 looks set for the record books as the UK earns its position as a global tech leader. It's been a great year for London tech companies with the likes of WorldRemit, Farfetch, JustPark,TransferWise and Shazam smashing through their funding targets. The increase in venture capital investment into London in the first quarter of 2015 comes as no surprise. With 44,000 working in the fintech space alone and record levels of investment in 2014, the capital is the engine of Tech Nation."
Notes to Editors
¹ Source: CB Insights deals into London tech firms from 1/1/2015 – 31/03/2015
² Source: CB Insights deals into London tech firms from 1/10/2014 – 31/12/2014
London investment by quarter
| | | | | | | |
| --- | --- | --- | --- | --- | --- | --- |
| Amount $m | 2010 | 2011 | 2012 | 2013 | 2014 | 2015 |
| Qtr1 | 43.55 | 139.68 | 168.39 | 232.94 | 411.00 | 682.50 |
| Qtr2 | 10.2 | 86.2 | 92.15 | 115.56 | 320.15 |   |
| Qtr3 | 13.94 | 25.44 | 45.17 | 214.82 | 207.64 |   |
| Qtr4 | 33.02 | 50.18 | 166.82 | 193.52 | 411.62 |   |
| Total | 100.71 | 301.5 | 472.53 | 756.84 | 1350.41 | 682.50 |
Source: CB Insights
About London & Partners

 
London & Partners is the official promotional company for London. We promote London and attract businesses, events, congresses, students and visitors to the capital. Our aims are to build London's international reputation and to attract investment and visitor spend, which create jobs and growth.
London & Partners is a not-for-profit public private partnership, funded by the Mayor of London and our network of commercial partners.
For more information visit www.londonandpartners.com   
About Passion Capital

 
Passion Capital is the premier early-stage venture fund in London, established by former entrepreneurs and operators who apply their experiences to helping founders and early-stage teams build hugely valuable digital media/technology companies. Passion Capital general partners have been personally involved in the largest European technology exits of the past decade, including the biggest exits of the year for 4 of the past 10 years by market value (Ricardo.de acquired by QXL, Skype purchased by Ebay, Last.fm acquired by CBS, and QXL/Tradus acquired by Naspers) — and look forward to being involved in many more. For more information, visit passioncapital.com or @passioncapital
Contact
Norval Scott, Media & PR Manager - FDI
Tel: 020 7234 5789, 07720 737378
Email: nscott@londonandpartners.com
London & Partners Media & PR Team
Tel: +44 (0)20 7234 5710
Switch: +44 (0)20 7234 5800
Twitter: @London_PR