London & Partners and The Brooklyn Brothers launch the Official Guest of Honour documentary
London & Partners and The Brooklyn Brothers have today launched a short documentary film which concludes 'the trip of a lifetime' experience had by Adaeze Uyanwah who was appointed as London's Official Guest of Honour after an international search for the perfect candidate.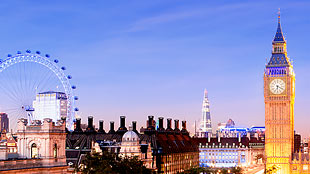 The Official Guest of Honour campaign launched in November 2014 with an international invitation supported by Mayor of London, Boris Johnson for tourists to submit a film or photo explaining their perfect day in London. Almost 100,000 people registered on visitlondon.com and over 10,000 submitted entries to become London's Official Guest of Honour. The initiative was launched by London & Partners in collaboration with VisitBritain and the GREAT campaign, offering a life-changing opportunity to experience London as never before.
In January 2015, the Official Guest of Honour winner was announced as Adaeze Uyanwah, a teacher and creative writer from California. In her two-week stay, she experienced a series of magic moments including visiting the Science Museum with Professor Stephen Hawking, taking afternoon tea at Lord's Cricket Ground with Downton Abbey's butler, Carson, played by the actor Jim Carter, a shopping spree on Oxford Street which included a Fenton Bailey photo shoot, a tour of the All England Tennis Club, which hosts The Wimbledon Championships, with Tim Henman, opening Tower Bridge and having a meal personally cooked by the Michelin-starred chef Jason Atherton, to name a few.
The campaign has been a huge hit reaching a global audience of more the 250 million. The initial promotional film has already been viewed more than 6.5 million times and forecasts suggest the new film will take total views to over 20 million. Additionally, the Official Guest of Honour campaign has received global media coverage across titles such as CNN, USA Today, BBC, Sky news, The Times, Huffington Post, France 2 and The Guardian and has been supported by digital media spend with Yahoo.
The short documentary film, created by The Brooklyn Brothers, follows Adaeze's journey every step of the way during her unique London experience and aims to add value to the economy by attracting tourists to the city.
London & Partners and The Brooklyn Brothers chose Bafta-nominated director Rupert Murray from the production company, You Are Here, to direct the three-minute film due to his acclaimed feature documentary credentials.
Chris Gottlieb, Chief Marketing and Communications Officer at London & Partners said: "This campaign is all about showing London for what it is: the greatest city on earth. It is one of our most successful campaigns to date and has engaged audiences around the world in Adaeze's remarkable time in the capital. When it comes to it, London really can put on a show, and this film demonstrates just how well we do it."
George Bryant, Founding Partner at The Brooklyn Brothers said: "London is not just a city, it's a blockbuster global brand. We've enjoyed collaborating with London & Partners to give our capital the kind of blockbuster idea that it deserves. And we're delighted with the way that the world has responded."
The documentary is supported by social and digital activity along with a further four short films (30secs & 60secs) which capture Adaeze's experience in a series of montages that focus on popular tourist drivers including attractions, history, culture and entertainment.
The film will launch on the VisitLondon YouTube Channel today ahead of the full version which will be released on Visitlondon.com later this week.
Notes to Editors
GUEST OF HONOUR DOCUMENTARY
The 3 minute short film documentary is available via:
The 5 minute film will be premiered on Visitlondon.com/guest and available for download here:
IMAGES AND VIDEO

High resolution images and broadcast quality b-roll of experiences, celebrities and attractions, broadcast quality interview footage about the campaign with Mayor of London Boris Johnson and images of London's City Hall lit up with the Official Guest of Honour crest are available for download at:
London & Partners
London & Partners is the official promotional company for London. We promote London and attract businesses, events, congresses, students and visitors to the capital. Our aims are to build London's international reputation and to attract investment and visitor spend, which create jobs and growth.
London & Partners is a not-for-profit public private partnership, funded by the Mayor of London and our network of commercial partners.
For more information visit www.londonandpartners.com       
The Brooklyn Brothers
The Brooklyn Brothers are an independent creative agency with offices in New York, London, LA, Shanghai and Sao Paulo.  They set up to respond to today's new communications challenges and to get their clients brands talked about by a new, empowered, digitally literate consumer.
With an entrepreneurial spirit and a passion for making groundbreaking work in whatever channel, they strive to find new, different and effective ways of doing things for global brands such as Jaguar Land Rover, Remy Martin Virgin, NBC, Tate, BBC Worldwide, TK Maxx, Macy's, Rockstar Games and The New York Rangers.
CREDITS
Project Name: London's Official Guest of Honour
Client Name: London Partners
Creative Agency: The Brooklyn Brothers
Production Company: You Are Here
Director: Rupert Murray
Release date: 24th March 2015