A-list celebrities and global creative leaders arrive in London for Advertising Week Europe 2015
Salma Hayek, Sir Kenneth Brannagh and Kim Cattrall are among the headline names taking to the stage this week for London's third annual Advertising Week Europe (23-27 March), which opens today across the city.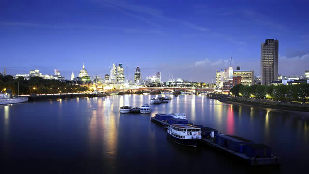 As Europe's largest annual gathering for the creative, media and advertising industries, Advertising Week Europe (AWE) expects to host more than 23,000 attendees at over 200 events across the capital, up from 15,000 in year one.
Billed as a week-long assembly of the industry's best and brightest thought leaders, Advertising Week Europe's headline events will see Facebook's EMEA VP, Nicola Mendelsohn, host a one-on-one discussion with BAFTA-winning actress, producer, director and activist, Salma Hayek, exploring how we can excel in a connected world. 
Later in the week, Sir Martin Sorrell of WPP will discuss developing and sustaining competitive edge with five-time Olympic medalist Sir Ben Ainslie, while Publicis Groupe Chairman Maurice Lévy and Bloomberg anchor and Editor-at-Large, Francine Lacqua, will host a wide-ranging discussion on today's disruptive digital environment.
Speaking about the week ahead Tracy Halliwell MBE, AWE Advisory Council member and Director of Business Tourism & Major Events at London & Partners, the official promotional company for London, said: "Advertising Week Europe will see some of the world's best creative minds converge in London to debate the future of the industry, showcase industry-leading innovations and galvanise new ideas. London is the leading European hub for advertising and the creative industries and AWE underlines the impact the city's dynamism and energy can have on the creative game-changers who are driving forward revolutionary new ideas to fuel the industry's growth and continuous transformation."
The UK's creative industries are a major contributor to the country's future economic growth. Currently more than half a million jobs depend on advertising and advertising spend, with forecasts suggesting the industry will support 70,000 new jobs over the next five years.
Britain has the fourth largest advertising spend market in the world, projected at £19.6bn in 2015, up from £16.3bn in 2011. Advertising spend in the UK is growing two-thirds faster than growth reported in the US and the rest of Europe.
Matt Scheckner, Managing Director of Advertising Week Europe, comments: "Faster, higher, stronger are the watchwords for 2015. The rapid pacing of the whole programme; the high calibre of thought leadership and star talent across the board; and the strength from beginning to end, all against a backdrop of iconic venues should deliver tremendous experience from top to bottom. And all this at a time when technology and the timeless power of big ideas have never been more central to our lives."
The 2015 edition launches with an expanded agenda as Advertising Week Europe's "BAFTA Campus" hub broadens to include St. James's Church, Piccadilly and Fortnum & Mason. Over 185 hours of thought leadership content will be hosted throughout the week, across 100+ seminars and 70 workshops, highlighting London's creative expertise and industry leadership.  
Events hosted across Advertising Week Europe will interrogate the future of the advertising industry, explore the established and up-and-coming companies leading the charge in technology and innovation, and probe deeper into London's global position in the creative marketplace.
Highlights range from Monday's exploration of the impact of data-driven tech on brand communications at What Data Can DOOH For Us Today! Realising the Potential for Brands, to Tuesday's interrogation of the long term impact of 'Megatrends' on business and society at Megatrends and the Future of Advertising.
On Wednesday the AppNexus team will debate the seismic shifts expected to transform how the ad industry operates at The Ad Tech Power Game, while Thursday will see an examination of the convergence of storytelling and artificial intelligence at Isn't the Future Here Already?
Full details of Advertising Week Europe's 200+ events and 800+ speakers can be found at advertisingweek.eu.
Notes to Editors
About Advertising Week Europe
To find out more about Advertising Week Europe please visit www.advertisingweek.eu. To join the conversation year-round, visit The Advertising Week Social Club, which delivers unique content, insights and perspective at www.theawsc.com.
About London & Partners
London & Partners is the Mayor's official promotional organisation for London. Our company attracts and delivers value to business, students and visitors. London & Partners is a not-for-profit public private partnership, funded by the Mayor of London and a network of commercial partners.
Our remit is to drive leisure and business visitors as well as bidding to secure major events in London, to unlock the city for overseas businesses who want to set up or expand in London and to promote the capital's world class universities to international students.
Our intention is to work in partnership with organisations in London and across the world to deliver our goal - that London be globally recognised as the best big city on earth.
For more information visit www.londonandpartners.com       
Contact
Ellie Wilson, Media & PR Manager – Major Events & Business Tourism
Tel: +44 (0)20 7234 5709 / +44 (0)7595 654 085
London & Partners Media & PR Team
Tel: +44 (0)20 7234 5710
Switch: +44 (0)20 7234 5800
Twitter: @London_PR