Marmalade sandwiches all round as The Paddington Trail raises over £930,000 for the NSPCC
In the run up to Christmas, London was taken over by life-sized statues of the world's favourite furry Peruvian explorer designed by a host of celebrities and artists as part of The Paddington Trail, sponsored by Barclaycard. Today STUDIOCANAL, VisitLondon.com and the NSPCC revealed that the public art installation created to mark the release of PADDINGTON in cinemas has raised over £930,000 for the NSPCC's ChildLine service.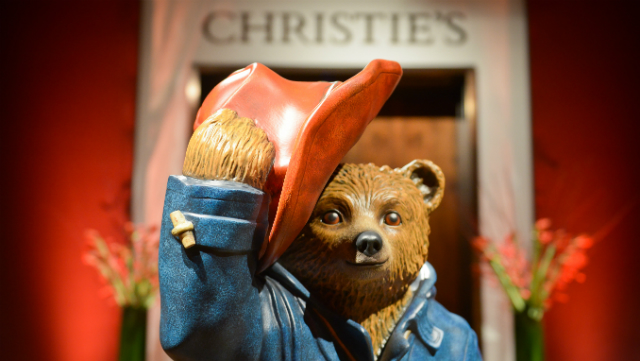 Other statues were auctioned online by Christie's, giving people around the world the chance to bid for a chance to own a piece of The Paddington Trail. The auction attracted heated bidding with Boris Johnson's 'Bear of London' eventually going to a bidder in East Asia for £32,000. Other favourites were Liam Gallagher's 'Parka Paddington' and Chelsea FC's 'The Special One', both of which went for £13,000. In addition to this, residents of the town of Fleet in Hampshire were successful in their bid to own a piece of The Paddington Trail, securing Ant & Dec's 'Bear Humbug' following a crowdfunding campaign supported by the local community.
Whilst The Paddington Trail was live, Boris Johnson's 'Bear of London' was the third most popular, behind David Beckham's 'Golden Paws' and Benedict Cumberbatch's 'Sherlock Bear' which was the most visited profile on www.visitlondon.com/paddington*. And as Paddington fever hit the capital, social media was buzzing with mentions of #PaddingtonTrail, with the campaign reaching over 37.5m Twitter accounts – more than the population of Peru. A map of The Paddington Trail was downloaded over 90,000 times, and pages on the microsite were viewed over 2.2m times, demonstrating the Trail's popularity.
NSPCC Chief Executive Peter Wanless said: "The Paddington Trail captured the hearts of Londoners and visitors alike in the run up to Christmas, and we are absolutely delighted to have been a part of it. Thanks to Paddington fans around the world, The Paddington Trail has raised over £930,000 – a fantastic result. This will help run our ChildLine services enabling our trained volunteers to answer hundreds of thousands of contacts from children. It will also allow us to update and modernise our services so children can contact us more easily and quickly online wherever and whenever they need us. Through ChildLine, we are giving children someone to turn to in the same way as Mr and Mrs Brown were there for Paddington."
The Mayor of London, Boris Johnson, said: "The Paddington Trail was a charming addition to London's streets and I am thrilled that my Bear of London and his assorted friends have raised such a fantastic amount for ChildLine. As Paddington embarks on his next adventure to a new home, the one thing that we can be sure of is that he has packed enough marmalade sandwiches to keep him going."
Singer and Strictly Come Dancing runner-up Frankie Bridge said: "I'm so proud to have been a part of The Paddington Trail and it's wonderful to hear that it has raised so much money for the NSPCC and its ChildLine service. I hope that my bear will be very happy in his new home, with plenty of marmalade sandwiches on offer!"
The money raised will help trained ChildLine volunteers provide advice and support to children 24 hours a day, 365 days a year, some of whom are going through the toughest times of their lives. The money will also help continue to modernise the ChildLine service to reflect how children now prefer to get in touch.
If you enjoyed exploring The Paddington Trail and would like to support the NSPCC, text BEAR to 70744 to donate £4 and help answer a call to ChildLine**.
Intrepid explorers who took part in The Paddington Trail can download an exclusive certificate from www.visitlondon.com/paddington  
Notes to Editors
High resolution images and other assets can be found at http://bit.ly/1nJzGti
© Paddington and Company Limited/Studiocanal S.A. 2014 Paddington Bear™, Paddington™ and PB™ are trademarks of Paddington and Company Limited.
*Top 3 most popular bears based on unique page views (UPVs) / visits:
1. Benedict Cumberbatch's 'Sherlock Bear' – 22,410
2. David Beckham's 'Golden Paws' – 17,503
3. Boris Johnson's 'Bear of London' – 14,397
**Texts cost £4 plus one standard network message charge, and you must have the bill payers' permission to use this service. The NSPCC expects to receive approximately 97-99% per message depending on your network. By using this service you agree to the NSPCC contacting you by phone or SMS. The NSPCC will not pass on your details to other parties for any purpose other than contacting you about supporting the NSPCC. For full terms and conditions see www.nspcc.org.uk/smsterms
A full list of the bears auctioned is as follows:
Online auction – £320,500 raised
1. 'Paws' – Sally Hawkins.
2. 'Special Delivery' – Ben Whishaw.
3. 'Primrose Paddington' – Julie Walters.
4. 'Alan Shearer's Bear' – Alan Shearer.
5. 'The Special One' – Chelsea FC.
6. 'Sticky Wicket' – Sir Ian Botham.
7. 'Chief Scout Bear' – Bear Grylls.
8. 'Paddington Who?' – Peter Capaldi.
9. 'Wish You Were Here' – Nick Mason.
10. 'Taste of Peru' – Peru.
11. 'Paddington the Explorer' – Ripley's Believe It Or Not!
12. 'Wonders of the World' – Peru.
13. 'Paddington Goes To Whitby Goth Weekend (Please Look After This Goth)' – Harland Miller.
14. 'Fragile' – Ryan McElhinney.
15. 'Futuristic Robot Bear' – Jonathan Ross.
16. 'Love, Paddington x' – Lulu Guinness.
17. 'Thread Bear' – Matthew Williamson.
18. 'Precious Paddington' – Solange Azagury-Partridge.
19. 'Brick Bear' – Robin Partington & Partners.
20. 'Bearing Up' – Taylor Wimpey.
21. 'Dapper Bear' – Guy Ritchie.
22. 'Goldie Bear' – Kate Moss.
23. 'Parka Paddington' – Liam Gallagher.
24. 'Bearer of Gifts' – Hamleys.
25. 'Maya's Bear' – 13-year-old competition winner, Maya.
26. 'Good News Bear' – The Telegraph.
27. 'Texting Paddington' – Westminster Academy.
28. 'The Bear of London' – Boris Johnson.
29. 'Paddingtonscape' – Hannah Warren.
30. 'Sparkles' – Frankie Bridge.
31. 'Bear Humbug' – Ant & Dec.
32. 'Rainbow' – Darcey Bussell.
33. 'Camobear' – Harper Heyman (son of Paddington producer, David Heyman).
34. 'Bearodiversity' – Peru.
35. 'Paddington That' – Take That.
36. 'Paddington Jack' – Davina McCall.***
***Proceeds from the sale of this bear have been donated to Action Medical Research for whom Paddington has been the official mascot for over 35 years.
Gala auction – over £500,000 raised for the NSPCC and its ChildLine service
1. 'The Journey of Marmalade' – Hugh Bonneville. £26,000
2. 'Blush' – Nicole Kidman. £22,000
3. 'The Spirit of Paddington' – Rolls-Royce Motor Cars. £17,000
4. 'Patchwork Paddington' – Rhianna (ChildLine young campaigner). £11,000
5. 'R; G; B' – Zaha Hadid. £15,000
6. 'Paddington' – Michael Bond. £26,000
7. 'Flutterby' – Emma Watson. £11,000
8. 'Gravity Bear' – Sandra Bullock. £48,000
9. 'Paddington Lloyd Webbear' – Lord Andrew Lloyd Webber. £6,000
10. 'Shakesbear' – Michael Sheen. £9,000
11. 'Sherlock Bear' – Benedict Cumberbatch. £17,000
12. 'Golden Paws' – David Beckham. £16,000
13. 'Good Morning, London' – Michael Howells. £8,000
14. 'W2 1RH' – Marc Quinn. £58,000 from two bidders
15. 'Toggle' – Benjamin Shine. £5,000
The final total for the gala auction also includes additional donations made by guests on the night, as well as the hammer price for four pieces of artwork donated, including a Paddington-inspired piece by Tracey Emin which raised £62,000.
The remaining bears have been privately bought or auctioned at NSPCC fundraising events and other income has come from a range of activities including the sale of miniatures at Selfridges, text donations and other private donations / gifts.
About London & Partners
London & Partners is the official promotional company for London. We promote London and attract businesses, events, congresses, students and visitors to the capital. Our aims are to build London's international reputation and to attract investment and visitor spend, which create jobs and growth.

London & Partners is a not-for-profit public private partnership, funded by the Mayor of London and our network of commercial partners.
About the NSPCC
The NSPCC is leading the fight against child abuse in the UK and Channel Islands. We help children who've been abused to rebuild their lives, we protect children at risk, and we find the best ways of preventing child abuse from ever happening.
Our ChildLine service provides a safe, confidential place for children with no one else to turn to, whatever their worry, whenever they need help. Children can contact ChildLine 24 hours a day, 365 days a year on 0800 1111 or by visiting www.childline.org.uk
Contact
Rebekah Clement, Media & PR Manager – Leisure Tourism
Tel: +44 (0)20 7234 5861 / +44 (0) 7826 907 415
rclement@londonandpartners.com
London & Partners Media & PR Team
Tel: +44 (0)20 7234 5710
Switch: +44 (0)20 7234 5800
Twitter: @London_PR